After another rollercoaster-ride of a year in 2015, WRC is back with us for a brand new season of action. With the 2016 campaign about to get underway, Inside Lane takes you on a comprehensive tour through every aspect of the world's premier rallying series. From familiar teams and well-known personalities to fresh-faced contenders and all-new cars, Inside Lane has all bases covered in this, the complete guide to WRC 2016.
The Teams:
Volkswagen Motorsport World Rally Team:
All-powerful and all-conquering since the day it swaggered through the revolving door of WRC, Volkswagen Motorsport has become the undisputed byword for excellence in the world's premier rallying series.  After announcing their intention to field a WRC team back in 2011, the German powerhouse set out on a 17-month long program of meticulous preparation; engineering the perfect car, drilling the service crew, honing the skills of their star drivers and amassing detailed information on each individual event. The result: Total WRC domination. In 2013, VW became the first manufacturer to win both the drivers' and constructors' championships in its debut season. In 2014, the German outfit increased its iron-grip over the series, winning all but one rally and claiming the top three places in the drivers' championship on the way to wrapping up a second consecutive manufactures' title. For 2015; see above. It was a case of more of the same as Jost Capito's charges continued to set the standard with 12 out of a possible 13 rally wins, a stunning total of 413 points in the Manufacturers' championship and a third straight world drivers' title for star pilot Sébastien Ogier.
Few records are left to be broken; no rally on the calendar is yet to be conquered (save rally China, new for 2017). So the question is; what does this powerhouse of motorsport have left to prove?
There is just one lingering doubt hanging over WRC's dominant force in 2016. Will VW be able to repeat its previous success without the firm hand and expertise of its long-serving head-honcho at the tiller? Team Principle Jost Capito's recent decision to leave his post and join F1 outfit McLaren in the capacity of Chief Executive Officier comes as somewhat of a surprise to the WRC fraternity, especially so close to the start of the new season. With VW chiefs yet to appoint a perminant successor, the 57-year old will remain at the rudder for the time being. But whoever takes over the day to day running of the VW ship will be under supreme pressure to keep up Volkswagen WRC's relentless forward momentum. In short; a fourth consecutive world championship title is an absolute prerequisite for 2016.
Team Principle: Jost Capito
Drivers:
Sébastien Ogier:
Age: 32
Nationality: French
Co-driver: Julien Ingrassia
World Championships: 3
Career WRC wins: 32
2015 finish: 1st
Proclamations of Ogier's legendary status may be a little premature, however over the last three years the flying Frenchman has proven himself to be an exceptional rally driver. Beginning his career with Citroën in 2009, Ogier's breakthrough season came in 2011 when he claimed five rally wins and pushed teammate Sébastien Loeb close for the title, finishing an eventual third overall. But it was his decision to jump ship to newcomers Volkswagen that really set the 32-year-old on the path to glory. Few in the entire history of WRC can match his record of  25 wins in the space of three seasons and with his third consecutive drivers' world title in 2015, Ogier joined an elite group of only four men to have been crowned triple world champions.
His driving style can be electrifying at times, but it is an unerring sense of consistency and a finely honed talent for lead-management that separates Ogier from the rest. We caught the most fleeting of glimpses of the Frenchman's fallibility at Rally Spain last year. Leading handsomely with only the power stage to run, Ogier conspired to throw away a nailed-on victory by ploughing into the barriers on the very last test. Nevertheless, this one glaring error was very much the exception the rule last season and indeed over the previous two. Plus, it's worth remembering that, by that point, the 2015 championship was already his. Clearly the man to beat again in 2016.
Jari-Matti Latavala
Age: 30
Nationality: Finnish
Co-driver: Miikka Anttila
World Championships: 0
Career WRC wins: 15
2015 finish: 2nd
Younger, yet more experienced than his French teammate, Jari-Matti Latvala is the latest in a long line of Finnish rallying masters. Seemingly born to drive, Latvala first got behind a wheel at the tender age of 8 and by 10 was honing his rallying skills on a frozen lake near his home. He made his WRC debut in 2002 aged 17 and in 2008 became the youngest ever rally winner in WRC history with victory in Sweden. Latvala continued to amass experience with Ford until signing for VW in 2013 with whom he has enjoyed his greatest success to date. Four wins, including an emotional triumph at his home event in Finland, propelled the 30-year-old to second in the world championship in 2014, albeit a considerable distance behind Ogier.
Last year should have seen the Finn take more of a challenge to his teammate and arch-rival, however plans began to unravel as early as round two in Sweden. On one of the few events where Latvala would consider himself to have the technical edge over his chief adversary, not to mention a better track record, Latvala bombed. Two crashes left the popular Finn out of the points and powerless to prevent Ogier from claiming top honours in the snowbound Swedish forests. From that point on, Latvala found himself playing catch-up in the driver's classification. It was a battle he was never likely to win, ultimately securing second in the championship for the second year in succession, but finishing a distant 80 points adrift of eventual victor Ogier.
With the expertise and know-how to win on all surfaces, Jari-Matti is a match for just about anyone in a world rally car. Just about anyone, that is. Could 2016 be the year when the likeable Latvala finally scores a major victory over his Gallic nemesis?
Andreas Mikkelsen
Age: 26
Nationality: Norwegian
Co-driver: Anders Jaeger
World Championships: 0
Career WRC wins: 1
2015 finish: 3rd
2015 must be seen as something of a breakthrough season for Andreas Mikkelsen. Things started off on a solid footing with an impressive third place finish on the devilishly technical Rallye Monte Carlo. At a hard-fought round 2 in Sweden, Mikkelsen was just minutes away from claiming his maiden WRC career win but hit a snow back on the final stage, losing 40 seconds and with it the overall lead to Sébastien Ogier. However, that first victory would come later in the year at Rally Spain. In a complete role-reversal, it was the Frenchman who led going into the last stage, but Mikkelsen benefitted from a rare Ogier slip-up late-on to grasp victory on the Costa Daurada, a watershed moment in his fledgling rallying career.
Hailed as the natural successor to Norway's 2003 world champion Petter Solberg, Mikkelsen is now flag-bearer in chief for a country with a proud WRC tradition. His career so far has been something of a whirlwind. Debuting in the WRC with Ford in 2006, Mikkelsen became the youngest driver ever to score points in a WRC event by finishing fifth on Rally Sweden 2008. The Norwegian linked up with Škoda in 2011 and enjoyed two title-winning years in the Intercontinental Rally Challenge, a proving ground for many future rallying greats. Parent company Volkswagen then picked up the young prospect for the 2013 WRC season during which he competed in eight rounds. In 2014 he embarked on his first full season, securing five podium finishes and third in the drivers' championship, before gaining that all-important maiden victory last season.
For 2016, the only change in the Mikkelsen garage sees outgoing co-driver Ola Fløene replaced in the passenger's seat by the young Anders Jaeger, a product of Volkswagen's JWRC stable. The change in personnel shouldn't knock the confident young Norwegian off his stride in 2016. However, how long will this potential future champion be prepared to live in the shadows of Messieurs Latvala and Ogier?
The Car:
Volkswagen Polo R WRC
The first generation Polo R WRC swept all before it. In the capable hands of Volkswagen's trio of crack pilots, the hot-hatch scorched its way to 22 wins and a further 18 podiums in two seasons. For 2015, VW took full advantage of a loosening in development regulations and was the first manufacturer to bring a brand-new generation model to the season opener in Monte Carlo. Different car, same result. Another world championship for the boys in blue.
Fast forward a year and Volkswagen will field essentially the same package on 2016's stages, albeit with a few detailed tweaks. This season's Polo R features a strengthened front sub-frame and rear suspension wishbones to provide greater reliably and stability on gravel events. The alterations may be limited in number and scope, but as the cliché goes, why change a winning formula?
Hyundai World Rally Team:
After an eleven year absence, Hyundai finally made their return to the WRC fold in 2014. Under the guidance of ex-Peugeot technical director Michel Nandan, the Korean manufacturer pulled off a real coup in securing the signature of Thierry Neuville, championship runner up with M-Sport in 2013 and seen as a potential future champion. However, unlike Volkswagen who swept all before them in their debut season, Hyundai's rookie year proved to be rather more of a rocky ride. A policy of driver rotation for the second seat saw the likes of Dani Sordo, Chris Atkinson and Juha Hänninen all given a chance to shine but a series of mechanical gremlins blighted the early part of the season. A double retirement for Neuville and Sordo in Monte Carlo was hardly the best for the team to celebrate its WRC comeback. However, the points did start to accumulate and fortunes took an upturn as the season progressed, culminating in a memorable one-two finish for Neuville and Sordo on Rally Germany. The Belgian remained reasonably consistent for the remainder of the 2014 campaign and for 2015 was joined by Spain's Dani Sordo on a permanent basis.
Neither man was able to make waves in last year's drivers' championship, largely locked-out by the Polo pilots. However, the team was able to push Citroën right to wire in the hunt for second in the manufacturers' classification, helped in no small part by the unexpected rise to prominence of its previously unheralded number three, Hayden Paddon.
With the Kiwi having proven himself a more than capable pair of hands at the highest level, the 2016 Hyundai driver line-up boasts a strength in depth second only to that of Volkswagen. Team Principle Michel Nandan's squad rotation policy for 2016 is a true 'horses for courses' approach that will see the Sordo-Neuville-Paddon triumvirate trading places in the two-car senior squad  according to how each man's specific skillset suits the terrain. It's a tactic that might just give them the edge on certain events. In short, Hyundai is the best place team to take the fight to VW in WRC 2016.
Team Principle: Michel Nandan
Drivers:
Thierry Neuville
Age: 27
Nationality: Belgian
Co-driver: Nicolas Gilsoul
World Championships: 0
Career WRC wins: 1
2015 finish: 6th
Excelling from a young age in his homeland, Thierry Neuville was always destined for big things in a rally car.  In 2011, he made his first mark on the world stage, scoring two wins and 5th overall in the Intercontinental Rally challenge. Sensing his undoubted talent, the Citroën factory team snapped up the youngster and added him to the ranks of their junior squad for the 2012 WRC season. Their faith was rewarded, as Neuville duly delivered six top ten finishes and a highly respectable seventh overall in the championship.
His next move was to M-Sport and this would prove to be the real watershed moment in the young man's career so far. In the face of the seemingly unstoppable Volkswagen juggernaut, Neuville fought valiantly, four times making the second step of the podium and ending the season as championship runner-up, bested only by the all-conquering Ogier. A big money move inevitably followed and in 2014 he signed a multi-year deal to spearhead Hyundai's WRC comeback. Neuville's first rally win seemed long overdue and he finally broke his duck in Germany, leading a triumphant Hyundai one-two and in the process becoming the only driver to deny Volkswagen victory that year. Reprising his role as team leader in 2015, Neuville's year started with a bang with 5th and 2nd in Monte and Sweden respectively. Unfortunately, the following 11 rounds brought just one more podium in Italy and Neuville was dropped from the senior squad altogether in favour of Hayden Paddon for the final round in Great Britain.
Clearly still possessing great talent, Neuville will relish the chance to finally get behind the wheel of the new generation i20 WRC and recapture his best form in 2016.
Dani Sordo
Age: 32
Nationality: Spanish
Co-driver: Marc Marti
World Championships: 0
Career WRC wins: 1
2015 finish: 8th
It is perhaps an inevitability that any Spaniard looking to make a name for himself in rallying will automatically be compared to the country's most successful WRC driver, the legendary Carlos Sainz. It does help, however, if that legend is your mentor and the man sat beside you in the passenger's seat is his former co-driver. That was the leg-up that a young, talented and raw Dani Sordo needed to propel him to the big time.
A JWRC winner in 2005, Sordo took his first steps in to WRC proper with Citroën in 2007. In the exalted company of Sébastien Loeb, the man from Torrelavega proved to be a more than capable foil, twice finishing third in the championship in 2008 and 2009. Those two years remain the high point of his career, as a combination of a loss of form and the swift rise of Sébastien Ogier saw Sordo first demoted to the junior team and then shown the door in 2010. A sojourn with the newly formed Mini WRC team in 2011-12 briefly promised to turn his fortunes around but the venture ended badly for all concerned when the team failed to find the budget to return in 2013, leaving Sordo high and dry once more.
Ironically, it was Citroën who offered him a lifeline in 2013, partnering Mikko Hirvonen for the majority of the season. In general, Sordo failed to impose himself, albeit in a struggling team, but the one shining highlight came in Germany where the asphalt specialist  claimed a first ever WRC victory; at the 106th time of asking. Despite this, the reunion with Citroën never really worked out and Sordo upped sticks yet again in 2014 to join Hyundai.
After a career littered with new beginnings and false dawns, the nomad of WRC looks to finally have found his home in an i20. Though winless, Sordo made a good fist of his 2015 campaign, claimed top six finishes on more than half the rounds, and a season's best of third in Spain on his way to 8th overall.
The 32-year old receives a minor accolade ahead of the 2016 season, being nominated as Hyundai's lead driver. This means he will contest a minimum of 10 rounds in the 14-event calendar, although in practice Hyundai's rotation policy will see all three drivers get a fair crack of the whip at the wheel of the two lead cars.
Hayden Paddon
Age: 28
Nationality: New Zealander
Co-driver: John Kennard
World Championships: 0
Career WRC wins: 0
2015 finish: 9th
Of all the WRC starlets in 2015, it was the Kiwi Hayden Paddon who shone brightest. The 2011 PWRC champion was originally picked up by the Korean outfit half way through the 2014 season and featured on six rounds of the championship, posting a best finish of sixth at Rally Australia and taking his first ever WRC stage win in Spain. Taking his first full WRC campaign in his stride, the 28-year old consistently showed up those vastly more experienced than himself in 2015. He even came agonisingly close to a first senior win in Italy where he led for the opening two days only to be pipped to the post by Sébastien Ogier. Another phenomenal showing in Poland, where he took fourth, followed by top six finishes in each of the last four rallies of the season cemented the feeling around the service park that Paddon was here to stay.
Promptly rewarded with a three-year contract by Hyundai, the Kiwi will operate a part of Michel Nandan's proposed rotation system this year along with his two senior teammates, Sordo and Neuville. This means Paddon should get more hours driving for the Korean team's senior squad than was the case last season.
The car:
Hyundai i20 WRC
After a series of set-backs and false starts, the moment those at Hyundai WRC have been anticipating for well over a year has finally arrived; the next generation i20 WRC is stripped down and ready for rallying action. In an ideal world, we would have been talking about the all-new model making its competitive debut exactly a year ago at Rally Monte Carlo 2015. However, delays in production of the three-door variant of the new-generation i20 prompted Hyundai motorsport chiefs to focus their efforts on homologating its five-door equivalent instead.
Initial plans to debut the new car in time for the start of last season were revised to mid-2015 before eventually being pushed back to January 2016. The end result is that Hyundai's new steed will lead a relatively short lifespan, serving only for the 2016 season before a new species of World Rally Car enters the fray in 2017.
With over 8,000km of testing already under its belt, the new generation i20 will be expected to hit the ground running this season. Drivers and service crew alike will be hoping that those niggling reliability issues that sometimes dogged the old car will be consigned to history in 2016.
M-Sport World Rally Team:
M-Sport are well and truly part of the WRC furniture. The longest serving team still competing in the championship, M-Sport first appeared in rallying's premiere series back in 1997 when they joined forces with Ford. This fruitful partnership saw such legendary drivers such as Colin McRae and Marcus Grönholm pass through the team's ranks and yielded two constructors' world titles in 2006 and 2007. Ford officially withdrew from WRC in 2012, leaving M-Sport to run a squad of non-factory Fiestas, albeit with limited technical support from the American brand. Despite lacking the support of a major manufacturer, the post Ford era has been largely positive, with the British-based team guiding Thierry Neuville to a stunning second in the 2013 drivers' championship.
It was all change again in 2014 with Welsh youngster Elfyn Evans partnered the experienced Mikko Hirvonen as the Fiestas mustered a total of three podiums between them. Evans retained his place in 2015 alongside newcomer Ott Tänak , but neither of the young pilots did enough to convince their employers to extend their contracts to 2016.
Opting once again for a familiar blend of youth and experience on its driver roster, this campaign M-Sport will be hoping to improve on its mildly disappointing total of three podium finishes registered in 2015.
Underdogs they may be, but with years of WRC know-how, great support, particularly in Britain, and the vastly experienced and incredibly popular team principle Malcolm Wilson at the helm, you can be certain M-Sport will be up there challenging for podiums again in 2016.
Team Principle: Malcolm Wilson
Drivers:
Mads Østberg
Age: 28
Nationality: Norwegian
Co-driver: Ola Floene
World Championships: 0
Career WRC wins: 1
2015 finish:  4th
Another of WRC's latest generation of talents, Østberg was winning rallying honours back in his native Norway whilst most people of his age were busy doing maths homework. He made his WRC debut back as early as 2006 with a one-off drive in a Subaru Impreza but it was in 2011 when the young Scandinavian really started making waves internationally. This time at the wheel of an M-Sport-run Fiesta RS, Østberg came within a whisker of winning the season opener in Sweden, eventually finishing second. A further second place in Wales and a solid 2012 campaign, during which he claimed his maiden rally victory in Portugal, paved the way for a drive with the M-Sport senior squad in 2013.
After a year with Malcolm Wilson's outfit, Østberg was snapped up by Citroën in 2014 season, picking up four podiums including second place in Italy. That was followed by another year in the DS3 in 2015, during which he initially started strongly with second places in Mexico and Argentina. However, the 28-year old's form tailed off towards the end of the season and when the chance of a return to former employers M-Sport came up, Mads announced he would be jumping ship for 2016. The vastly experienced Ola Floene will join Østberg in the Fiesta RS this year following a split with long-time co-driver Jonas Andersson. As M-Sport team leader, further rally wins remain a possibility, although Østberg is unlikely to get a full program in 2016 as Malcolm Wilson's outfit keeps one eye on development of next year's car.
Eric Camilli
Age: 28
Nationality: French
Co-driver: Nicolas Klinger
World Championships: 0
Career WRC wins: 0
2015 finish:  10th (WRC2)
A complete refresh at M-Sport sees a little known Frenchman by the name of Eric Camilli step up to take on his first full season in WRC. With only 10 WRC rallies under his belt, all in the lower categories, his signing by Malcolm Wilson caught many in the WRC fraternity by surprise.
After a successful career at national level in France, the Young Camilli made his JWRC debut at Rallye Deutschland 2014, in a DS3, before finishing second in class at his home event in France. Last season saw the 28-year old contest a further 8 WRC2 rallies, driving a Fiesta R5 to third in Monte Carlo and second in Germany and Great Britain. Camilli also spent much of 2015 at the wheel of the prototype Toyota Yaris World Rally Car, helping pave the way for the Japanese manufacturer's entry into the sport in 2017.
To all intents and purposes, Wilson's rather left-field signing of Camilli for the 2016 campaign may appear at best an educated risk and a worst an instinctive punt, such is the Frenchman's glaring lack of top-level rallying experience. However, this is a team which provided current stars such as Mads Østberg and Thierry Neuville with their respective WRC breakthroughs. Malcolm Wilson certainly knows a gem when he sees one.
The Car:
Ford Fiesta RS WRC
The Fiesta is ubiquitous sight in WRC these days, largely due to the technical support offered by M-Sport to the many privateer drivers who compete alongside the sport's big guns. Last season's M-Sport World Rally Team livery certainly proved a hit with fans, being voted the best colour scheme of all the WRC manufacturer teams. Accordingly, this year's design is simply a slight variation on the same theme, with a fresh light blue replacing the predominantly white facia of the 2015 car.
However, triumph in the popularity stakes does not necessarily translate into success on the roads, as last year's M-Sport driver pairing found out.
Unlike Hyundai, Ford did meet its schedule to introduce its new generation Fiesta RS during the 2015 season. However, pilots Ott Tänak and Elfyn Evans, who had started the season strongly in the previous gen model, struggled to adapt to the new spec car on its arrival last spring.  Neither man will be behind the wheel of an M-Sport world rally car this time round, meaning Østberg and Camilli will both have to learn fast if they wish to master their new WRC machinery.
Abu Dhabi World Rally Team:
In the wake of Citroën's decision to pull the plug on its factory team for the 2016 season, the existing fleet of DS3 WRCs will run under the banner of the newly formed Abu Dhabi World Rally Team this year. Whilst Citroën Motorsport ploughs maximum resources into the production of its next generation 2017 car, the French brand's customer racing division PH Sport takes over the reins of WRC duties for the next twelve months. Direction and financial backing is provided by long-time Citroën associate and WRC pilot Khalid Al-Qassimi who will take to the wheel himself on certain events this year.
The emphasis, however, rests very much on the drivers themselves rather than the team as an entity. ABWRT is not registered to score points in the 2016 manufactures' championship and with lead driver Kris Meeke already assured of his WRC future beyond 2017, the spotlight will fall  on the form of the team's younger drivers as they scramble to impress the selectors at Citroën  ahead of the French squad's comeback year in 2017.
Team Principle: TBC
Drivers:
Kris Meeke
Age: 36
Nationality: British
Co-driver: Paul Nagle
World Championships: 0
Career WRC wins: 1
2015 finish: 5th
Kris Meeke's WRC career has been far from a smooth ride. As a young man, he became a protégé of the late Colin McRae, whos guidance helped him to make his way in the world of rallying. British junior champion in 2002 and IRC champion in 2009, the Northern Irishman eared himself a seat in the newly formed Mini WRC squad for the 2011 season. His record with the British-based team was mixed but he had shown good enough pace to be considered for a full WRC program the following season. However, Meeke's hopes were dashed when he was dropped for 2012, collateral damage of an internal budget dispute within the Prodrive-run team.
It wasn't until 2014 when the 36-year old finally found himself back in the WRC fold, called up by his old boss Yves Matton to join the Citroën factory squad. Often the Polo's pursuer-in-chief, Meeke put in a series of good performances, culminating in four podium finishes. At Rally Deutschland 2014, he came tantalisingly close to a maiden win but crashed his DS3 with only a handful of stages to go and was understandably devastated. However, that disappointment was put right last year, when Meeke grabbed a highly emotional maiden WRC victory in Argentina, dedicating the triumph to former mentor and friend McRae. It was this plus a string of strong showings towards the backend of last season that earned him a three-year contract with Citroën that will see him lead the French manufacturer's WRC comeback in 2017 as well as head up the testing and development of the new car.
In the meantime, Meeke will be keeping his hand in as part of the Citroën-backed Abu Dhabi Racing Team, contesting selected Europeen WRC rounds in 2016.
Khalid Al Qassimi
Age: 43
Nationality: Emirati
Co-driver: Chris Patterson
World Championships: 0
Career WRC wins: 0
2015 finish: N/A
Partnered with the Citroën World Rally Team since 2013, Sheik Khalid Al Qassimi has traditionally divided his rallying program between WRC duties and competing in the Middle East Rally Championship. This was the case in 2013, 2014 and 2015 when he contested a handful of WRC rallies in a DS3 under various team guises. The Abu Dhabi native returns to action this year with Citroën Motorsport's blessing as driver and patron of the Abu Dhabi World Rally Team. His remit on the road will mainly encompass providing support to team-leader Kris Meeke on selected European rounds.
Craig Breen
Age: 25
Nationality: Irish
Co-driver: Scott Martin
World Championships: 0
Career WRC wins: 0
2015 finish: 8th (WRC2)
A former WRC Academy, Irishman Breen spent two years learning his trade in the European Rally Championship from 2013-2014, twice finishing third in the standings with Peugeot. Branching out in 2015, Breen fought on two fronts with Peugeot's support and achieved second place in the ERC whilst also dipping his foot into WRC2 for the first time.
His record in the feeder categories was enough to earn him a call up to the Abu Dhabi World Rally Team, with whom he will get his first taste of life in a full WRC car on selected rallies in 2016.
Stéphane Lefebvre
Age: 23
Nationality: French
Co-driver: Gabin Moreau
World Championships: 0
Career WRC wins: 0
2015 finish: 14th (WRC2)
There are few better judges of a rally driver than a man who has accomplished virtually all there is to accomplish in WRC. So nine-time world champion Sébastien Loeb must have been on to something when he first spotted the young Stéphane Lefebvre blazing a trail in the 2013 European Rally Championship.
Since finishing second in that series at the wheel of a Peugeot 208, the Calais native has gone on to win the JWRC and WRC3 titles in his maiden season and in 2015 graduated to the ranks of WRC2. His year started stunning category victory in Monte Carlo before a series of retirements hampered the rest of his season. Significantly though, Lefebvre does have one rally in a full WRC spec car on his CV. In came in Australia 2015 when the youngster was called up by Citroën as a last-minute stand-in for the injured Mads Østberg . Still only 23, Lefebvre will be itching to impress on his selected run of events this season, in the knowledge that a permeant seat with Citroën WRC could be up for grabs in 2017.
The Car:
Citroën DS3 WRC
With Citroën Motorsport supporting from the side-lines, the Abu Dhabi World Rally will continue the run a fleet of DS3 WRC 2016 cars. 2016 marks the model's sixth and final year in WRC action during which time it has been piloted to 24 rally victories and, most notably, 2 world titles in the hands of Sébastien Loeb. As with its counterparts from Volkswagen, Hyundai and Ford, the end of the hot-hatch era in WRC spells the end for the DS3 as a front-line World Rally Car. Like the Xsara and C4 WRC before it, the DS3 has very much stamped its mark on the WRC timeline and will be fondly remembered by fans for years to come.
DMACK World Rally Team
Cumbria-based tyre manufacturer DMACK already has a track record of running rally teams in the lower classes of WRC. A fixture in WRC2 since 2013, DMACK's most notable collaborator over the years has been Ott Tänak. The pair linked up for the 2014 WRC2 season and duly clinched that year's manufacture's title together. For 2016, the team makes the jump up to the top tier of WRC for the first time where it is reunited with the Estonian pilot, recently released by M-Sport. For this, DMACK's debut season, Ott Tänak's full year of WRC experience should come in very handy as the new boys lock horns with the big hitters.  by akes the jump up to the top tier of WRC 2016 where it is reunited with it'el, the 2016 Hyundai driver line-up look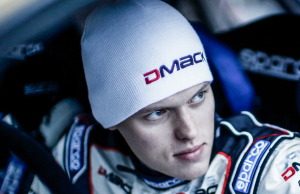 Ott Tanak
Age: 28
Nationality: Estonian
Co-driver: Raigo Molder
World Championships: 0
Career WRC wins: 0
2015 finish: 10th
In the wake of Mikko Hirvonen's retirement from WRC at the end of the 2014 season, M-Sport found themselves with a race seat to fill. Cue the arrival of rising star and two-time Estonian Rally champion Ott Tänak . Although his name may not be as illustrious as those of his competitors, the 27-year-old does have a fair amount of WRC experience under his belt. He took part in seven rounds of the 2011 championship driving an S2000 spec Fiesta before making his debut in a WRC car at Rally Wales GB, finishing an impressive sixth overall. 2012 saw him rewarded with a full campaign with M-Sport's subsidiary team and he ended the season eighth overall. After a sabbatical in 2013, Tänak returned last in 2014 for three world championship rallies with M-Sport. His performance in Sweden following several months in the wilderness won him great plaudits and subsequently earned him a shot at a full WRC campaign for 2015.
Unfortunately for Tänak, his 2015 campaign will be remembered more for one of the most astonishing accidents in WRC history than for his performances in the Fiesta RS. After netting fourth in Sweden, Tänak found himself in deep water in Mexico when he crashed his Fiesta off the side of a mountain pass and into a reservoir. Back dry land, the Estonian's best result in 2015 was third at Rally Poland, however a lack of big points finishes thereafter restricted him to 10th in the final driver's standings. A retirement on the final round in Wales would prove to be his last action with M-Sport and a fresh start with the newly-formed DMACK World Rally Team beckons in 2016.
The Car:
Ford Fiesta RS WRC
New Regulations:
In terms of new regulations, WRC 2016 could be viewed as the tremor before the earthquake, the calm before the storm which promises to shake up the WRC universe as we know it. 2017 will herald the beginning of a new era in rallying's premier competition, with a new breed of more powerful, larger and lighter vehicles already being readied for battle as  sweeping changes in technical regulations are primed to change the face of WRC in a year's time.
Until then, however, the ground rules that have governed the creation and development of the current generation of World Rally Cars remain in force for one more season.   During the off-season, teams will have been busying themselves with finding the optimum set-up for their 2016 charges, a painstaking task in which everything down to the slightest suspension tweak and the merest aerodynamic adjustment could prove critical. It's an all-or nothing race to the top of the development tree as the WRC cars that have thrilled us over the past six years embark on their last-hurrah.
2016 Calendar:
| | |
| --- | --- |
| Rallye Monte Carlo | 21.01. – 24.01.2016 |
| Rally Sweden | 11.02. – 14.02.2016 |
| Rally Guanajuato México | 03.03. – 06.03.2016 |
| Rally Argentina | 21.04. – 24.04.2016 |
| Rally de Portugal | 19.05. – 22.05.2016 |
| Rally Italia Sardegna | 09.06. – 12.06.2016 |
| Rally Poland | 01.07. – 03.07.2016     |
| Rally Finland | 28.07. – 31.07.2016 |
| Rallye Deutschland | 18.08. – 21.08.2016 |
| Rally China | 08.09. – 11.09.2016 |
| Rallye de France | 29.09. – 02.10.2016     |
| Rally de Espana | 13.10. – 16.10.2016 |
| Wales Rally GB | 27.10. – 30.10.2016 |
| Rally Australia | 17.11. – 20.11.2016      |