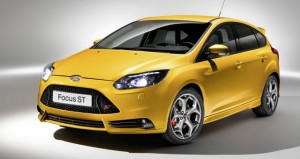 As far as hot-hatchbacks are concerned Ford produce some of the best in the business. Good value, great thrills and the wife can fit all her shopping in the boot. With the new Focus becoming adopted by families all over the world its time for the blue oval to reveal the production variant of the all-new Focus ST. Hold tight, things are about to get spicy!
Amidst the new bumpers, spoilers and general ASBO inspired clad sits a 2.0 litre, four-cylinder, 247BHP engine. "Can you smell burning rubber yet?" The pumped up Focus also gains in the torque department, producing a fantastic 265lb-ft. Better yet, if owning a dog was the only thing stopping you from buying the last ST, fear not as this 2012 model will be sold with the option of being an estate. Spot on Ford! Thus far you have done no wrong.
Prices have yet to be announced but one thing is for sure, we can't wait to take our turn behind the wheel.