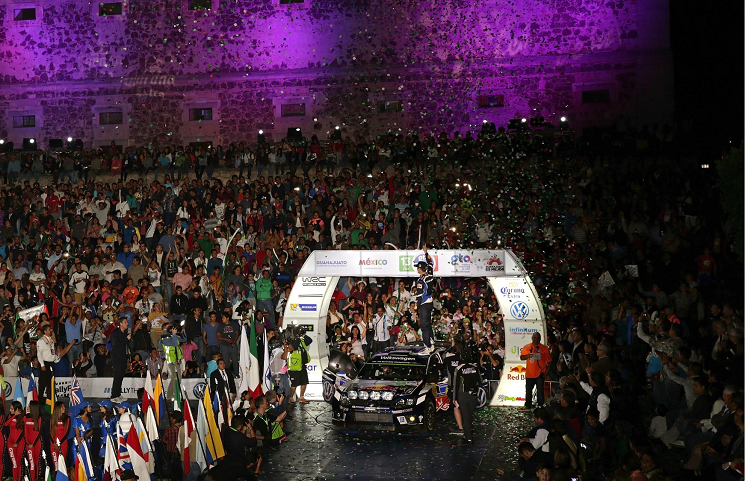 Jari-Matti Latvala registered his first points of the 2016 WRC season with a comprehensive victory at Rally Mexico. The Volkswagen ace took full advantage of a highly favourable road position to obliterate the rest of the field, including reigning world champion and teammate Sébastien Ogier who trailed in a distant second by 1min 5secs. Third place went to M-Sport's Mads Østberg after a surprise post-rally stewards' decision saw original podium-sitter Dani Sordo docked two minutes for using one more tyre than allowed. The error denied Hyundai what would have been its third top-three finish in as many rallies.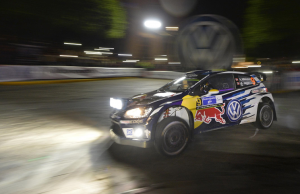 The first in a run of six consecutive gravel events, Rally Mexico throws up the dual perils of baking heat and engine-sapping high altitude driving. Ex- Citroën star Sébastien Loeb notched up six consecutive wins here between 2006 and 2012 but since then it has been another Frenchman – Ogier – who has established an iron grip over Central America's only WRC rally, claiming top spot in 2013, 2014 and 2015. As if the challenge wasn't already testing enough, this year's visit to Mexico sees the inclusion of a truly formidable nemesis for any rally driver; the mammoth 80km Guanajuato stage – the longest tackled in WRC since 1986.
An accident-filled first two rounds of the season saw Jari-Matti Latvala arrive in Mexico yet to trouble the championship scorers. Marooned a full 56 points adrift of VW teammate and championship leader Ogier, Latvala's miserable start to the campaign did at least afford him the significant blessing of running last of the WRC big boys at the inaugural gravel event of the season.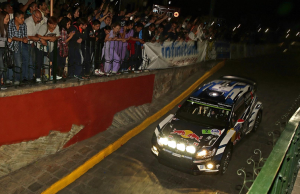 It was an advantage that proved all too apparent for his competitors from the word go. After Thursday's trio of brief spectator stages, battle-proper in Mexico commenced on Friday, with Latvala immediately stamping his authority. Running way down the order in eighth, the gravel-strewn mountain roads around Guanajuato were freshly swept by the time the Finn rolled up to the start line. Whilst those ahead ploughed through the dirt, the Volkswagen number two enjoyed easily his best day of the season so far on roads offering plentiful grip and contributing relatively little tyre ware relative to his rivals. Latvala's dominant haul of five stage wins from seven, including, crucially, both runs through the 54.21km El Chocolate, cemented his place at the top of the leaderboard by 32.1secs come Friday night.
By contrast, championship leader Ogier was confronted with the very worst of the gravel tracks throughout Friday and Saturday. The Frenchman's heroic victory last time out in Sweden, sweeping freshly fallen snow also from first on the road, suggested that he may have be capable of repeating the impossible on his 100th WRC career appearance.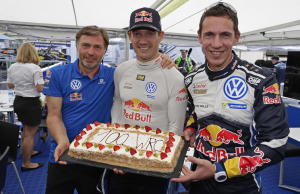 However, from the outset it was clear that this gravel assignment would be a far more testing one for Ogier, with chances of victory patently slim even for a man of his considerable skill at the wheel. A minor victory on the super special street stage in Léon on Friday night allowed the triple world champion to claw back a handful of seconds on Latvala. The reward for his best efforts over the day was ultimately meagre though in the context of Latvala's daunting advantage.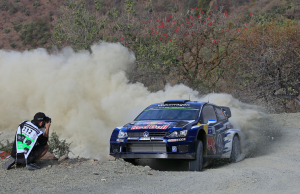 It was a gap that was destined to stretch over the course of Saturday's action. Once again profiting from an advantageously low road position, Latvala posted a double hat-trick of fastest times on Saturday's lose-surface tests to extend his lead to 1min 36secs. A combination of the perfect set-up, spot-on pace-notes and favourable conditions finally saw the stars align for the 30-year old, in stark contrast to his disastrous outings in Monte Carlo and Sweden last month.
As early as midday on Saturday it was clear that the game was up for Ogier. Reluctantly acknowledging that he was fighting a losing battle to maintain his perfect start to 2016, the Frenchman gave up the chase for first, concentrating instead on consolidating second for big points in the drivers' championship.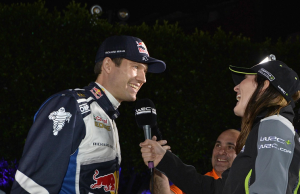 This was assured with victory on Sunday's monstrous 80km Guanajuato test, the longest stage seen in a WRC event for 30 years. Latvala's conservative approach to Sunday's event-closing duo of tests also allowed his teammate to pick up maximum bonus points on the power stage. It capped off a fine performance which, despite not yielding victory, has to go down a one of Ogier's very best considering the adverse road conditions he faced for the vast majority of the rally.
Though never in the mix for victory, Hyundai's Dani Sordo looked to have secured a well-deserved third place after overcoming a host of minor issues in his i20. The various gremlins contributing to the Spaniard's worries ranged from a sticking throttle on Friday, a broken fan and subsequent overheated engine on Saturday afternoon as well as brake problems in Sunday's 80km marathon stage.
At one point on Saturday afternoon, Sordo seemed in real danger of letting his podium place slip, with Andreas Mikkelsen breathing down his neck, a mere 4.5secs  behind in the number three Polo R.  However, any threat was swiftly lifted when Mikkelsen crashed out 10km from the finish of stage 15, blaming his own late reaction to a pace note delivered by new co-driver Anders Jaeger.
Despite only winning one stage over the four days, Sordo crossed the final time control in third overall – exactly 1min58.5secs ahead of Østberg. However, a nasty surprise was about to dash the 32-year old's jubilation when a scrutineering check revealed that he had used one more tyre than the allotted maximum. The punishment for this transgression was a 2min penalty, enough to see Sordo shunted off the podium by an agonising 1.5secs.
For Østberg, any hopes of securing a podium place seemed little more than a pipe dream as he diced with Hyundai's Haydon Paddon for fifth for most of Friday.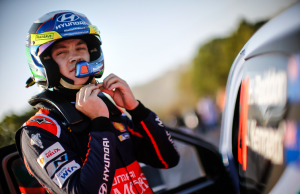 Both men were hampered by their selection of hard compound tyres on day two before the tussle swung decisively in Østberg's favour on Saturday afternoon when Paddon struck a bank on stage 12. The impact was enough to snap his i20's rear suspension arm. Although the Kiwi managed to patch up the damage on the liaison section, he was unable to bridge the gap to the M-Sport man, ending the rally 53.3sec adrift in fifth.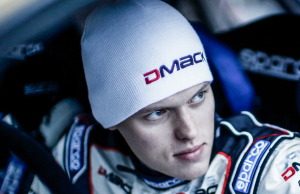 Ott Tänak rounded out the top six for DMACK, overcoming a minor spin and differential damage on Friday. The Estonian fared far better than Hyundai's Thierry Neuville and M-Sport rookie Eric Camilli. The former looked comfortable and relatively quick until losing control in a fast section of stage 4 and going sideways into a pole on the following corner. The impact forced the Belgium out for the day with a broken front-left suspension arm. He restarted on Saturday in the hope of salvaging points but crashed heavily again to cap off a highly disappointing outing.
Camilli began Friday in poor shape, shedding precious time with a puncture and later losing first and second gears. Things went from bad to worse for the young Frenchman on Saturday when he conspired to flip his Fiesta RS onto its roof after hitting a rock. The M-Sport newcomer's glaring lack of top-level experience is exposed by his failure to complete a single rally so far this season.
At the other end of the experience spectrum, Latvala's 16th career win and his first since France last year goes some way to compensating for the pair of blanks drawn in Monte Carlo and Sweden. However, his dominant showing in Mexico secures him only the customary 25 points for victory and this total, plus two bonus points gained at the death, still leaves him a distant 50 points adrift of the summit where Ogier continues to lead the way. In fact, Mikkelsen's retirement means that Ogier leaves Mexico trophy-less but with an even more commanding lead in the drivers' championship. His total now stands at 77, 35 points clear of M-Sport's Østberg who shuffles up a place to second.
The next stop on the on the 2016 calendar is Argentina where the WRC continues its Latin American odyssey. If Volkswagen once again takes top honours there, a feat that it failed to achieve in 2015, the German outfit would break its own record of 12 consecutive rally victories set in 2013-14. Yet more history in the making potentially awaits at rally Argentina from the 21 – 24 April.
| | | | | | | | | |
| --- | --- | --- | --- | --- | --- | --- | --- | --- |
| POS…. | # | DRIVER………. | TEAM | POINTS | | TOTAL TIME | DIFF PREV | DIFF 1ST |
| 1. | 2 | J. LATVALA | VW | 25+2 | | 4:25:57.4 | | |
| 2. | 1 | S. OGIER | VW | 18+3 | | 4:27:02.4 | +1:05.0 | +1:05.0 |
| 3. | 5 | M. OSTBERG | M-SP | 15 | | 4:31:33.8 | +4:31.4 | +5:36.4 |
| 4. | 4 | D. SORDO | HYU | 12 | | 4:31:35.3 | +1.5 | +5:37.9 |
| 5. | 20 | H. PADDON | HYU | 10+1 | | 4:32:20.0 | +44.7 | +6:22.6 |
| 6. | 12 | O. TANAK | DMK | 8 | | 4:35:56.9 | +3:36.9 | +9:59.5 |