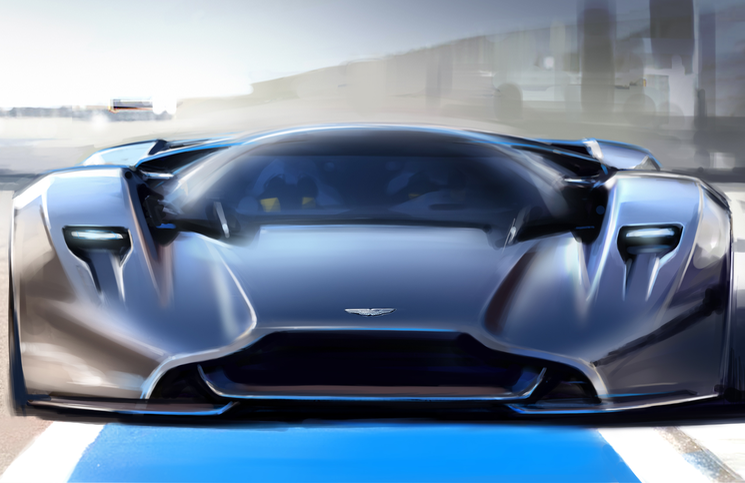 Aston Martin are famed for building some of the most beautiful cars to ever grace tarmac, and their racing efforts throughout history are also very impressive. Whilst the One-77 was the ultimate expression of Aston in a road car, to combine the two disciplines has been something of an ambition for the British brand. Red Bull is another outfit that has toyed with the idea of producing a road legal supercar. It would be great for brand image and serve as an embodiment of their technological status. Now working together, Aston Martin and Red Bull will build the AM-RB 001, a McLaren P1 fighting hyper car.
Red Bull's Chief Designer, Adrian Newey, has pushed for a road car for many years aiming to emulate Gordon Murry and the McLaren F1. His wish has been granted as Aston Martin will develop a new high performance car codenamed AM-RB 001. Details are very limited at this point in time but it is expected to take inspiration from the DP-100 concert car from Gran Turismo. A V12 engine is also a likely candidate. A KERS inspired boost system has been confirmed.
In an interview with Autocar Andy Palmer stated "we are saying it could be faster than an F1 car around Silverstone." Quite the claim! Newey's involvement suggests the AM-RB 001 will have some highly advanced aerodynamics and utilise ground effect.
For the 2016 Formula One season the Red Bull Racing car will sport an Aston Martin logo on its nose and flanks to celebrate the collaboration.
Should the Porsche 918 Spyder, McLaren P1, and LaFerrari be worried? Considering Red Bull's four Formula One world championships and Aston Martin's ambition for its future, they should be.
This could just be the most exciting news story of 2016 so far! "Around 99 cars" will be built and are set to hit the road in 2018.