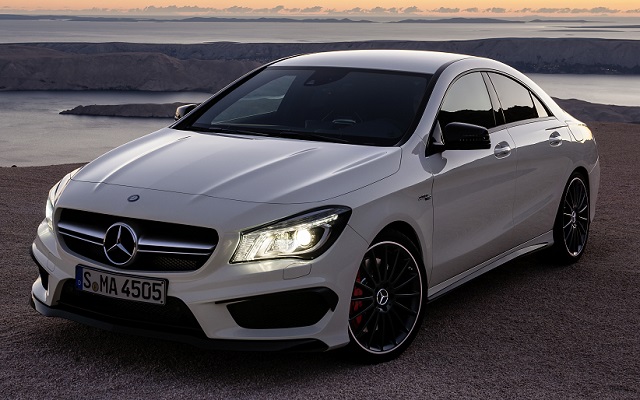 It seems the never ending Teutonic power struggle for domination in the luxury saloon arena has hit the streets of the Big Apple. With the unveiling of the all-new S3 saloon at the 2013 New York Auto show, Audi sent out a significant warning shot in the direction of their arch rivals at Mercedes and BMW. However, Mercedes have wasted no time in returning fire with their very own contender for the title of the world's premier small luxury saloon.
Enter the 2014 Mercedes-Benz CLA 45 AMG, a four-door baby saloon which certainly seems to embody everything that is required to beat the best and be the best. For a start, taking design cues from its bigger brother the ultra-stylish CLS 63 AMG, a trendsetter for high-performance luxury saloons the world over, is not a bad thing at all. In fact, the AMG package, complete with Carbon-Fibre front splitter, side panel inserts and trim on the front and rear fascia, complemented perfectly by red brake callipers and twin-spoke AMG 18" alloys, looks even more enticing on the smaller proportions of the CLA 45 AMG.
Whilst the dazzling exterior leaves potential rivals looking like plain Janes, the CLA 45 AMG's real party piece comes in the form of Mercedes'  355 BHP turbocharged 2.0-litre four-cylinder engine, the most powerful production engine of its kind.  This masterpiece of engineering will deliver a sizable 332 lb-ft of torque and propel the CLA from 0-60 MPH in 4.5 seconds up to an electronically limited top speed of 155 MPH. All that brute force is channelled in an orderly fashion to the performance-orientated AMG 4MATIC all-wheel drive system via a 7-speed dual clutch transmission.
Also thrown in to the AMG goody-bag is the sports exhaust, an SLS AMG-derived cooling system, sports suspension with multi-link front and rear axles, speed-sensitive sports steering and high-performance braking system. Inside, the cabin can be customized with an optional AMG Performance steering wheel and AMG Performance seats.
At £31,500, this is around the top end price most people would want to be paying for a small, luxury, high-performance saloon. But then again, the 2014 CLA 45 AMG is a top end small, luxury, high-performance saloon.
We will have to wait until November 2013 before the CLA 45 AMG hits the showrooms and the eternal saloon-skirmish for the pride of Germany is resumed in earnest.