In the dark of night, deep in the British countryside, the complete bloodline of Discovery gathered to witness the birth of their all-new 5th generation sibling. Helicopters, celebrities, laser light shows, and at last the 2017 Land Rover Discovery. It was an impressive reveal, but once the photography flashes subsided we went to take a closer look.
The 2017 Land Rover Discovery is a generational leap over its predecessor as it ditches its traditionally boxy shape for a much more modern form akin to the rest of the Land Rover family. That said, tradition hasn't totally been forgotten as nods to its heritage can be found in its stepped roofline, short overhangs, and offset numberplate. The design is clean and certainly gained a positive reaction from the VIP guests who were amongst the first in the world to see it.
An increased use of aluminium means that this new SUV is 480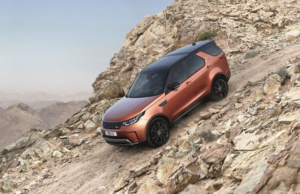 KG lighter than the outgoing model. Under the skin there is a choice of 3 engines. A twin-turbo 2.0 litre Ingenium diesel producing 237 BHP and claiming 43.5 MPG, the 3.0 litre V6 diesel has 255 BHP and 600Nm of torque, and a supercharged V6 petrol making 335 BHP. Performance is sent to the ground via an advanced all wheel drive system with self-leveeing air suspension.
Whilst the new 2017 Land Rover Discovery hasn't grown too much in size, the interior has been repackaged enabling 7 adults to sit comfortably. I tried out he rearmost seats and I have to say I was very impressed. The most impressive thing about the cabin isn't the big step up in material quality, of which is now more akin to a Range Rover, but the boost in onboard technology. 9 USB ports, 4 places to store iPads and a 4G Wi-Fi hotspot means that the children should be kept quiet on long journeys. A smartphone app enables you to heat of cool the car remotely, as well as deploy or retract various seats. Clever storage maximises versatility and whilst the split-folding tailgate is gone, an optional shelf serves the same purpose and can withstand up to 300 KG of weight. With all seats in place boot space is 258 litres, with 5 seats 1,137 litre, and with the rear seats flat you get 2,406 litres.
It wouldn't be a Discovery without plenty of off road credentials and the 2017 Land Rover Discovery has become the most capable yet. Terrain Response 2 handles a wide variety of surfaces and now has an auto mode which will detect and automatically apply suitable chassis changes. It now has an impressive wading depth of 900mm.
The 2017 Land Rover Discovery starts from £43,495 and hits showrooms Spring next year.