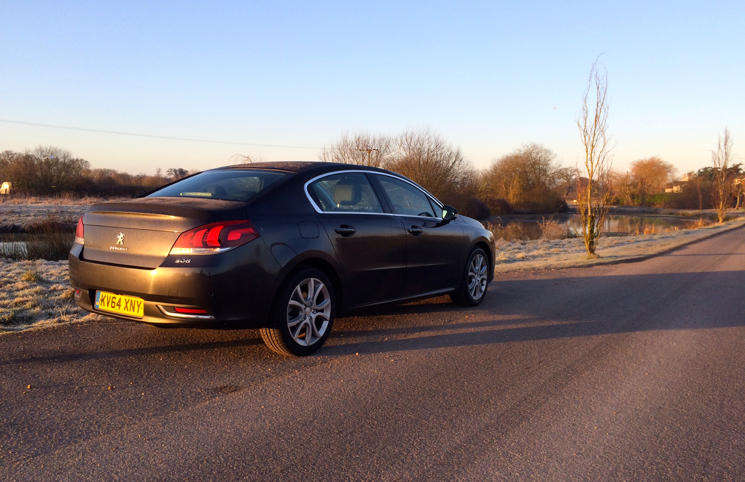 When it comes to making a decision about what new car to buy there are many factors to consider. Is it fit for purpose? Do I like how it looks? Is it comfortable? What sort of deal can I get in the
showroom? Something else which plays a key part in the decision making process is the cost of running said car. In terms of tax your CO2 emissions mean a great deal which is often bad news for company car drivers who want a strong diesel engine for long commutes. However, the recently refreshed 2015 Peugeot 508 2.0 BlueHDi 150 Allure might surprise you and the tax man.
Emitting just 109g/km of CO2, this 2.0 litre diesel saloon is in the 17% tax bracket for company cars for 2015 which considering its size and engine capacity is pretty good. For the rest of us its Euro 6 emission standards engine result in road tax which is free for the first year and £20 a year from then on. A claimed 67.3MPG combined also maximises the time between trips to the pump.
For this model year the 508 has been given a facelift to remain in line with the new Peugeot family architecture. Sitting upon its nose is a very upmarket chromed grill that encompasses the Lion at its centre. LED lights now sit either side as a precursor to a more horizontal bonnet. In profile the car is similar to last years represents one of Peugeots more pleasing silhouettes. The rear bumper has been given more character and the tail lights now sport a bolder design. This 2015 Peugeot 508 2.0 BlueHDi 150 Allure finished in its Flint paintwork, presents itself as being visually self-assured within this highly competitive marketplace.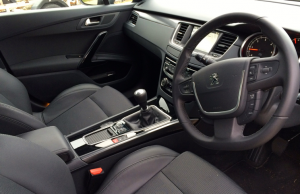 The interior offers plenty of space and has a nice airy feel to it which sets the tone nicely for a potential family space. This cars centre console now houses a 7 inch touchscreen infotainment system found across the Peugeot range, however, the cabin was clearly designed with the old system in mind as to use the touch functionality involves leaning forward to reach it. You are much better off using the 508s array of steering wheel mounted buttons. I really like the dashboard on the 508 as not only is it clear to read, but it is also stylish in the way its red needles fade in and out of use. On this Allure model we had luxuries such as dual zone climate control, heated seats, half leather, cruise control, DAB radio and Bluetooth. The rear bench provides ample head room and very good leg room for passengers. Plenty of light is let in through large windows and so the rear quarters never feel claustrophobic. Better still is that the middle passenger needn't be the one to draw the short straw as a low transmission tunnel means there is actually space for their feet. The boot is of a good size and for a saloon body style has a nice big opening enabling easy loading. Having the boot release button hidden within the "0" of 508 will keep friends guessing for hours whilst creating a clean design.
Driving this 2015 Peugeot 508 2.0 BlueHDi 150 Allure reveals it to be a refined machine that allows little in the way of noise or vibration entering the cabin. Visibility is positive and further boosted by this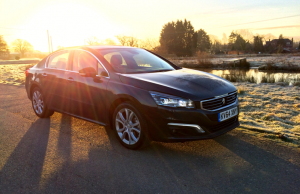 cars reversing camera. Around town the 508 does a very good job of not feeling like a big car. Its light steering makes manoeuvring easy and its suspension, with its relative lack of body roll and high levels of grip, promotes agility. However, its long gearing and better throttle response at higher revs suggests its talents lay elsewhere. It is on the motorway where the Peugeot 508 is at its best in this specification. The 2.0 litre diesel engine quietly hums as you make yourself quite comfortable for the journey ahead. It really is one of those cars that you could happily settle down with to rack up those motorway miles. If a regular commute for you involves notable time on the M25 then the 508 is a noteworthy contender as its hushed progressive drive creates exactly the sort of environment you want after a hard day at work. At higher revs acceleration is good and the 370Nm of torque available at 2,000rpm means there is plenty of "get up and go" in higher gears.
This very 2015 Peugeot 508 2.0 BlueHDi 150 Allure came to £26,315 with its optional paint which considering its equipment, is competitive amongst rivals. Whilst the 508 provides lots to like, it is those very same competitors that give it a hard time. This marketplace is one of the fastest evolving at the moment. The all-new Mondeo and 2015 Mazda 6 do cast a bit of a shadow over this car as good as it is. That said, its impressive CO2 advantages and price is tempting for those seeking such a car.