Sébatien Ogier returned to the site of his maiden WRC victory to land the top prize in Portuguese rallying for a record-equalling fifth time. The Frenchman comfortably fended off fellow podium-sitters Thierry Neuville and Dani Sordo on the final day to notch up his 40th career success, that after snatching the lead from teammate Ott Tänak  midway through Saturday's second leg.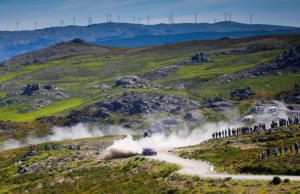 2015 saw Rally Portugal return to its spiritual home in the north of the country for the first time in 14 years. With two year's worth of experience under their belts, most crews should feel fully familiarised with their surroundings on a route that remains largely unchanged from 2016. Sunday does feature a refreshed itinerary with runs through Luílhas and Montim in the afternoon before crews tackle the legendary crowd-pleasing power stage at Fafe. Here, hordes of spectators gather on the hillside around the famous gravity-defying jump for some the best high-octane, high-altitude thrills anywhere in the WRC universe.
Tied for the lead after Thursday night's showpiece opener at the packed Lousada rallycross circuit, Hyundai's Thierry Neuville and M-Sport-backed Mads Østberg resumed hostilities on Friday Morning. It proved to be a roller-coaster ride of a day, with the rally lead changing hands no less than four times on the bone-dry, rocky gravel roads near the Spanish border. Back on his favoured surface and enjoying a beneficially low position in the running order, Kiwi pilot Haydon Paddon set the inaugural fastest time of the day in his Hyundai i20 WRC. After a brief set-up tweak at midday service, a second fastest time followed on stage 5. However, the Hyundai star's auspicious start came to a jarring halt when, on stage 7, his Hyundai i20 WRC suffered a crippling electrical fault that left Paddon and new co-driver Scott Marshall side-lined for an excruciating eleven minutes.
The New Zealander wasn't the only man to let things slip from a leading position on Friday's stages. Both Kris Meeke and Jari-Matti Latvala help top spot over the afternoon in what was an intense and finely poised multi-driver skirmish. Second on stage 2 followed by a fastest time on stage 3 catapulted the Scandinavian to the front of the pack, albeit by an extremely fine margin. Unfortunately for the Toyota pilot, disaster struck just a few kilometres from where Paddon had stopped on the day's final long-distance test.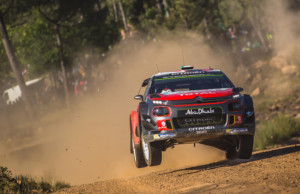 Latvala's sent his Yaris flying into a barrel roll on a particularly rough section, losing a total of five minutes as the car floundered on its roof. The carnage-stricken repeat run through Ponte de Lima also claimed the scalp of one-time leader Kris Meeke. A string of top three times had seen the Ulsterman sneak ahead of Paddon and Latvala but that brief charge was halted when his Citroën C3 suffered major suspension damage after a collision with the scenery.
Of those who successfully negotiated the barren but deadly landscape in one piece, Ott Tänak  ended the first full day of action top of the pile in his M-Sport Fiesta. Nevertheless, a slim 4.6sec gap was all that separated the Estonian from Hyundai's Dani Sordo in second and championship leader Sébastien Ogier just four-tenths further back in third. While Ogier ploughed doggedly through the loose gravel as road-opener, Sordo seemed not to pose any immediate threat to the leaders. That was until the carnage which unfolded ahead of him on stage seven saw the Spaniard hop from seventh to second in one foul swoop.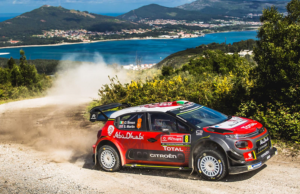 Thierry Neuville ended the day 11.1sec off the lead in fourth, not a disastrous result for the newly crowned rally Argentina champion in the highly testing circumstances. Citroën number two Craig Breen was 1.8sec behind in fifth with Elfyn Evans, fresh from his heroics in South America, 5.4sec adrift of the Irishman.
Toyota test driver Esapekka Lappi didn't look at all out of place on his full WRC debut in eighth, just shy of full-time Yaris pilot Juha Hänninen.  Meanwhile, Mads Østberg's Thursday night promise faded quickly after he shed almost 3min 30secs with a puncture on his Ford Fiesta.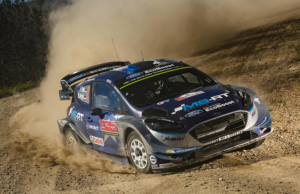 Saturday would also end with an M-Sport Fiesta in the driving seat of this most unpredictable of rallies, but not that of overnight leader Tänak. After an intriguing dual with a rejuvenated Sébastien Ogier, during the course of which the Estonian had initially stretched his advantage to 6.3secs, Tänak rammed his car into a bank on stage 12. Robbed of his stability and rhythm, the man who continues to hunt for a maiden WRC victory quickly became cannon fodder for his four-time world champion teammate. The charging Ogier had already overhauled Sordo on stage 11 and made equally short work of the limping Tänak to end the penultimate leg 16.8sec clear at the top of the leaderboard. The seventh different rally leader in two days had only the consistent but unspectacular Thierry Neuville to ruffle his unflappable feathers throughout the latter part of the day. The Belgian pushed hard on Saturday's final stage to reduce the arrears from 23.0secs, thereby applying at least a modicum of pressure on Ogier.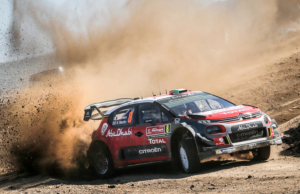 Tänak did at least manage to recover some degree of pride by ousting Craig Breen for fourth on Saturday evening.  The latter had worn his soft rear tyres virtually down to the rim before losing control and spinning on the 37.5km stage 15. Neither man was in a position to threaten Sordo's provisional podium place in third, despite the Spaniard finishing Saturday's final stage with a rear wheel slightly askew.
A glance at the bottom half of the leaderboard on Saturday revealed a rather desolate scene, with each successive driver blighted by an increasingly damaging series of misfortunes. A puncture and a broken damper for sixth-place Elfyn Evans felt like a relative let-off given the struggles of those behind him. Hänninen, almost 30 secs further back, conceded nearly a minute when his Toyota Yaris stopped with mechanical gremlins in the penultimate test. Meanwhile, the Finn's young compatriot and teammate Lappi relinquished seventh when his similar Yaris took a spin on gravel-covered asphalt and careered into a wall. This reverse dropped the Toyota number three down to 11th behind Mads Østberg and an under-the-weather Jari-Matti Latvala.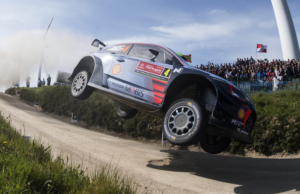 Rarely in a charitable mood once he hits the front, Sébastien Ogier wasn't about to dish out any scraps for his pursuers to feed on come Sunday afternoon. A characteristically canny drive through the plains around Fafe and Luílhas yielded a steady fourth and one final fastest time. It was enough to dissuade second-place Neuville from even attempting to bridge the now 19.3 sec gap on the remaining two stages of the rally.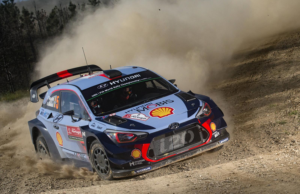 Elsewhere, Dani Sordo slammed the podium door firmly shut with an excellent run through stage 17. He had let things slip slightly on the previous test by only managing ninth fastest. Much improved on Luílhas, the Spaniard's second fastest time finally put the kibosh on Tänak's slim hopes of regaining his place in the top three. The M-Sport man throttled back to concentrate on defending fourth place from the highest ranked Citroën C3 of Craig Breen. This the Estonian achieved with relative ease, condemning the admittedly consistent Breen to a fourth fifth-place finish in the opening six rounds of the season.
Over a minute split the top five from the trailing pack. Elfyn Evans' was never likely to repeat his herculean drive to second in Argentina but should be relatively pleased with sixth overall in Portugal. The Welshman headed Scandinavian duo Juho Hänninen and Mads Østberg in seventh and eighth. Rally Sweden winner Jari-Matti Latvala's weekend took a dramatic nosedive after briefly hitting the front on Friday. The luckless Finn first turned his Yaris turtle and then spent Saturday night confined to a hospital bed, suffering from dehydration and a severe upset stomach. The iceman showed his mettle by bravely returning to the fray on Sunday and miraculously secured a points-finish in ninth. A delighted Esapekka Lappi rounded out the top ten on his world rally car debut.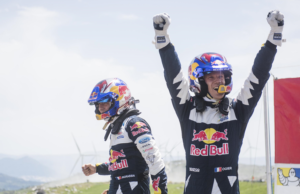 Ogier's record-equalling fifth victory in Portugal does his quest for a fifth successive title the world of good. 22 points is now the gap between the Fiesta pilot and nearest rival Neuville, who climbs to second in the standings after a strong series of performances. Despite his nightmarish outing on the Iberian peninsula, Latvala remains the highest-placed Toyota representative in third. He'll do well to make up the ground on Ogier, however, with the Frenchman already an imposing 40 points clear of his former teammate after six rounds.
Next stop on the 2017 WRC itinerary is Rally Italia Sardegna. The four-day gravel event unfolds in and around the northern port of Alghero and runs from the 8 – 11 June.
Final Results: Round 6: Rally Portugal
| | | | | | | | | | |
| --- | --- | --- | --- | --- | --- | --- | --- | --- | --- |
| POS | CAR NO | DRIVER….. | | TEAM…. | POINTS | | TIME | DIFF PREV | DIFF 1ST |
| 1. | 1 | S. OGIER | | M-SP | 25+1 | | 3:42:55.7 | | |
| 2. | 5 | T. NEUVILLE | | HYU | 18+4 | | 3:43:11.3 | +15.6 | +15.6 |
| 3. | 6 | D. SORDO | | HYU | 15 | | 3:43:57.4 | +46.1 | +1:01.7 |
| 4. | 2 | O. TANAK | | M-SP | 12+5 | | 3:44:25.9 | +28.5 | +1:30.2 |
| 5. | 8 | C. BREEN | | CIT | 10 | | 3:44:53.1 | +27.2 | +1:57.4 |
| 6. | 3 | E. EVANS | | M-SP | 8+3 | | 3:46:06.3 | +1:13.2 | +3:10.6 |
| 7. | 11 | J. HÄNNINEN | | TOY | 6 | | 3:46:44.6 | +38.3 | +3:48.9 |
| 8. | 14 | M. OSTBERG | | M-SP (PVT) |  4 | | 3:48:25.4 | +1:40.8 | +5:29.7 |
| 9. | 10 | J. LATVALA | | TOY | 2 | | 3:48:39.3 | +13.9 | +5:43.6 |
| 10. | 12 | E. LAPPI | | TOY | 1+2 | | 3:51:09.0 | +2:29.7 | +8:13.3 |