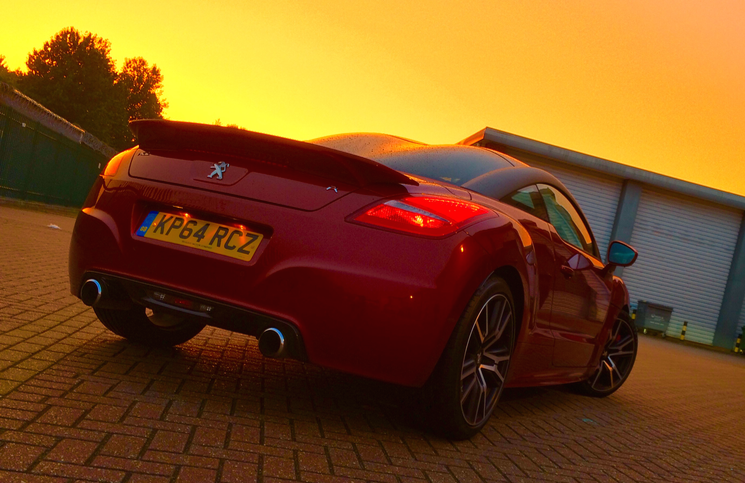 Car manufacturers have gone through a very rough time over the past few years, all high profile victims of the financial crisis. The good news is that things are now recovering, however, this process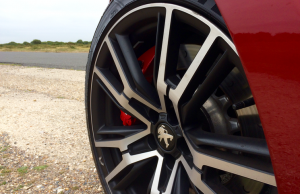 did have its casualties. Peugeot had to sacrifice its successful Le Mans and WRC motorsport programmes, both iconic elements of the French brand. The highly talented men and women who found themselves without a cause had to find a new place within the company. Thankfully their talents have not been wasted, far from it. Peugeot Sport's road division was born and their first crack of the whip is this Peugeot RCZ R. Do not go mistaking this car for the standard RCZ, oh no. This machine is a very different animal.
With a wide curvaceous stance, our red and black RCZ R test car looked the part. From its voluptuous arches to those distinctive rear hips, this low slung coupe oozes French style. Sitting lower and on bespoke 19 inch alloy wheels, each featuring a bold "R" in the spokes, gives the car a slightly more aggressive demeanour. Red badging, dual exhausts, and a fixed rear wing further add to that cause. Matte black trim creates quite a sinister contrast to the rest of the body. As your eye follows the coupe profile you notice this car's signature "double bubble" roofline. This RCZ is unique in its appearance and distinguished enough from the standard model.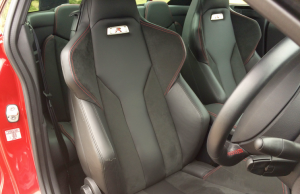 The cabin is a tale of two halves. Its wonderfully body hugging seats look as impressive as they are functional. Holding you firmly in place, these leather and alcantara posts are supportive and comfortable. Red stitching neatly lines the interior contrasting the blacks and greys. Chromed vents and dials surround an analogue clock in the console, a nice touch. However, the centre console and infotainment system is outdated. Though offering satellite navigation, the old fashioned screen that hoists itself vertical belongs in a car from years ago. Controls fitted to the console are also too far away and require you to lean forward out of your seat in order to reach them. Things aren't so great for the two rear passengers either as this "2+2" would struggle to fit children behind the front seats. The interior does begin to redeem itself with excellent visibility all around and a generous boot.
A performance car, as the name suggests, doesn't sell on its practicality. It is all about how it performs out on the road and packing the most powerful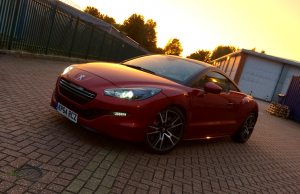 turbocharged 1.6 litre engine in the world, the 2015 Peugeot RCZ R goes into battle well equipped. Turn the key and it awakens with an abrupt crescendo of revs before settling down into a burble at idle. The noise isn't intrusive but it sounds purposeful. Driving about town and running errands you will find this car to be as easy to drive as a regular RCZ. Its stiffer suspension means that it does ride harder but it is far from bone jangling. Considering that there is 267BHP under the bonnet, it is very manageable day-to-day and surprisingly easy to park. "Come on get on with it" I hear you cry… Ok. Berrying your right foot into the carpet does provoke some torque steer as those ponies initially scrabble for grip through the front wheels. That said, even a light grip of the wheel will keep the car straight and true as this event is not a violent twisting of the wheel. Charging up through the rev range sees the turbo come on song at around 3,000rpm which is where things get exciting. Once the turbo comes into play this car's acceleration is relentless. It just doesn't stop! 0-62MPH takes just 5.9 seconds and it will go onto a top speed of 155MPH. A wonderfully orchestral four cylinder tune fills the air as that grin on your face widens. Snatch another gear from its 6 speed manual transmission and the fun continues. Onward to the approaching corner the RCZ R goes just before you apply its brilliantly powerful brakes. Now, the trick with this 2015 Peugeot RCZ R is to keep the turbo spooled up to maintain maximum performance. Heal and toe before turning into the apex will ensure a good exit. High levels of grip thanks to its tyres and wide track produces fantastic corner speeds whilst its limited slip differential keeps understeer at bay. It is a wonderfully enjoyable car to take on a series of challenging B-roads and just like its interior clock, everything feels analogue. You are connected to this car and unlike many sports cars these days it feels like you are doing the work. It flatters you. With all of that power I am sure you are expecting MPG to suffer? We achieve 36MPG combined which is good news for your wallet.
Not so good news for your wallet is its £32,250 price tag. Now I am sure many of you are thinking that the Audi TT would now be the more sensible option, and you would be right. However, the TT isn't the car I would choose. The Peugeot has got soul and something that just makes it feel special every time you get in it. Glance in the wing mirror and those hips remind you why passersby are looking. It is the best Peugeot for a decade and a car that will no doubt become a classic in the future. Especially as it goes out of production this year, and that is a great shame.