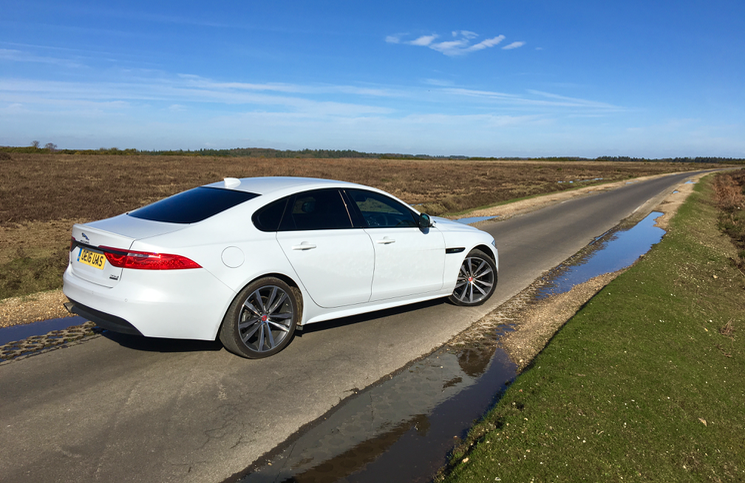 The first part of 2017 has been filled with adverse weather conditions here in the UK. Hurricane derived storms, flash flooding, and even land slides in costal areas. Road surfaces became rather treacherous to the point of leading to high profile accidents. If these more adverse months of the year are set to become a permanent fixture, it is unsurprising that people are starting to look towards all wheel drive for added security. An SUV isn't for everyone and so the 2017 Jaguar XF AWD might just be the executive solution.
We have remarked upon what a handsome machine the new XF is in the past when we first road tested it, but this specification really amplifies the design work. The white canvas this paint choice provides allows the sleek lines to be seen in all of their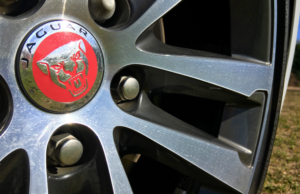 glories. Having a lengthy bonnet and a glasshouse further rearward creates a more sporting profile for this saloon. The addition if the "Black Pack" replaces many chromed elements with gloss black, something which gives the car even more character. Sitting on 21 inch sports alloy wheels, it is a purposeful looking machine.
The interior is a true reflection of modern-day Jaguar. Gone is the wood and in its place modern texted materials that combined to form a premium cabin. Revolving air vents and a rising gear selector is very James Bond, whilst the InControl touchscreen
infotainment display is functional enough to have come from Q branch. This R Sport car comes with supportive heated leather seats that are bolstered for entertaining roads but also comfortable throughout long journeys. The rear bench seats three but there is less space than competitors thanks to a sloping roofline and a large transmission hump in the floor. Redemption is found in the form of a decent 540 litre boot.
Under the skin is a 178 BHP 2.0 litre Ingenium diesel engine of which also produces a strong 430Nm of torque. Whilst this car does indeed have all wheel drive, the majority of the time power is still sent to the rear wheels. This enables the 2017 Jaguar XF AWD to retain that signature agility of the standard car and prevent that typical feel of understeer in something all wheel drive. Its light weight architecture means the additional heft of AWD isn't all that notable as the car faithfully seeks the apex with minimal body roll. Driven enthusiastically there is plenty of grip and the precise steering allows for accurate placement of the XF. Selecting the cars sportiest mode further amplifies this by increasing throttle response, damper stiffness, and steering weight. Cog swapping is taken care of by the ever brilliant 8 speed automatic transmission that finds its way into all JLR products, no bad thing! It is competent, refined, and and quick to respond when called upon via wheel mounted paddles. So, the XF hasn't really lost any of is dynamism, but if it senses even the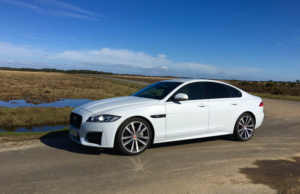 slightest loss of traction, power is distributed to each corner to provide stability. This was well demonstrated on a rainy trip to the airport when I hit a large body of standing water at motorway speeds. What happened? Nothing, nothing at all from a drivers perspective. However, behind the scenes the cars various stability systems combined with all wheel drive kept the car under control. A Low Traction Launch feature means that the 2017 Jaguar XF AWD can get away cleanly when it is slippery under foot. It is a reassuring feeling to know that the car has got you covered when caught off guard by road conditions. Generally speaking, on long motorway hauls the XF is in its element providing a supple ride and good levels of refinement. The 2.0 litre provides plenty of shove for overtaking. Around town the engine is a bit noisier and the low speed ride is somewhat firmer than competitors. Whilst rear visibility is not the best, multiple cameras make parking the Jag easy. Jaguar claim 57.7 MPG combined and emissions of 129g/km CO2.
This is one of those "have your cake and eat it" moments as the 2017 Jaguar XF AWD enables you to enjoy the driving experience as well as enhance that feeling of security come rain or shine. At £36,560 it is competitive with key rivals but has the benefit of not being "yet another" German car in the car park.