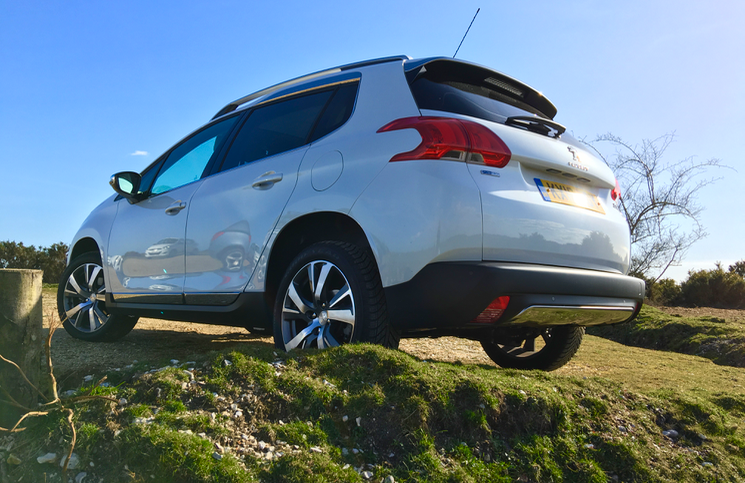 There are a lot of choices involved in buying a new car. As well as what car to buy, you have to consider specification and getting this wrong could lead to a costly error. Something as simple a the wrong colour may result in a car you can't stand to look at. More crucial choices, such as engine and transmission, need to be considered carefully. The Peugeot 2008 is a car that I like. I think it is the ideal platform for the French brand to capitalise on the growing compact SUV boom, however, our test cars specification lets it down somewhat.
My issue with this specific Peugeot 2008 is not in the visuals department. Our top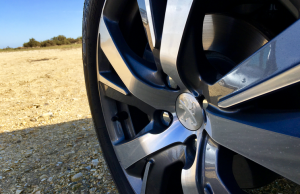 specification example looked good in white and its chromed details certainly enhanced. Proportionally this little SUV looks right with short overhangs and a taller dimension than the 208 it is based upon. A front scuff plate and wide front grill gives the car a purposeful front profile. Stylistic designs for both the front and rear light clusters complete a premium looking machine.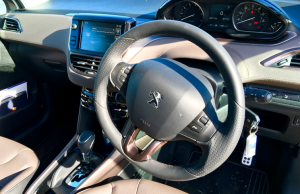 The interior of the Peugeot 2008 is also a highlight. Occupants are surrounded by curvaceous surfaces and neatly stitched leather. Piano black plastics further reinforces a sophisticated tone. With a full length panoramic glass roof and blue ambient lighting, the cabin never feels dark or claustrophobic. A touchscreen infotainment display offers everything from DAB radio to navigation. Much like other Peugeot siblings, the 2008 receives the small steering wheel with the analogue dials positioned above. It is a visually pleasing arrangement, especially at night with its glowing blue surround, some have complained that the wheel can obscure the dials. Personally, I seem to be the correct hight as I didn't have a problem. Dual zone climate control soothe the air whilst you relax in some supportive seats. The second row presents a rather spacious proposition with good levels of head and leg room. 360 litres of boot space is pretty good for this class and a nice flat floor makes for easy loading.
So if it's not the interior or exterior that makes this particular Peugeot 2008 not the best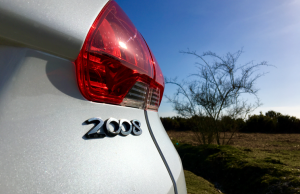 of choices, what is it? In a nutshell, it is the combination of the engine and gearbox optioned. This 110hp 1.2 litre petrol engine is a little gem. I really do like its relatively peppy performance, and in this car, 58.9 MPG combined. However, it is an engine that has the majority of its power higher in the rev range. The initial torque is useful for making a move out of busy junctions, but to get a bit of a move on it needs to be left to rev a bit longer than this automatic does when left to its own devices. I also don't think the shifts are the smoothest amongst rivals. Now I really want to stress that in my opinion this is simply a case of the wrong gearbox for this engine, because the 2008 has proven itself in other specifications. Asides from that, there is still a lot to like. This Peugeot 2008 sports high levels of grip and admirable body control which translates into a competent set of driving manners. Its aforementioned smaller steering wheel helps with quick steering responses boosting agility. Around town its good visibility makes it easy to park, but the reversing camera on this model means there is no excuse. Light steering makes for easy manoeuvring through tight street as does its compact size. At motorway speeds there is a bit of road noise but nothing too bad, and overall this little engine is quite happy sitting at the speed limit with the cruise control set. A little trick our test car had up its sleeve is something called "Grip Control" which gives the car some response to terrain. Obviously being front wheel drive this 2008 isn't going to be climbing mountains, but the system gives you various settings for different surfaces. By controlling what power is sent to each of the from wheels it can find an utilise grip when there is little. A load of old rubbish? Well, Peugeot just won the Dakar rally with a similar format.
The Peugeot 2008 is a good car and I'd certainly recommend it to the shortlist of anyone looking for a compact SUV, however, I would also recommend either a manual gearbox with this engine or take a look at the strong diesel offering. You can have a 2008 from £13,615 or our test car, with just about every option ticked, came to £19,495.