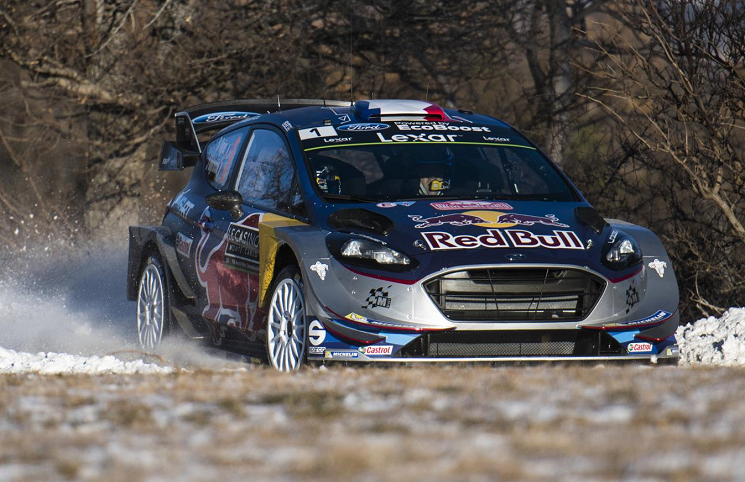 Sébastien Ogier marked his debut in the Ford Fiesta WRC with an unlikely win at Rally Monte Carlo. Well adrift of Hyundai ace Thierry Neuville for much of the first two days, the Belgian dropped out of contention on Saturday evening after suffering serious suspension damage. The Frenchman's perfect start to his fourth consecutive title defence was the first win by an M-Sport driver since November 2012.
Ogier's new teammate Ott Tänak dropped a place to third late on after a spate of engine problems. Jari-Matti Latvala was the chief beneficiary, shuffling up a spot on the podium to give the Toyota squad second place on its WRC comeback.
Nowhere in the world seems to capture the romance of rallying quite as much as Monte Carlo. First run way back 1911, it is by some distance the oldest event on the calendar and regarded by many as the most prestigious title up for grabs. Probably best remembered for the giant-killing exploits of the legendary Mini Coopers that defined rallying for much of the 1960's, Rally Monte Carlo has always had that air of magic about it. Today's drivers face the very same challenges that their counterparts of 50 years ago would have encountered. This means radically varying mountain conditions as well as roads that can turn from dry asphalt to ice and then to snow all in the space of a single stage. With such an eclectic mix of road surfaces, finding optimum grip often becomes a near-impossible task. Needless to say, shrewd tyre choices and a good nose for predicting overhead conditions are very much the keys to success in the principality. The new generation rally cars aren't the only novelties this year, as 85 per cent of the route has changed since 2016.
With treacherously slippery ice coating the mountain stages above the principality, it seemed only a matter of time before one of the major WRC players was caught out. Few expected that man to be reigning world champion Ogier, however. No amount of silverware or records could save the Frenchman from the terminal slide that saw him dump his Fiesta into a ditch halfway through stage two on Friday morning. Despite jamming the anchors on, Ogier was helpless to prevent his new machine from slipping inexorably off the road and into the scenery, where he shed more than 40sec getting the car dislodged from a bank.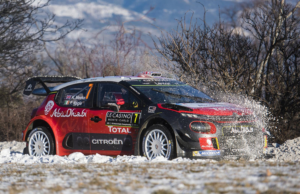 A small price to pay in the grand scheme of things, as became clear when both Kris Meeke and fellow Fiesta ace Elfyn Evans suffered similar fates. Briton's Evans, back in WRC after a year in the lower categories, fluffed his lines on exactly the same ice patch as teammate Ogier. The Fiesta was fit to continue but compatriot Meeke's Citroën C3 didn't escape so lightly. Initially challenging for the lead, the Ulsterman skidded on ice and hit a bank, leaving his front suspension rather the worse for wear.
Of those who steered clear of major dramas on Friday, Thierry Neuville shone brightest. Attacking the challenging conditions with no hint of trepidation, the 2015 championship runner-up kept his cool to fend of numerous assaults throughout the day.
Three consecutive stage wins put the i20 Coupe pilot 45.1sec clear of the pack after the longest leg of event and he remained unruffled in spite of a late rally from Ogier which saw the M-Sport man recovering from eighth to second. That late spurt relegated fellow Fiesta pilot Ott Tänak , fastest on stage 2, down to third position. Jari-Matti Latvala might have mounted a serious challenge to the number two Fiesta had he not spun on the final test of the day.
If Ogier harboured ambitions of catching Neuville napping on Saturday's early morning stages around Gap, he would have been dismayed to see the Belgian's times through the opening brace of stages. With the new i20 WRC in fine fettle, Neuville looked to be in a class of his own as he extended his advantage over the Frenchman by over a minute. For once, the four-time champion looked bereft of ideas. Despite pushing his Fiesta to the absolute limit and surviving a close call with a snow bank along the way, the afternoon session drew him only a few seconds closer to Neuville. The Hyundai man had by now opted for a more conservative approach to consolidate his seemingly cast-iron grip on top spot.
Whilst Ogier delved deeper into his increasingly depleted armoury, others in the lead group flew. None more so than M-Sport's Elfyn Evans, who bagged a stunning victory on stage 10, denying rally leader Neville the fastest time by 1.0sec . Not content, the Welshman confirmed he fully deserves his place back with the WRC big guns by topping the time sheets twice more in the afternoon loop. A spirt up to sixth slotted Evans in behind the sparring pair of Breen and Sordo. The latter did hold the advantage for a time until a final stage power steering failure sent Spain's chief hope careering into a field at the cost of over a minute.
Neither Tänak nor Latvala had an easy time of it on Saturday, with M-Sport's Estonian star hampered by a faulty gearbox and power steering gripes in the morning. Passed with a clean bill of health after midday service, Tänak was able to put 1min 33.5sec between himself and lead Toyota pilot Lavala by the end of the day. The Finn made the mistake of wearing down his studded tyres on the dry morning roads and subsequently slipped back on the snowier afternoon tests.
However, there was to be a late twist in the tale as Saturday drew to a close. Seemingly on course for a first victory since Italy last year, Neuville's luck ran out in abrupt and terminal fashion when his i20 Coupe's rear left suspension collapsed during the second run through Bayons-Brezier. Colliding with a hidden obstacle on a slow left corner, Neuville and co-driver Nicolas Gilsoul spent a mind-numbing 30 minutes on the roadside patching up the stricken i20. He eventually nursed the car over the finish line at the expense of 15 places and a maiden rally win in 2017.
This left Ogier with a sizable 47.1sec cushion over Tänak with only Sunday's final leg left to run. While there were no last minute dramas in store to knock the Frenchman off his stride, M-Sport's potential one-two finish was ruined when Tänak's Fiesta was reduced to two cylinders on stage 15. He limped through the Luceram – St Roch test, dropping 90sec along the way, including a 50sec penalty for starting the stage five minutes late. Whilst Tänak licked his wounds to maintain a 46.6sec over fourth place Sordo, he was powerless to prevent the Yaris of Latvala slipping past to snatch second and in doing so secure a podium finish for Toyota on its first rally for 17 years.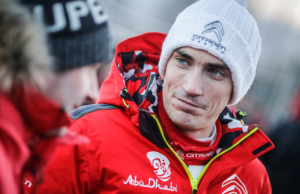 Sordo's was the highest placed of the two i20s although former leader Neuville did return to snatch five bonus points on the power stage. The Belgian languished down in 15th overall after Saturday's misfortune. There was far more positive news for Citroën's Craig Breen who made a decent start to life in the C3 by taking fifth.  One place further back, Elfyn Evans would surely have been slugging it out with his Fiesta colleagues at the business end of the classification had he not lost several minutes in snow and ice on Friday.
Andreas Mikkelsen, without a seat in WRC this year, claimed an impressive seventh in a WRC2-spec Skoda Fabia. Meanwhile, Northern Ireland's Kris Meeke failed to restart on Sunday, a collision with a car on the liaison section to Monaco on Saturday night compounding Friday's retirement.
He may have had barely a month to get his feet under the table at M-Sport, but already Sébastien Ogier has proved he's more than capable of defending his title for a fourth year. Any doubts over the reigning champion's adaptability away from his familiar surroundings at Volkswagen seem well and truly unfounded. However, if the Fiesta's form in Monte is anything to go by, he may not be the only M-Sport driver in the title mix this season. Neuville will count himself unlucky but should come away from the opening round buoyed by a highly impressive showing aboard the new i20. Toyota too will be rightly celebrating a near perfect return to the series they quit in 2000. Jari-Matti Latvala is clearly the steady hand they require to lead the comeback charge throughout what promises to be a fascinating 2017 campaign.
Next stop Sweden, as the WRC prepares to go wild in the white stuff from the 9th – 12th February.
Final Results: Round 1 – Rallye Monte-Carlo
| | | | | | | | | | |
| --- | --- | --- | --- | --- | --- | --- | --- | --- | --- |
| Pos | No. | Driver | Co-driver | Team | Points | | Time | Diff Prev | Diff 1st |
| 1. | 1 | S. OGIER | J. INGRASSIA | M-Sp | 25 | | 4:00:03.6 | | |
| 2. | 10 | J. LATVALA | M. ANTTILA | Toy | 20 | | 4:02:18.6 | +2:15.0 | +2:15.0 |
| 3. | 2 | O. TANAK | M. JARVEOJA | M-Sp | 18 | | 4:03:01.4 | +42.8 | +2:57.8 |
| 4. | 6 | D. SORDO | M. MARTI | Hyu | 15+1 | | 4:03:39.4 | +38.0 | +3:35.8 |
| 5. | 14 | C. BREEN | S. MARTIN | Cit |  12 | | 4:03:51.4 | +12.0 | +3:47.8 |
| 6. | 3 | E. EVANS | D. BARRITT | M-Sp | 10+2 | | 4:06:48.6 | +2:57.2 | +6:45.0 |