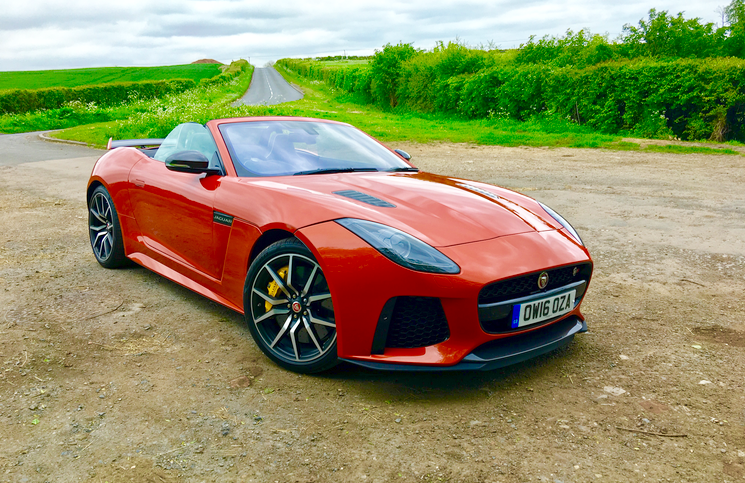 The Jaguar F-Type is a beautiful marriage of curvaceous design and British built grunt. I have long cooed over this machine and even more so when the handsome coupe arrived. Whilst over the years I have driven some impressive performance cars, the F-Type has always been missing from my catalog. That needed changing and to aid me in my quest I employed a 2017 Jaguar F-Type SVR Convertible. Talk about trial by fire! This top-flight Jag makes its siblings look like kittens.
It isn't the sort of car you should take to a funeral… Our test car arrived loud and proud in the most extravert shade of orange.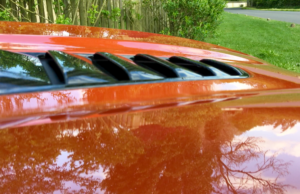 Whilst the body work retained all of the familiar curves and taught lines, the SVR is garnished with testosterone. Carbon fibre bonnet louvers, ducts, channels, a sizeable splitter, and a proud centre venturi. Quad exhaust pipes point like cannons from the rear overlooked by a large active wing. Its long bonnet and broad shoulders give it a purposeful stance whilst the detailed alloy wheels serve as the icing on the cake. This car demands the attention of every living thing within 250 yards.
The interior feels just as special with a central bank of vents rising to give the cockpit a sentient feeling. Leather and alcantara coats every surface as you take your seat low within the chassis. Highly bolstered sports seats grip you and a dished three spoke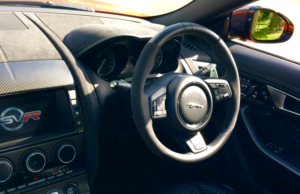 steering wheel is aimed squarely at your chest. A grab rail runs down the centre console hinting that the passenger might just want to hold on tight in the very near future. Mounted within the console is the infotainment system of which is a bit dated. A quick play reveals that Jaguar's latest system found on newer models than this is a big step forward. Open the boot lid and a surprising 207 litres of space, or enough for a weekend away, can be found.
Before driving the 2017 Jaguar F-Type SVR Convertible there is a palpable tension. The machine is ready, but are you? The starter button pulsates, the click as it is pushed, then a roar as this big cat clears its throat. As you purr out of the car park the ZF automatic transmission is just as silky smooth as you would expect. To my surprise, the SVR is actually more refined than its aggressive looks would have you believe. In its most comfortable setting the suspension deals with road imperfections adequately and if you avoid mashing the throttle there isn't too much noise bleeding through into the cabin. There is some wind noise, as is customary with convertibles, but overall I would say living with this F-Type isn't much of a hardship. But you don't want to know about how it behaves around town, do you? You're reading this to hear about what happens when it is let out into the wild! Beneath your right foot is a weapons grade supercharged 5.0 litre V8 of which produces 568 BHP and 700Nm of torque. All of that grunt is tamed via an intelligent all wheel drive system that can send up to 50% of power to the front. You might also be pleased to know that said system can also allocate 100% rearward. Launching the car from a standstill is like lighting the fuse of a cruise missile. Without warning the immediate response rushes the Jaguar F-Type SVR from 0-60 MPH in just 3.5 seconds. The unrelenting acceleration will continue through to 195 MPH. Narrated by some of the loudest barks to ever come from a combustion engine, it is a visceral experience. Even lifting off of the throttle initiates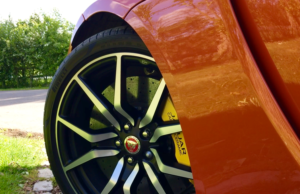 machine gun fire crackles and pops. Show the car some twisty roads and it doesn't disappoint in the handling department either. Thanks to torque vectoring and a rear wheel drive bias, it leaps from bend to bend demonstrating real agility. High levels of grip add a sense of security whilst you exploit the raw performance. In its dynamic setting the steering is very precise and allows for accurate placement when hunting apexes. When driven hard the ZF gearbox comes a little bit unstuck in that its responses are fast, but just a whisker not fast enough. However, there is no denying the capabilities of the 2017 Jaguar F-Type SVR Convertible. The engineering achievement that it is, I have little doubt, would keep pace with a 911 Turbo on a technical set of roads.
Costing £115,485 the SVR is a fair chunk of change, but when you consider that it has all wheel drive and a power advantage over the more costly AMG GT, the F-Type is respectable value. It also has more theatre as speed than its competitors and more charm when stationary. The 2017 Jaguar F-Type SVR Convertible proves that the brand still has claws.