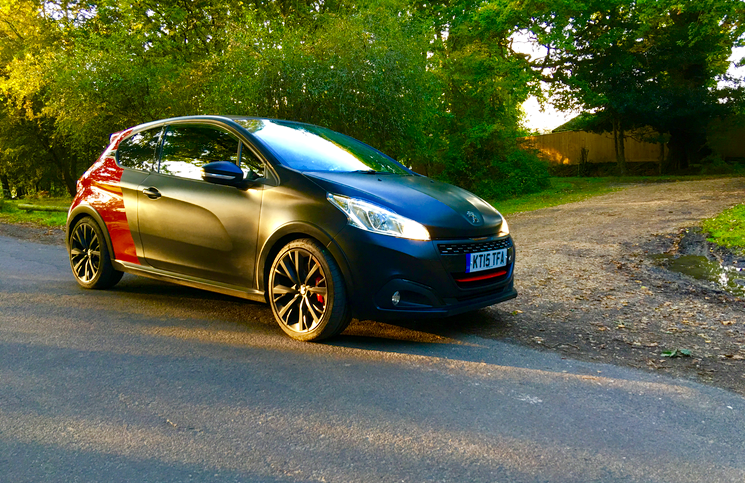 After entering a cold war state for about a decade or so, the hot hatchback battle has truly reignited. Once again we are seeing manufacturers pouring their heart and soul into spicy variants of family runarounds. Why is that exciting? Because mere mortals such as you and I will likely never own a Lamborghini or waft along the Monaco harbour in a Pagani. However, in the real world where we reside you can have just as big of a smile on your face in said hot hatch. Best of all, it won't cost you the Earth and you can even take the children to school in it. This resurgence ASBO endusers is at its most prolific in the B-segment at the moment and competition is tough. We drove the 208 GTI last year and liked it very much, but now Peugeot Sport has got involved to enhance this French connection. Enter the 2015 Peugeot 208 GTI.
From the very moment our test car arrived it had peoples attention. The optional two-tone 'Coupe Franche" paintwork isn't for the shy, but its matte black and red finish certainly highlights that this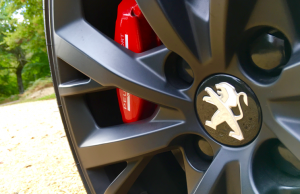 is no ordinary 208 GTI. Peugeot's designs of late have all been rather attractive, 208 included, with lashings of French style. Remove the loud colours and the GTI also fits this bill, although its body enhancements are not as overt as some competitors. A neat rear spoiler, dual exhaust exits, and some of the smartest black alloy wheels on the market are polite nods to this cars performance. The recently face-lifted 208 tweaks also make an appearance here, but this car is lower and wider than standard. Peugeot Sport badging will undoubtably please enthusiasts.
Inside the cabin is simply one of the best in its class. As much as I love the Ford Fiesta ST, its interior doesn't feel anywhere near as special as what you find within the 2015 Peugeot 208 GTI. Half leather bolstered sports seats grip you, a tiny steering wheel is at your fingertips, and red details contrast the black backdrop. Sculpted surfaces surround a touchscreen infotainment display giving the whole environment a premium nature. It is chic and feels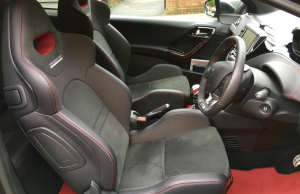 upmarket. The rear bench offers seating for three, but adults might find leg room a bit restrictive. Rear visibility is good, which makes a nice change as the current trend is for designers to fashion new cars with a porthole for the rear window. A good 285 litre boot means that family life is not sacrificed for that GTI badge.
Those Peugeot Sport logos are not just there for marketing purposes. The performance arm created the 208 GTI 30th Anniversary Edition that went down so well that all of its mechanical changes have been carried over for the 2015 Peugeot 208 GTI. That means this 208's iteanrry included stiffer suspension, Brembo Brakes, reworked ESP, Michelin Pilot Super Sport tyres, and a Torsen limited slip differential. Power comes from a turbocharge 1.6 litre petrol engine producing 205BHP (up from 197BHP) meaning it will do 0-62MPH in a brisk 6.5 seconds. Driving at such a pace on challenging roads reveals this new 208 GTI to be exceedingly competent. On top of the vast quantity of grip available, the new Torsen differential does a great job of managing the power. It just grips and goes! Push it really hard and you will find some understeer, but this Peugeot is very approachable in the way it dishes out its performance. Thanks to a short wheelbase and quick steering it feels nimble as the GTI darts from apex to apex whilst cocking a rear wheel. The steering itself could do with a bit more feedback and a touch more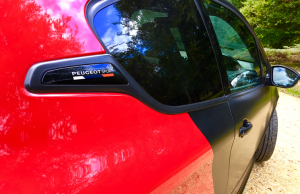 weight just off centre, but its go kart-like change of direction is pleasing. Chuck it into a corner and body roll is minimised, the car feels composed. Whilst I would like to hear a bit more engine noise when stirring the 6 speed manual transmission, its refinement is another strongpoint. When you are just going about your day the Peugeot 208 GTI is compliant with urban life. It is relaxing and comfortable to drive at normal speeds and its sound insulation isn't bad. The low speed ride is firmer than the previous 208 GTI, but its benefits on a twisting country road outweigh the slight bump you get when tackling a pothole.
The 2015 Peugeot 208 GTI by Peugeot Sport is right up there with the very best in its class. These mechanical changes brought about by Peugeot Sport have made this car even better. Whilst the Fiesta ST is still king of the hill in terms of handling, its margin is now even more reduced by this GTI. A strong case could be made for this Peugeot Sport 208 to be the car you should go and buy as its all-round competence in each area of motoring life is very compelling. It is more costly than the outgoing 208 GTI at £21,995 but you do get some very worthwhile upgrades.