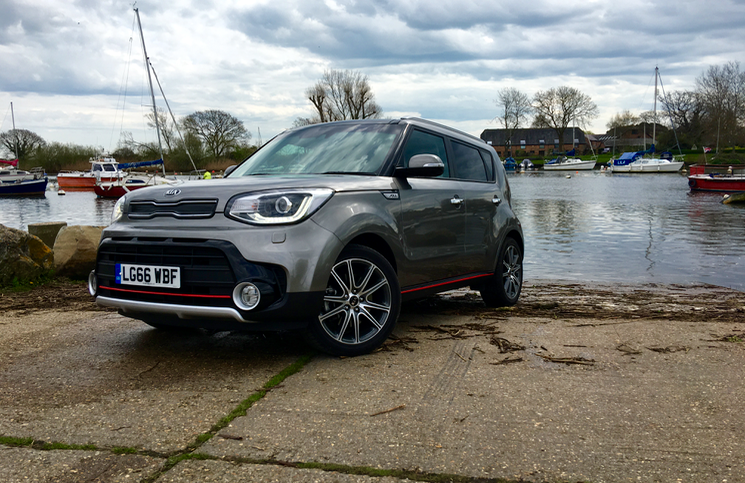 Life is full of pleasant little surprises, don't you think? Those times where something unexpectedly makes you smile are often the things that help you through a challenging day. I am sure you are all familiar with the quirky Kia Soul of which offers an alternative flavour of hatchback. The new 2017 Kia Soul Sport is just as individual as the car on which it is based, but in this new guise it proved to indeed be a surprise.
Retaining its attitude of breaking the mould, this boxy profile is unlike anything in the car park at the moment. Short overhangs, tall stance, a raked windscreen, it makes a statement. The
rounded edges to the design gives it a post-modern feel as opposed to something that was drawn with an Etch-A-Sketch. Large headlights and intricate rear lighting signatures detail this alien craft. Our Sport model finished in a sobering metallic grey actually looked rathe polished. This car receives reworked bumpers, 18 inch alloy wheels, and a neat red pinstripe running along its skirting.
The interior, whilst clearly belonging to a car, has elements that could also double as modern art installations. The speakers sit atop towering vents as the door speakers change colour like some form of technicolour jellyfish. More unconventional shapes can be found throughout making for a cabin that couldn't belong to anything else. A large touchscreen infotainment display offers everything from DAB radio, phone connectivity, Apple CarPlay, Android Auto, and navigation. Kia's user interface is clean and ergonomic. A pair of more sporting heated leather seats host the front occupants whilst rear passengers take full advantage of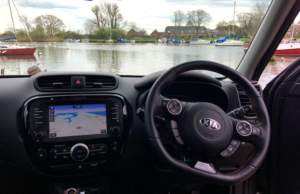 utilitarian shape the Kia Soul Sport provides. Ample head and leg room, with the addition of heated seats, makes of a comfortable place to sit. A glass panoramic sunroof floods the interior with sunlight, boosting that airy feel. The 354 litre boot expands to a highly usable 994 litres with the rear seats folded flat.
Under the bonnet is a 1.6 litre turbocharged engine of which produces 201 BHP and 265Nm of torque. Those numbers place it firmly into the warm hatchback category and a 0-62 MPH time of 7.5 seconds further backs that up. Performance makes its way to the ground via a 7 speed DCT automatic transmission and the front wheels. It doesn't take a genius to add a little bit of extra spice to a mainstream model, but the big surprise was that this 2017 Kia Soul Sport is actually a really enjoyable little thing to grab by the scruff of its neck. Considering its hight, the Soul is remarkably resistant to body roll thanks to a stiffer suspension setup. The steering could do with a bit more communication, but it is accurate making it easy to place. Select Sport Mode and the steering weight increases as does the throttle response. Keen turn-in is followed by plenty of grip and a good slug of torque when accelerating out of a bend. It isn't the worlds fastest machine, but it is fun aiming to maintain that momentum through a series of sweeping bends. The aforementioned gearbox appears to know what it is doing too, accurately selecting ratios and engaging them quickly. Once the turbo was spooled up I did find myself with a grin on my face. In a more everyday environment the Kia Soul is still a good allrounder, however, the ride is notably firmer. Ruts in the road make themselves known as the reduced suspension travel results in a pronounced thud. Visibility is positive in every direction apart from the narrow rear window, but that is remedied with the reversing camera on this car. Its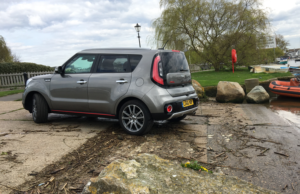 compact size makes it easy to park as does the light steering. It is quite happy to sit on a motorway with the cruise control taking care of business, and there is enough get up an go to make positive overtaking progress. Obviously there is notable wind noise due to the cars blunt surfaces, but it does the job if longer journeys are required. Kia claim 40.9 MPG combined.
The 2017 Kia Soul Sport may well be a bit of an oddball, but sometimes that left field choice is exactly what you are looking for. This car can be a difficult thing to define… Warm hatch? Compact SUV? MPV? 4th dimensional being? One thing that we do know for sure is that we rather like it. £23,250 gets you this latest addition to the Soul family.