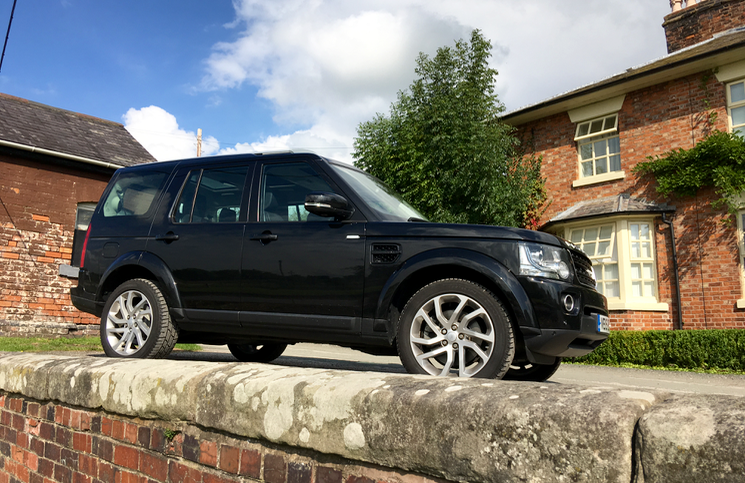 For 25 years the Land Rover Discovery has been an iconic 4×4. Venturing far and wide, this SUV has tackled just about every terrain imaginable. Through each of its four generations it has become more capable, and with the introduction of the new 5th generation model next year, the Discovery name lives on. However, that sadly means we must say goodbye to the trusty current generation that has become a common sight both on and off road. This is the 2016 Land Rover Discovery Landmark and it is a fitting farewell to one of the best cars the brand has ever built.
Sporting that familiar chiseled outline for one last time, the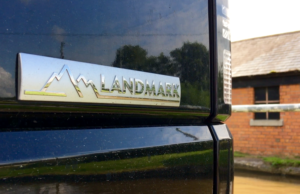 Discovery Landmark has all of the hallmarks we have come to love. The bold stance, its stepped roofline, and a real sense of utilitarian functionality. Our test car finished in black and with a few Landmark touches, such as darkened grills, 20 inch alloy wheels, and silver roof rails, looked like something that could take you to dinner, but also climb a mountain. Obligatory badging can be found at its rear whilst updated light signatures finish off the design.
The 2016 Land Rover Discovery Landmark is based upon the top specification offering and so the interior is equipped with every luxury you could want. Heated seats, heated steering wheel, DAB radio, premium audio system. Want a TV? Have three. How about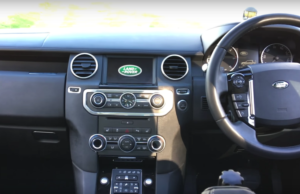 a fridge? Sure, go ahead. This car is so lavishly specified that you needn't leave your elevated driving position for days if needs be. Whilst the centre console and touchscreen display are beginning to look dated, everything is still very ergonomic and well laid out. The middle row gets two TV screens and a pair of wireless headphones. That bench will also happily seat three adults. The final two jump seats are ideal for children or occasional adult use on short journeys. Open that synonymous split-tailgate to reveal boot space of 280 litres with 7 seats, 1,124 litres with 5 in place, or fold them all flat to receive 1,950 litres.
Under the bonnet is the familiar 3.0 litre V6 diesel engine and this trusty unit has proven to be a solid workhorse over the years. 252 BHP is produced with a minimal amount of fuss as refinement levels are very good. Smooth running sets the tone for this SUV. However, it isn't the power which defines the way in which this engine goes about its business. 600Nm of torque allows what is a rather large car to move swiftly. Driving this Land Rover Discovery Landmark there is a real air of effortlessness as the light control weights and high driving position makes you feel, both literally and metaphorically, above it all. Pottering around the Land Rover's supple as well as ride good all around visibility makes it easy to live with. Head out and onto the motorway and its cruising abilities are impressive.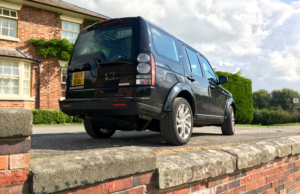 Yes, it does have the aerodynamic properties of a brick by todays standards and as a result there is some wind noise, but generally the cabin is well insulated. The 8 speed ZF automatic transmission is seamless with shifts barely noticeable. Sink into your heated leather seat a little deeper and let the car take the strain. I drove to north Wales and back from the south coast and arrived still feeling fresh. Obviously it is no sports car, its hight does result in leaning through sweeping bends, but the high levels of grip are reassuring.
Despite all of this luxury the Land Rover Discovery Landmark hasn't forgotten why it wears that famed badge. Turn off of the tarmac and onto the rough stuff where it feels at home just as much. Air suspension soaks up much of the undulation Mother Nature sends your way whilst its capable Terrain Response system works out exactly where power needs to be sent. Wade depth sensors inform the driver of how deep water ahead of the car may be to prevent harm coming to the car. That aforementioned torque makes short work of even the of steepest inclines and enables towing of up to 3,500kg. Finished playing in the mud? Well, it is more than happy to take you home whilst you warm your hands on the heated steering wheel.
The thing I have always loved about the Discovery is that World War Three could break out on the other side of your window and you could merrily carry on with your day. Capable, comfortable, complete. The next generation has some big shoes to fill that is for sure! £55,995 isn't cheap, but is a relative bargain when you think about how broad its abilities are.