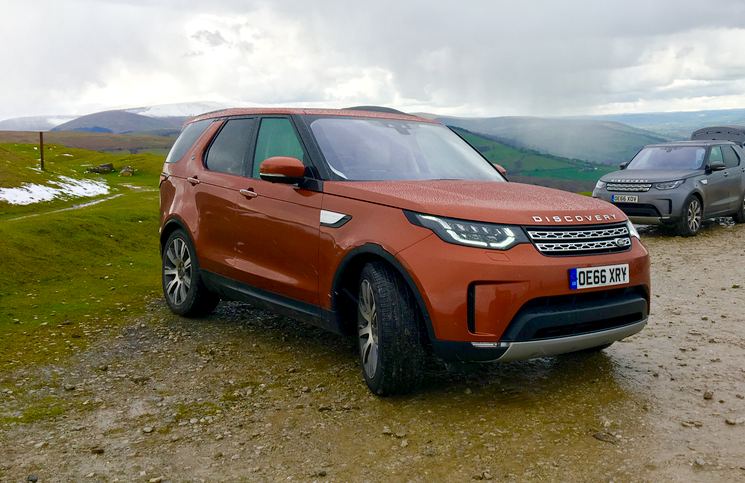 Has there ever been a car with such big shoes to fill? A car with so much expectation placed upon its shoulders? Considering the icon that is now Discovery, it is hard to think of another that has so much to live up to. The all-new 2017 Land Rover Discovery is a big departure from its predecessor in many respects. With this "changing of the guard" Land Rover claim that this 5th incarnation is the most capable they have ever produced.
Gone are the straight edges and boxy design, in their place you will find a far more curvaceous affaire. This generation clearly
marks itself as a modern and fashion conscious machine that wears intricate details like jewellery. A nameplate sits proudly upon the front wing, the bowed chrome grill makes a statement, distinctive LED lights sit either side, and the subtle hump in the roof plays homage to Discoverys gone by. Something else that hints at this cars lineage is the offset numberplate at the rear. Whilst this feature splits opinion amongst my colleagues, it does grow on you. Considering the vast number of preorders for this car, it is likely something you will get used to quite quickly.
The revolution continues inside as the cabin is also a departure from Discovery 4. Whilst the previous Disco was far from a Victorian workhouse, the new model in HSE Luxury is opulent enough to be mistaken for a Range Rover. Wood trim and high quality bathe the interior whilst aluminium and gloss plastic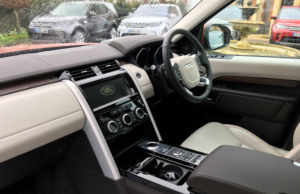 punctuate the details. JLR's InControl Pro touchscreen infotainment display offers up the usual tools including; navigation, phone connectivity, and various media including TV. Front occupants take full advantage of that raised ride hight and a comfortable set of leather seats. Said seats are now heated, cooled, and massaging. The middle row provides loads of head and leg room for all three passengers. This trim level also affords them seat mounted TVs and heated seating. Rearmost positions are no longer the "short straw" option as they cater for adults and are heated. The cabin in HSE Luxury guise gets WiFi and more charging points than you can shake a stick at, meaning the children should be more than occupied on long journeys. Boot space with all seats in place is 258 litre, 629 litres with 5, or fold them all flat to receive 2,406 litres. Rearranging the seats can be a bit of a faff in seven seaters but the new 2017 Land Rover Discovery has a tech inspired solution. In addition to the electrical switches at the cars rear, a smartphone app can configure the layout however you see fit long before you arrive with even the largest of impulse purchases. The much loved split-folding tailgate may be gone but in its place is a folding ledge that can take up to 300KG. It serves the same purpose and is actually slightly more convenient.
Under the bonnet of our 2017 Land Rover Discovery is a 3.0 litre diesel engine that produces a healthy 258 HP and a huge 600Nm of torque. It is that torque that makes this car feel effortless in the way it can dispense with motorway dawdlers. The overall driving experience is one of comfort and relaxation. This chassis is particularly talented as soaking up road imperfections, of which there are a lot of in the UK, is not trouble at all. There is some body roll, something to be expected in such a tall vehicle, and over high frequency bumps there is a slight seesawing motion, but generally speaking the suspension does a fine job. Steering is light and accurate with this combination leading to the large car not feeling cumbersome to drive. A host of camera build upon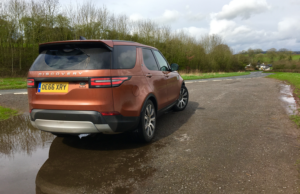 already good visibility. Our test car seamlessly swapped ratios via an 8 speed automatic gearbox. Not only is the box competent when left to its own devices, but it also responds quickly when summoned via the steering wheel mounted paddles. This specification claims 39 MPG combined and 189g/km CO2. The new Discovery is considerably more civilised on road, however, in order for it to earn that Land Rover badge it must also excel off road.
The secret to the 2017 Land Rover Discovery being successful on the rough stuff is a mix of both brawn and brain. All of this cars torque means that it has the mechanical grunt to deal with just about any obstacle placed in front of it, but there is plenty of technology at play also making progress effortless. Air suspension raises the ride hight, intelligent all wheel drive utilises its locking differentials, and Low Traction Launch enables measured progress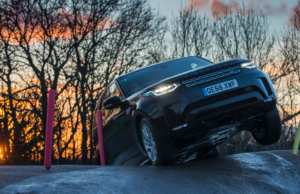 when it is slippery underfoot. The crowning glory of this cars all terrain ability is Terrain Response 2. This system has selectable modes for just about every eventuality where it will work out exactly what to do with each wheel. An auto mode allows the Discovery to pick for itself meaning that even a total novice is unlikely to get stuck. Being 450KG lighter than the outgoing model actually helps in the wilderness just as much as on tarmac. A wading depth of 900mm is also very impressive indeed.
The 2017 Land Rover Discovery is a machine that over delivers both on and off road. It joins its ancestors with distinction and I think it is safe to say that the brand will see a lot of success with this model. You can have a top specification HSE Luxury car like this from £62,695.