The pick-up truck… A breed of car with a real "never say die" attitude, a machine that wipes the sweat from its brow and carries on working. I don't get to road test these types of vehicles very often, to be honest there is only a handful of them
about, and so when I heard an Isuzu D-Max was on its way I was ready with all of the usual pick-up associated stereotypes. Cowboy boots polished, stetson on head and an uncontrollable desire to spit after every sentence awaited the cars arrival. However, it turned out that the Isuzu D-Max Yukon was much less of a stereotype than you might expect.
Its size is the first thing that strikes you. This machine is vast! The double cab, open back behemoth is over 17ft long and nearly 6ft tall. If it was any bigger I think it would generate its own gravitational pull. Masculine proportions aside, the D-Max Yukon blends its functional form with some added external features. A chromed grill, door mirrors and door handles creates a more upmarket appearance in comparison to run of the mill trucks. In addition our test car was equipped with these black alloy wheels that complimented the Garnet Red paint perfectly. Factor in the silver sidestep and what you have is a rather interesting combination of aesthetics. On the one hand its sheer size dominates peoples field of vision, but then smaller details suggest that this car isn't just all about the rough and tumble of manual labour.
The cabin further suggests that the Isuzu D-Max Yukon is not just simply a working vehicle. It is much more car-like than you might expect with steering wheel mounted controls, a touchscreen navigation system, clean centre console design and comfortable seats. The interior is spacious seating five with plenty of head and leg room. This space is also versatile with the rear seats capable of being folded flat or the seat swabs stowed vertically for bulky objects. Surfaces are hardwearing and the whole car has a nice durable feel to it. Whilst some controls appear overly simplistic, with chunky dials to operate them, they make a lot of sense if you were wearing gloves for example. On the other side of the rear window is the trucks bed, another important talking point for prospective owners. It measures 1,485mm X 1,530mm X 465mm making it a very good size. This specific model possessed a lockable sliding cargo cover to keep tools and other such valuables safe. Too safe at times as I had some trouble with this "Lock N' Roll" cover with it sometimes taking a few attempts to open. The payload itself can be up to 1,067KG which is more than any user is likely to load the car with.
Powered by a 2.5 litre turbocharged diesel engine, our Isuzu D-Max Yukon was the 5 speed automatic that produces 160BHP and 400Nm of torque. Combined with its selectable 4WD and low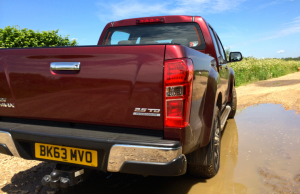 range mode, the Isuzu is highly capable of being able to pull a class leading 3.5 tonnes. According to Inside Lane maths that is two and a third adult female hippopotamus. Upon starting the engine you notice a lack of vibration in the cabin which adds an unusual level of refinement to a car such as this. The high driving position is almost magisterial as you look down upon just about everything else on the road. Great mysteries such as "what on Earth is causing all of this traffic?" are no longer enigmas to you. Whilst you are aware of its size, the nicely weighted steering and torque on offer work together to make the D-Max remarkably easy to drive. Don't get me wrong, even with the reversing camera it still can be a bit intimidating to park, but urban environments do not present much of a problem. Around corners on faster flowing roads the car handles its weight rather well and doesn't wallow or lean too much. On a motorway the diesel engine is perfect of taking the strain of a long journey, but clearly with something of this size wind noise does begin to build. The automatic gearbox seems to know what its doing and shifts smoothly. In terms of economy, we returned a respectable 30.8MPG but feel a 6th gear in this box could produce even better results. Whilst its good road manners and tranquility are arguably surprising for a car of this class, what is not surprising are its off-road capabilities. High ground clearance and chunky tyres are a promising start when the road begins to disintegrate. Put the Isuzu D-Max into all-wheel-drive and there is very little that bothers it. A trip through the wilderness traversing gullies, climbing embankments and trekking through mud did not faze it in the slightest.
The Isuzu D-Max Yukon pulls off a difficult balance of being rugged and utilitarian whilst offering a package suitable for family life. Such a product clearly widens the portfolio of Isuzu which in the past has had its feet predominantly in industry. From £21,249 a Yukon model represents good value also. You might want to leave your chewing tobacco and lasso at home because this car is much more than a two dimensional stereotype. It is a modern-day maverick.