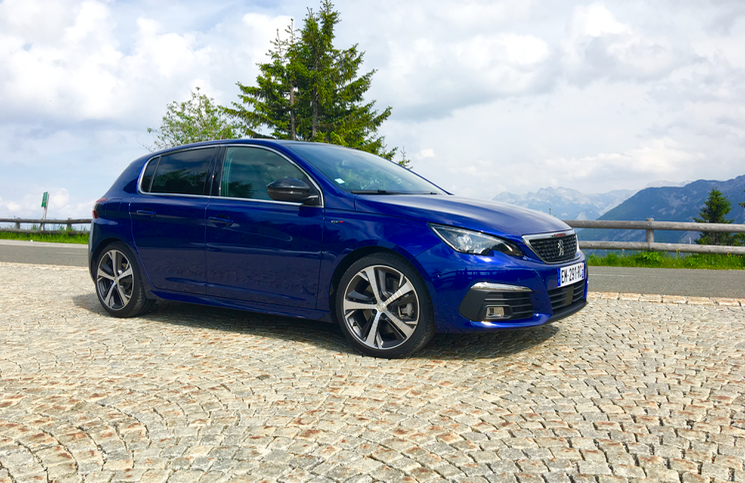 The introduction of the Peugeot 308 marked a clear turning point for the French brand. It was out to claim its identity back and mount an upmarket offensive. Scooping multiple awards in a highly competitive environment, the 308 announced to the world that Peugeot was getting back in the saddle. The time now comes to make a few tweaks to this hatchback, and so we headed to Germany to be amongst the first to see what the 2017 Peugeot 308 GT 2.0 BlueHDi had to offer.
Whilst at first glance you might not immediately spot the external revisions, but look closer and the details begin to reveal themselves. New LED lighting signatures are more prominent, a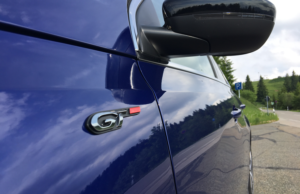 new more slender bonnet leads down to a proud chromed grill, and reworked bumpers refine the design. This being the GT model it receives a few more sporting touches including a set of smart alloy wheels. The 308 has never been a car that craves the attention of every passerby. Instead it delivers on an air of sophistication.
The interior of the new Peugeot 308 is a clean design of which focuses on minimising clutter. Many of the buttons and switches have been removed and are now housed within a new 9.7 inch touchscreen display. This unit was first seen in the 3008 SUV and it responsively delivers phone connectivity, access to climate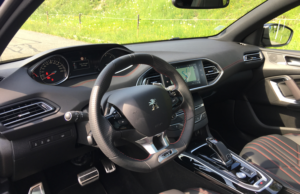 control, and navigation. Pleasingly it unitises the latest versions of Apple CarPlay and Android Auto. All trim levels bar the entry level get a full length glass panoramic roof. The natural light that fills the cabin reveals sweeping surfaces and aluminium details. GT cars are endowed with a set of leather heated sports seats of which also have a massaging function. The rear bench offers seating for a further three with leg room being good, but the panoramic roof cuts down on headroom. Boot space is 470 litres and can be taken advantage of via a large hatch opening.
This drivetrain combination is new to the Peugeot 308 and is actually a rather good package. Under the bonnet is a 2.0 litre BlueHDi diesel engine producing 181 HP and a hefty 400Nm of torque. That is then forwarded to the front wheels by an 8 speed automatic transmission. Changes are pretty smooth, although, when selected manually via the paddles they can be momentarily hesitant. There are three selectable drive modes for the GT; Eco, Normal, and Sport. Obviously Eco is when you will be aiming for the best fuel economy, but the car in its Normal state is a refined machine. Road and wind noise are kept quiet and other than the initial gargle of the engine under hard acceleration, the 2.0 litre fades into the background once up to speed. At low speeds the control weights are light and the car is an easy means of getting from point A to point B. It was difficult to make a judgment on ride quality, and if those larger alloy wheels would have an impact back home, as the German and Austrian roads we sampled were silky smooth. However, the overall experience was certainly civilised. Rear visibility is limited due to a small window and so I would recommend the reversing camera. Heading onto some amazing mountain roads, we naturally selected the Sport mode. As well as emitting a gruffer noise into the cabin, it adds notable weight to the steering, alters the engine mapping, and firms up the dampers on GT cars. Entering a complex series of hairpins it was immediately obvious that grip levels were high and could be exploited. The new 308 is not the most involving car to drive in its class, there is a lack of feedback from the steering, it is a precise and confidence inspiring automobile. Body roll is kept in check and the small steering wheel promotes a sense of agility.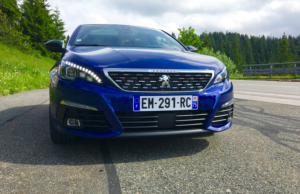 This stable platform maintains composure even when put into an environment most owners never will. The low down torque allows for brisk exits from corners, but ultimately this car is most at home on the motorway where that trait enables strong overtakes. New tech such as traffic sign recognition, autonomous emergency breaking, and adaptive cruse control are all welcome additions. As this is such an early drive we don't currently have access to official CO2 and MPG figures.
The Peugeot 308 always excelled at being a good all-rounder, and this updated incarnation polishes it further. The French brand has found its feet again and the 308 strengthens its hand at a time when no manufacturer is resting on their laurels. The 2017 Peugeot 308 goes on sale this September.