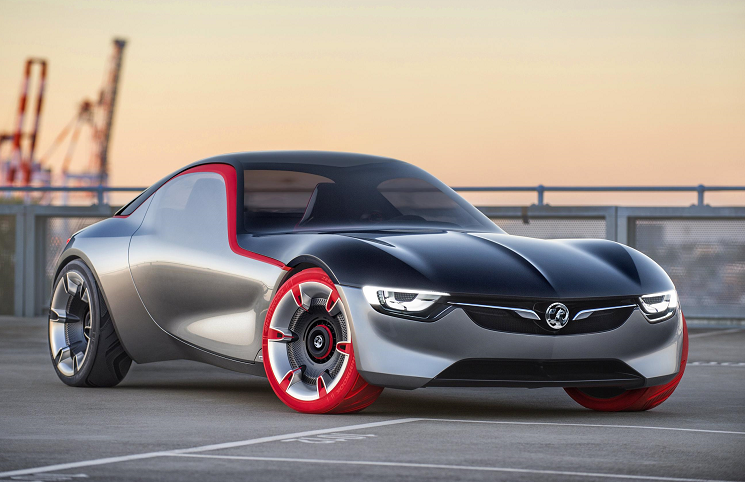 The mid-60's saw the birth of the modern concept car as we know it. What was back then a true phenomenon has since become part of the core fabric of the motoring industry. Nowadays, barely a day goes by without the debut of some intriguing new prototype, pushing the boundaries of car design and signalling the oft-quoted 'future vision' of the world's biggest automotive names. Two cars that arguably set that trend in motion were the 1966 Vauxhall XVR and the 1965 Opel Experimental GT, the first true concept vehicles to appear from the design houses of a European manufacturer.
Fast forward half a century and a brand new concept, tracing its roots back to those early trailblazers, steps up on the Vauxhall stage at the 2016 Geneva Motor Show.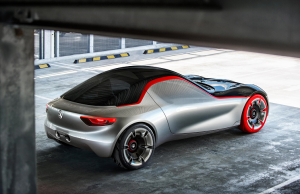 Despite its unashamedly avant-garde styling cues, the GT concept has its wheels firmly on the ground of mechanical reality. Its front-mid engine, rear-wheel drive configuration keeps the car's centre of gravity as low as possible. Nestling under the heavily sculpted bonnet is a compact but powerful 1.0-litre turbocharged engine, based on the all-aluminium unit from the ADAM, Corsa and Astra production models. The 143bhp and 151 lb/ft torque powertrain is mated to a six-speed manual gearbox featuring steering-wheel mounted paddle shift. Weighing in at less than 1000kg, the featherweight GT Concept boasts enough sports car thrills to rival its many real world production contemporaries. Acceleration is suitably spritely, with 0-62mph vanquished in less than eight seconds on the way to a top speed of 134mph.
Armed to the teeth with various prototype tech, amongst the GT Concept's most enlightening features are its integrated headlamp and indicator clusters. Ultra-modern projection technology shoots out a pair of three-dimensional rays, allowing glare-free driving at night even with full-beam engaged.  Similarly conceived three-dimensionally designed tail lamps provide a sense of symmetry at the rear of the car.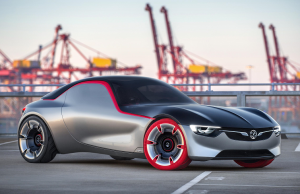 Further innovative additions can be found along the flanks of the GT Concept's fluid form.  Its pair of large doors stretch almost from the front wheel arch to rear one and contain integrated side windows tinted to mirror the Concept's predominantly silver body. Both driver and passenger side doors lack handles and are instead opened via a touchpad housed in the red signature line of the roof.
Two wheel arch-mounted cameras that feed images back to monitors in the cabin supersede traditional wing mirrors, whilst the windscreen flows back into a glass panoramic roof which lends the Vauxhall GT Concept an almost targa-top allure.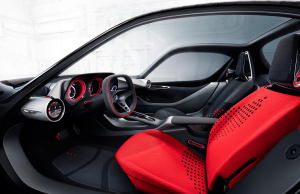 Inside the cabin, Vauxhall has placed great emphasis on extoling the virtues of its concept's visionary button-less Human Machine Interface. Essentially a real-life incarnation of Sci-Fi's most famous four-wheeled icon, Knightrider, HMI relies solely on voice commands and a central touchpad to operate every on-board function, from climate control to stereo settings. This self-learning system is programmed to recognise the driver's habits over time and intelligently adapts itself to his or her personal preferences. For example, when cornering at speed, factors such as throttle response and transmission control can be subtly tweaked without the driver extending a finger, or even thinking about it for that matter. It's all part and parcel of HMI's constantly adapting digital mastermind.
Production is hardly a feasible proposition for a car that positions itself firmly towards the Tron end of the concept scale. However, it's almost a given that we'll see the GT Concept's numerous and ingenious technologies again in some form or other across the Vauxhall range in years to come.