Technology has become essential to everyday life and the increased rate at which we interact with it has come to define the 21st century. Think about your average day… You wake up to a warm home thanks to the timer on your central heating. Turn on your smart TV which is capable of feeding you almost every source of entertainment or information. A glance at your smart phone can enlighten you as to what friends or family have been up to, book a restaurant for the evening, and check what time the train will arrive. Cars have become a Mecca for technology and this 2016 Kia Optima is a prime example of how every brand is embracing it.
Looks very executive doesn't it? Cover the Kia badges and ask friends what they think it
is, as I did, and you might be surprised as to the premium names that are presented as answers. With a wide chromed grill and raked headlights, it presents a rather professional face. This upmarket look continues in such details as the wrap-around rear lights and polished exhaust tip. Our test car is the fully loaded "Optima 4" and so features these very smart 18 inch alloy wheels. Whilst the 2016 Kia Optima might look proportionally similar to its predecessor, this all new model is longer and wider. Finished in this very dark blue, the car looked great.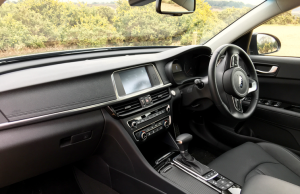 The interior not only has a cavernous amount of space on offer, but it is loaded with just about every toy you can imagine. Dual zone climate control, heated and cooled leather seats, wireless phone charger, heated rear seats, more cameras than you can shake a stick at, adaptive cruise control, lane keep assist, and an 8 inch touch screen infotainment display to name just a few. In fact, the dual zone air con, a 7 inch touch screen, and reversing camera all come as standard. A full length glass panoramic roof ,which also opens, allows plenty of light into the cabin. The fit and finish suggests strong build quality. In the back not only will you find a plentiful supply of head and leg room, but also privacy blinds. A large 510 litre boot boasts more than enough space for luggage.
This 2016 Kia Optima was endowed with a 1.7 litre diesel engine producing 139 BHP. Our
test car also had Kia's new 7 speed dual clutch automatic transmission, and I have to say that this combination was impressive. Under load the diesel engine may be a bit grumbly, but once up to speed it quietens down. The gearbox swiftly dished out appropriate cogs in a manner that is almost undetectable even when under scrutiny. A good test of how fast the changes are is found when selecting manual mode and using the wheel mounted paddle shifters. Instant responses are the fruits of this brands hard work. Over 340 Nm of torque low in the rev range means that the 2016 Kia Optima surges onwards when requested. On the motorway, where most of these cars will spend their lives, the car feels refined with little in the way of road and wind noise penetrating the cabin. Set lean keep assist in tandem with active cruise control and it practically drives itself. All you need to worry about is how hot or cold your seat should be. On more lively roads the Kia is not the most dynamic car in its class. Whilst the steering is an improvement, it does lack some feel. Body control is ok, but it's biggest problem is that there are keener cars to drive that rival it. However, most buyers won't be throwing their saloon around on country roads, and in every other respect it gives those same rivals a run for their money. With a camera mounted at just about every angle, parking and navigating the Optima through urban environments is no problem at all. Its ride is just a touch firm at low speeds, likely not helped by the large alloy wheels of this model and the dilapidated state of British roads, but at cruising speed it smooths out. Kia claim a pleasing 64 MPG combined.
The 2016 Kia Optima really starts to make sense when you crunch the numbers. Although the entry level cars £21,895 cost is similar to competitors, factor in the vast amount of standard equipment and the value starts to become clear. This is amplified by the top specification car as equally equipped alternatives tend to cost much more. The Kia Optima isn't the last word in terms of an involving drive, but it does a damn fine job of being a more premium family saloon. A 7 year 100,000 mile warranty might just seal the deal.