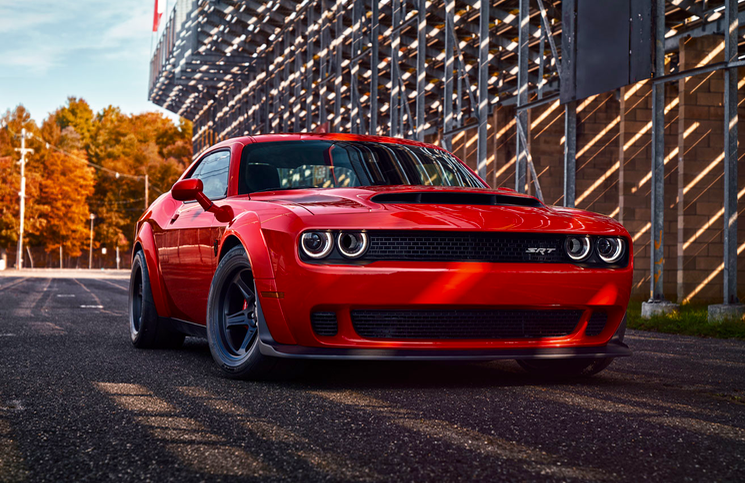 There is something wonderfully patriotic about the American muscle car, isn't there? These loud and proud monster machines are just as cultural as hot hatchbacks in the UK. Mustang, Camero, Challenger, all names engraved into the automotive landscape. Dodge has been hard at work producing what could be argued as the ultimate in modern-day muscle. Aptly called the Dodge Challenger SRT Demon, it has been unveiled at the New York Auto Show.
What an absolute beast! Testosterone forged in metal, the Dodge Challenger SRT Demon has to be one of the most aggressive car designs ever. Huge swollen wheel arches, large bonnet intakes, more grills than you can shake a stick at. It is brilliantly bold and totally unapologetic about the way in which it presents itself.
Demon by name, demon by nature… A 6.2 litre supercharged V8 HEMI engine lives under the bonnet of which produces a colossal 707 BHP and 770lb ft of torque! 0-60 MPH takes just 2.3 seconds and it captures the record for fastest quarter mile set by a production car. Just 9.65 seconds. The Dodge Challenger SRT Demon is such a brute that it can lift its front wheels clean off of the ground upon launch.
Pricing has yet to be announced but only 3,300 will hit the road this Autumn.
God bless America!