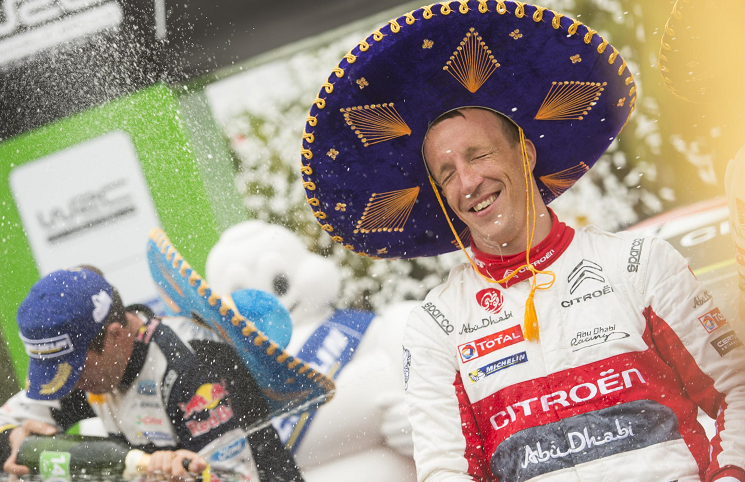 Kris Meeke put his dismal start to 2017 WRC season well and truly behind him with a fine victory at Rally Mexico. The Northern Irishman registered his fourth career WRC win and Citroën Motorsport's first on its WRC comeback by edging out second-place Sébastien Ogier by 13.8 seconds. That was despite a hairy moment just seconds from the end of the last test when Meeke's C3 WRC lurched off the road and into a spectator car park. The Briton ultimately avoided embarrassment and sealed the trophy ahead of the multiple world champion and Hyundai ace Thierry Neuville, who occupied the other two steps of the podium.
The first gravel event of the season, Rally Mexico throws up the dual perils of baking heat and engine-sapping high altitude driving. This year's edition is no exception, with the new generation WRC cars climbing to 2737m above sea level, where power gets slashed by almost 20 per cent.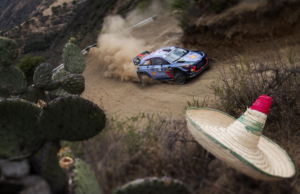 Ex- Citroën star Sébastien Loeb notched up six consecutive wins here between 2006 and 2012 but since then it has been another Frenchman – Ogier – who has established an iron grip over Central America's only WRC rally, claiming top spot in 2013, 2014 and 2015. Last year the reigning world champion was pipped at the post by then Volkswagen teammate Jari-Matti Latvala, in what turned out to be the Finn's only win of the season. As if the spectacle wasn't already amazing enough, Friday evening plays host to WRC's only underground stage, where the cars scream their way through a series of subterranean tunnels below Guanajuato. Who ever said plumbing new depths was a bad thing?
Retirements in both of the opening two rallies of the season had cost Meeke dear, so, coming in to the maiden gravel event of 2017, the pressure to deliver from Citroën's top brass was on.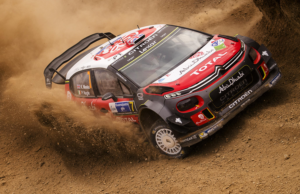 A truncated start to the event, in which organisers cut the opening two stages from the itinerary, did nothing to  throw the Ulsterman off his stride. Whilst the early starters found themselves wallowing in the unwept gravel, Meeke's favourably low starting position allowed him to glide through the trails ploughed by the likes of Ogier and Latvala. With the state of the roads to his liking, the Citroën  man blasted through the colossal 54.90km El Chocolate stage to build a handsome advantage by the halfway point. A brief stall in the next test did little to cramp his style and Meeke guided his C3 through the final three short asphalt stages to lead on Friday night.
Ogier overcame the odds to stay in touch despite facing the worst of the conditions. A 20.9 second deficit did nothing to fluster the four-time champ, who led Thierry Neuville in third.
The Hyundai trio of Neuville, Hayden Paddon and Dani Sordo had held third, fourth and fifth at one juncture. However, a spate of engine misfire issues traced to a blocked fuel filter swept through the i20 ranks later in the day. Paddon haemorrhaged 1min 45sec and tumbled to seventh but the unfortunate Sordo was worst hit, dropping several minutes and nosediving off the leaderboard all together.
Toyota's hopes seemed to lie in the hands of Juho Hänninen, after 2016 Rally Mexico winner and current championship leader Latvala was hampered by differential and brake gremlins that left him languishing in eighth. Hänninen initially fared better, avoiding trouble to trail Neuville's i20 by 30.6sec on Friday night.
Elsewhere, overheating prevented Ott Tänak from making serous inroads into the lead pack. 80sec lost on the mammoth El Chocolate stage put a downer on the Estonian's day although he did manage to fend off an attack from Citroën number two Stéphane Lefebvre in sixth. A surprise success story came in the form of M-Sport's Elfyn Evans, who scored a stage win and two-second places in his Fiesta. The Welshman would surely have ranked higher had he not been slapped with a five-minute penalty following an engine change after Wednesday's shakedown.
The architect of so many exemplary defensive drives, Sébastien Ogier for once found himself on the receiving end of a textbook piece of lead management. Attempting to reel in Meeke, the four-time world champion slugged it out with the Citroën man on Saturday morning before the pressure finally told in decisive fashion on the 38km Lajas de Oro test. Running ahead of Meeke in the starting order, the Frenchman span his Ford Fiesta on a hairpin bend. It proved to be a costly, with Ogier dropping 20 precious seconds and Meeke adding insult to injury by going fastest on the same stage. The cushion between the two men, which had been gradually shrinking, abruptly ballooned to 30.9 secs, prompting experienced campaigner Ogier to all but throw in the towel.
Meanwhile, Thierry Neuville held third by a wide margin despite erroneously opting for soft compound tyres. Talk of rain prompted the Belgian to equip his i20 with new rubbers front and back but the heavens failed to open and consequently grip proved hard to come by for the 28-year-old.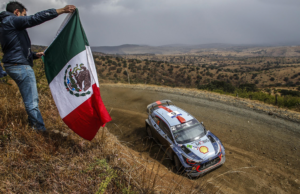 Ott Tänak  kept up his positive progress by ousting Paddon to move to fourth. The Kiwi, who will be parting company with long-time co-driver John Kennard this summer, dropped time with a puncture on Saturday afternoon.
The very same rock that punctured Paddon also caught out the hapless Latvala. Nevertheless, the Yaris pilot was able to leapfrog his ailing teammate Juho Hänninen into fifth. The latter had been struck down by illness over the entire weekend and lacked the sharpness to seriously challenge despite bravely persevering behind the wheel.
Dani Sordo's focus was as much off the road as on it on Saturday morning. Slapped with a 10 second penalty by rally officials for allegedly retiring on Friday evening, the Spaniard got the decision reversed after successfully arguing that his i20 was never technically immobile despite being severely crippled by engine problems. His sense of injustice spurred him on to a brace of fastest times on Saturday morning but a subsequent puncture on the liaison section after SS12 prevented him from climbing out of eighth position.
With only two speed tests awaiting the drivers on Sunday, a first victory for the new-look Citroën  team seemed inevitable. Any lingering doubts seemed to have been well and truly stamped out when Meeke blitzed through stage 18 at La Calera to extend his advantage over Ogier still further. However, the event-closing run through Derramadero would prove to be a nerve-jangling finale.
With barely 750 metres to go, Meeke's C3 landed awkwardly after a jump and swerved off the road through a hedge. Stranded in a spectator carpark, he and co-driver Paul Nagle weaved in and out of parked cars for over half a minute before finally spying a route back onto the stage. A tense wait at the finish followed, before the timesheets confirmed that this impromptu excursion wasn't lengthy enough to cost Meeke top spot. A blessed relief for the visibly shaken Citroën crew back at the service park.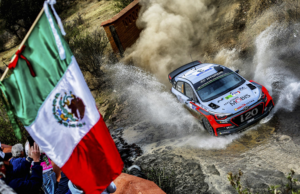 In the final shake-up, Sébastien Ogier will be left cursing his spin on Saturday, without which he may well have been able to complete an unlikely smash and grab victory at the death. Neuville completed his first clean rally of the season after twice retiring from the lead on previous rounds. The Belgian also picked up five handy bonus points for winning the power stage. Next was Tänak, fourth place enough to maintain his consistent start to the 2017 campaign in the new Fiesta WRC. Hayden Paddon's earlier technical problems prevented him from mounting a serious podium challenge. Nevertheless, fifth in Mexico still ranks as the Kiwi's best result of the season so far.
Mechanical and physical problems combined to frustrate the Toyota pairing of Jari-Matti Latvala and Juha Hänninen. The former was unable to recover fully from an overheating engine and faulty brakes on day one, whilst Hänninen will hope to shake off the sickness that afflicted him all weekend before his next competitive outing. The Yaris pilots came home sixth and seventh respectively.
Sébastien Ogier wrests back control of the drivers' championship after briefly relinquishing top-spot to Latvala at Rally Sweden. The Finn's under par showing in Central America drops him down to second, eight points adrift of his old VW sparring partner. Tänak sits third in the second M-Sport Fiesta, whilst Kris Meeke's reward for winning in Mexico sees him promoted up the order to sixth.
WRC makes the transatlantic jump back to Europe for round four of the 2017 season. Pushed forward on the calendar this year, the Mediterranean island of Corsica will be transformed into a floating race track from the 6 – 9 of April as the WRC spotlight falls on the historic, asphalt-based Tour de Corse.
Final Results: Round 3 – Rally Mexico
| | | | | | | | | | |
| --- | --- | --- | --- | --- | --- | --- | --- | --- | --- |
| Pos. | No. | Driver | Co-driver | Team | Points | | Time | Diff Prev | Diff 1st |
| 1. | 7 | K. MEEKE | P. NAGLE | Cit | 25 | | 3:22:04.6 | | |
| 2. | 1 | S. OGIER | J. INGRASSIA | M-Sp | 18+4 | | 3:22:18.4 | +13.8 | +13.8 |
| 3. | 5 | T. NEUVILLE | N. GILSOUL | Hyu | 15+5 | | 3:23:04.3 | +45.9 | +59.7 |
| 4. | 2 | O. TANAK | M. JARVEOJA | M-Sp | 12+3 | | 3:24:22.9 | +1:18.6 | +2:18.3 |
| 5. | 4 | H. PADDON | J. KENNARD | Hyu | 10 | | 3:25:37.5 | +1:14.6 | +3:32.9 |
| 6. | 10 | J. LATVALA | M. ANTTILA | Toy | 8+2 | | 3:26:44.9 | +1:07.4 | +4:40.3 |
| 7. | 11 | J. HANNINEN | K. LINDSTRÖM | Toy | 6 | | 3:27:10.8 | +25.9 | +5:06.2 |
| 8. | 6 | D. SORDO | M. MARTI | Hyu | 4+1 | | 3:27:27.3 | +16.5 | +5:22.7 |
| 9. | 3 | E. EVANS | D. BARRITT | M-Sp | 2 | | 3:30:46.4 | +3:19.1 | +8:41.8 |