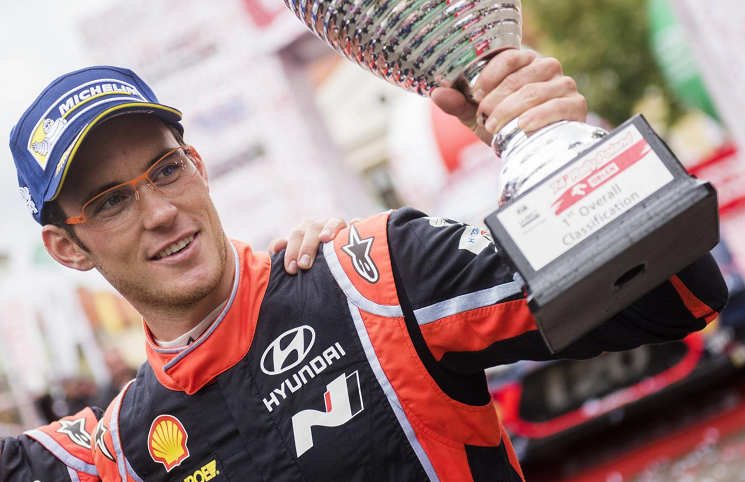 Thierry Neuville clinched his third victory of the season at Rally Poland to trim Sébastien Ogier's championship lead down to just 11 points. The Hyundai i20 ace diced with Rally Italia victor Ott Tänak for top spot on the rain-soaked gravel roads, until the M-Sport pilot's victory bid finally came unstuck when he wrapped his Fiesta around a tree on Sunday afternoon. Haydon Paddon ultimately secured second spot, 1min 23.9secs adrift of his Hyundai teammate, with Ogier himself restricted to third.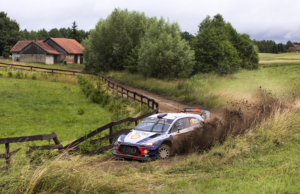 After making a triumphant return to the WRC calendar in 2014, this year's edition of Rally Poland presents teams and drivers with a significantly different challenge. The breakneck speeds that make this event one of the fastest of the season remain as blistering as ever but a third of the overall 1422km route will be completely alien to the crews. Tall grass and the ubiquitous dust clouds kicked up off the parched road surface tend to hamper visibility throughout and soaring summer temperatures tend to increase wear on soft compound tyres, bringing the harder, more durable rubbers into play.
Far from Poland's familiar mix of baking hot gravel and dust-bowl plains, Friday's action resembled more of a mud bath. Heavy overnight rain reduced much of the route to a gloopy quagmire, rendering the WRC speed guns obsolete this time round.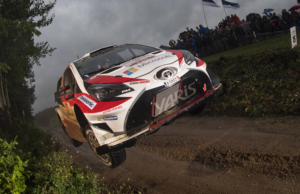 One of the few men to be bogged down was Jari-Matti Latvala, guiding the Toyota Yaris through its first competitive experience of such  soggy conditions with considerable aplomb. The sodden state of the roads levelled the playing field somewhat, affording the early runners a rare chance to stretch their legs on this principally gravel-based rally. Latvala sat 4.5 secs clear at the midway point, which would prove to be the biggest cushion of the day, with Ogier, Tänak and Neville all bunched up behind him.
The tables turned on the road openers in the afternoon, however, as the churned-up roads rapidly sunk below the lingering surface water. Ogier took the brunt, floundering in the mud-soup and slipping to fourth, 35.1sec off the lead. The Frenchman's ex-teammate Latvala was also less than comfortable in the boggy conditions, losing his overall lead and sinking to third behind Neville and Tänak. M-Sport's Tänak  seems to have unlocked some extra speed since breaking his WRC duck last time out in Sardinia, and would have led after the first leg in Poland had he not  missed a junction and stalled in the morning. As it stood, Hyundai's Neuville led the pack by a minuscule 1.3secs, no less than the Belgian's four stage wins deserved.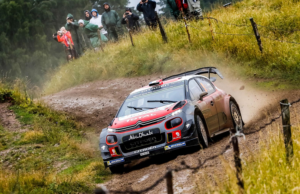 The remaining Hyundai's of Haydon Paddon and Dani Sordo occupied fifth and sixth respectively ahead of privateer and WRC debutant Teemu Suninen and Toyota's Juho Hänninen. Elsewhere, a change of personal did little to revive Citroën's ailing championship bid, with Kris Meeke's stand-in Andreas Mikkelsen damaging his C3's rear left suspension against a tree and dropping 90sec. Irishman Craig Breen, also at the wheel of a C3, limped through the entire morning with two-wheel drive after breaking a driveshaft. Toyota number three Esapekka Lappi retired from fifth with irreparable front suspension damage.
The clouds parted on Saturday to illuminate a thrilling two-way tussle for the lead. With Latvala cast adrift and later knocked out altogether when his Yaris lost drive on stage 16, the victory in Poland seemed destined to go one of only two ways. Neuville, slow to shrug off the weariness on Saturday morning, immediately conceded top spot to a bright and breezy Tänak. This early blow seemed to serve as a wake-up call to the Belgian, who quickly got back into his stride.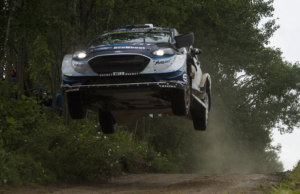 Consecutive fastest times on stages 14 and 15 relegated Tänak back to second but a puncture for the Hyundai ace on the following test caused a 20 second delay, once again opening the door for Tänak to sneak ahead. As the frantic toing and froing up front seemed to have reached fever pitch, yet another twist rehashed the WRC script. Somewhere between the halfway point and the end of the action-packed Pozezdrze test, Tänak's Fiesta shed its rear wing. With its aerodynamics thrown drastically out of kilter, the downforce-light Ford couldn't hold out for long, paving the way for a fourth change of leader on Saturday's penultimate stage. As anticipated, Neuville came through once again to end the hectic day as he started it; top of the pile.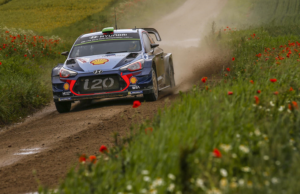 All set for a grandstand finish, Sunday's final leg more than lived up to its billing. For the second morning in a row, Tänak sprung out of the traps like a raging stallion, producing a majestic drive on stage 20 to blitz Neuville by 5secs. By now, the charging Estonian was looking in fine fettle; however, the same couldn't be said for his Fiesta a stage later. When the M-Sport man failed to emerge from his foray into the woods around Paprotki, alarm bells began to ring. The worst, at least for Malcolm Wison and his team, was confirmed soon after when Tänak's car was spotted embedded in a tree. Whilst he and co-driver Raigo Molder nursed their heavily bruised pride, nothing now stood between Hyundai and their third win of the 2017 season – all coming courtesy of that man Neuville.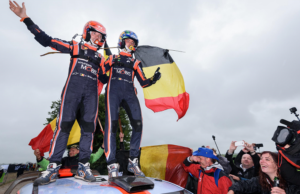 Victory in Poland was extra special for Michel Nandan's outfit, with the runners-up spot also going the way of the Koreans. Paddon quickly found himself promoted not one but three places up the order to second, the Kiwi's first appearance on the podium in twelve months. As well as preying on Latavala and Tänak's vacated positions, the gravel expert also overhauled world champion Ogier, who toiled with a catalogue of problems over the final two days, from punctures to engine issues and even an impromptu trip into a field on Sunday morning.  In the testing circumstances, the quadruple world champion can regard third place in Poland as a very handy result indeed.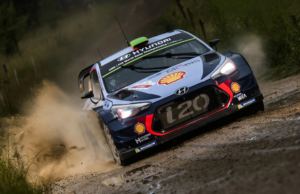 Just off the podium, Dani Sordo made it three Hyundai i20s in the top four despite a minor spin and slow puncture on Sunday afternoon. Fifth-place Stéphane Lefebvre quietly rose up the ranks in the only Citroën C3 left unscathed, but the unlikely hero of the hour in Poland was undoubtedly Finland's Teemu Suninen. The 23-year old caught more than a few admiring glances around the paddock on his World Rally Car debut. Sixth place could so nearly have been fifth had it not been for a spin on the very last stage. This flying Finn has a big future.
Talking of the home of rallying, that's exactly where we're off to next. Thierry Neuville will hope to make further inroads into Sébastien Ogier's increasingly slender championship lead when the action shifts to the rapid roads of Finland from the 27 – 30 July.
Final Results: Round 8 – Rally Poland
| | | | | | | | | | |
| --- | --- | --- | --- | --- | --- | --- | --- | --- | --- |
| POS | | DRIVER | CO-DRIVER | TEAM | POINTS | | TIME | DIFF PREV | DIFF 1ST |
| 1. | | T. NEUVILLE | N. GILSOUL | HYU | 25+1 | | 2:40:46.1 | | |
| 2. | | H. PADDON | S. MARSHALL | HYU | 18 | | 2:42:10.0 | +1:23.9 | +1:23.9 |
| 3. | | S. OGIER | J. INGRASSIA | M-SP | 15+4 | | 2:43:06.9 | +56.9 | +2:20.8 |
| 4. | | D. SORDO | M. MARTI | HYU | 12 | | 2:43:33.5 | +26.6 | +2:47.4 |
| 5. | | S. LEFEBVRE | G. MOREAU | CIT | 10+2 | | 2:43:57.9 | +24.4 | +3:11.8 |
| 6. | | T. SUNINEN | M. MARKKULA | M-SP (PVT) |  8 | | 2:44:02.9 | +5.0 | +3:16.8 |