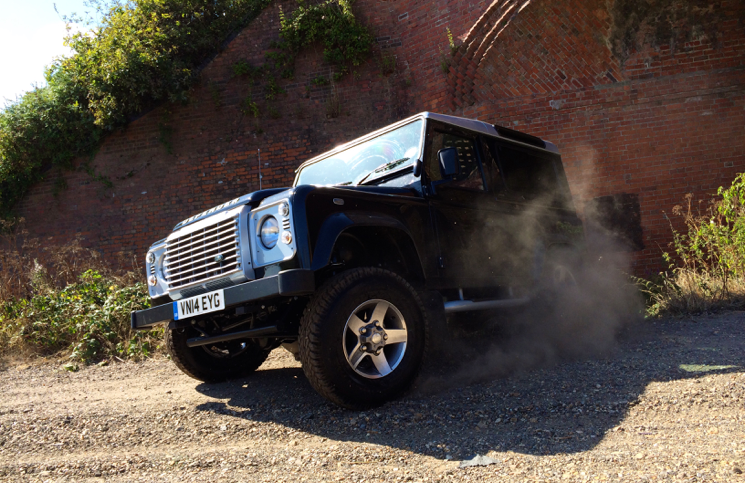 In this green and pleasant land that we call home there have always been a few constants. The Royal Family, tea and the Land Rover Defender. Since 1948 the Defender, or 90/100, has been the British answer to go anywhere mobility. A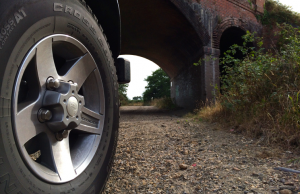 fantastically simple yet ingenious solution to taming Mother Nature and the elements. As a favoured tool of the armed forces, the Defender has served with distinction all over the world. Our Land Rover Defender 90 Station Wagon XS may well be a more luxurious, in this case a relative term, Defender but its roots are still very clear to see.
There are very few cars as instantly recognisable or as imposing at the Land Rover Defender. Its boxy, no nonsense, form follows function silhouette has not changed for 66 years. Very much a case of "if its's not broken, don't fix it." Chunky off-road tyres find homes under protruding wheel arches that also shelter heavy-duty suspension. The sidestep is a necessity to climb up and into the cars high cabin. The Defender's extremely short overhangs are again not aesthetic design, but allow for amazing approach and departure angles when on the rough stuff. With a rear mounted spare tyre and in black, our Land Rover Defender 90 Station Wagon XS looked seriously sinister.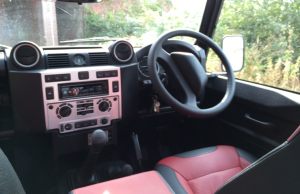 If you are expecting to be welcomed into the lap of luxury when entering the Defender you are looking in the wrong place. Big chunky buttons don a vertical console which is far from pretty. It is spartan in comparison with other cars and even sports a few naked bolts that haven't been hidden away. However, that is very much in this cars nature. A Defender isn't about nursing your arthritis or insuring you never miss a Facebook notification. It is meant to be a bit rough and ready with its hard wearing plastics and controls you can operate whilst wearing thick gloves. Though, as mentioned, this is the XS model and so the nicely supportive leather seats do give it some added comfort. Another creature comfort is the optional sound system which I must say is worth the extra £180 as it is excellent. In the back of this short wheelbase model are two further leather seats that fold out from their side mountings giving the Defender a capacity of four.
Start up that 2.2 litre diesel and feel the car rumble into life around you. The Land Rover Defender makes absolutely no apologies for what it is. This is a working vehicle and in order to do its job, being the most effective off-roader this side of a tank, it has to make compromises in other areas. Nostalgia and admiration for this model aside, out on the open road its manners are not the best. The pedals are very heavy and the steering quite vague. Also being a tall vehicle of notable weight there is plenty of body roll in the corners. However, whilst you are raising your voice in order to speak with your passengers you begin to notice people looking in your direction, often smiling. Kids point it out to their parents and there is a general admiration as you drive past. A commanding driving position such as this feels empowering as it offers a great view of the road ahead. Whilst on the subject of visibility, the Land Rover Defender 90 Station Wagon XS large rectangular windows in tandem with the short overall length of the car makes it much easier to park than you would expect.
Ok, so the Defender might not be "king of the road" but it certainly is king of everything off of it. This stout little warrior wades into battle with nature without hesitation. It has all of the equipment it could possibly need with a low range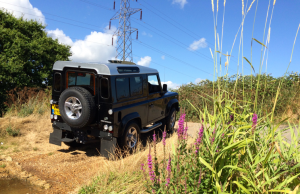 gearbox, locking differential, torquey diesel engine and some serious ground clearance. I have previously put a Defender through its paces on an off-road course where it stormed up ludicrously steep muddy inclines and traversed gullies that would happily swallow your average family hatchback. This week no matter what I put in front of it; rivers, heavily rutted trails, a forest and even a hedge, the Land Rover simply sighed at how easy the tasks were. At one point I got a bit stuck on a river bank but simply locking the differential and selecting low range soon got me out of trouble. The aforementioned snazzy seats do a fine job of keeping you in one place when the road ahead disintegrates and would otherwise have you, your occupants and belongings shuffled around like a deck of cards. It really is an amazing piece of kit that is so very capable.
Whilst on the tarmac the Defender does leave much to be desired, yet it is absolutely fit for its designed purpose. You wouldn't use this Land Rover Defender 90 Station Wagon XS for a motorway journey anymore than you would use a spoon to spread butter. When production of this legend ends in December 2015 it will be a very sad day indeed. The Defender's endurance over the decades is something that its designers, Land Rover and Great Britain should be very proud of.