Every day this week, we'll be running the rule over each of the teams and drivers gunning for WRC's ultimate prize in 2017. Today the spotlight falls on M-Sport, the perennial underdogs who this year possess some serious pedigree thanks to the arrival of a very familiar Frenchman.
M-Sport World Rally Team:
M-Sport are well and truly part of the WRC furniture. The longest serving team still competing in the championship, M-Sport first appeared in rallying's premiere series back in 1997 when they joined forces with Ford. This fruitful partnership saw such legendary drivers such as Colin McRae and Marcus Grönholm pass through the team's ranks and yielded two constructors' world titles in 2006 and 2007. Ford officially withdrew from WRC in 2012, leaving M-Sport to run a squad of non-factory Fiestas, albeit with limited technical support from the American brand. Despite lacking the support of a major manufacturer, the post Ford era has been largely positive, with the British-based team guiding Thierry Neuville to a stunning second in the 2013 drivers' championship.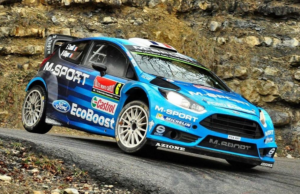 It was all change again in 2014 with Welsh youngster Elfyn Evans partnered the experienced Mikko Hirvonen as the Fiestas mustered a total of three podiums between them. Evans retained his place in 2015 alongside newcomer Ott Tänak , but neither of the young pilots did enough to convince their employers to extend their contracts in 2016.
2016 was generally a season of struggle for M-Sport. Experienced hand Mads Østberg started the year brightly with two podiums and a fourth place after the first three rounds before gearshift problems destroyed his confidence at the wheel of the Fiesta RS WRC. The Norwegian endured a low-key finish to the campaign down in 7th overall.  The appointment of young, inexperienced Frenchman Eric Camilli as Østberg's teammate raised more than a few eyebrows in the WRC fraternity. M-Sport's gamble didn't pay off as Camilli struggled from the outset, crashing out on 7 seven of the 13 rounds and mustering only two finishes in the top six.
However, M-Sport's 2017 line-up has a very different look to it. Vastly experienced and team principle Malcolm Wilson took advantage of Volkwagen's sudden withdrawal from the championship by dipping into the driver market and pulling out a four-time world champion. Securing the signature of Sébastien Ogier is genuinely one of the biggest recruitment coups in recent years. He will defend his title in the new generation Fiesta RS WRC alongside two familiar names from the past; Ott Tänak and Elfyn Evans, who both return to the M-Sport fold to after a year away.
Team Principle: Malcolm Wilson
Drivers:
Sébastien Ogier:
Age: 33
Nationality: French
Co-driver: Julien Ingrassia
World Championships: 4
Career WRC Rally wins: 38
2016 finish: 1st
Proclamations of Ogier's legendary status may be a little premature, however over the last four years the flying Frenchman has proven himself to be an exceptional rally driver. Beginning his career with Citroën in 2009, Ogier's breakthrough season came in 2011 when he claimed five rally wins and pushed teammate Sébastien Loeb close for the title, finishing an eventual third overall. But it was his decision to jump ship to newcomers Volkswagen that really set the 33-year-old on the path to glory. Few in the entire history of WRC can match his record of 31 wins in the space of four seasons and with his fourth consecutive drivers' world title in 2016, Ogier joined an elite group of only four men to have been crowned quadruple world champions.
His driving style can be electrifying at times, but it is an unerring sense of consistency and a finely honed talent for lead-management that separates Ogier from the rest.
We caught the most fleeting of glimpses of the Frenchman's fallibility at Rally Spain in 2015. Leading handsomely with only the power stage to run, Ogier conspired to throw away a nailed-on victory by ploughing into the barriers on the very last test. Nevertheless, this one glaring error was very much the exception the rule and last season was yet another masterclass of exactly how to drive a rally car under pressure, no matter what the surface. During yet another stellar campaign with VW, Ogier only twice finished off the podium and eased to a fourth world title with a mammoth 108 point gap over his nearest challenger.
Rightly considered the most talented driver of his generation, the shock withdrawal of his Volkswagen employers at the end of last season could yet prove to be the biggest challenged the Gap native has faced in his career so far. Can Ogier continue to dominate without the close-knit VW support team with whom he shared four years of unparalleled success?  If he does, he will have accomplished a feat that even the great Tommi Mäkinen and Sébastien Loeb failed to achieve by winner the driver's championship with two different manufacturers. The gauntlet has been thrown down, Mr. Ogier.
Ott Tanak
Age: 29
Nationality: Estonian
Co-driver: Raigo Molder
World Championships: 0
Career WRC Rally wins: 0
2016 finish: 8th
In the wake of Mikko Hirvonen's retirement from WRC at the end of the 2014 season, M-Sport found themselves with a race seat to fill. Cue the arrival of rising star and two-time Estonian Rally champion Ott Tänak. The Estonian made his debut in a WRC car at Rally Wales GB in 2011, finishing an impressive sixth overall. 2012 saw him rewarded with a full campaign with M-Sport's subsidiary team and he ended the season eighth overall. After a sabbatical in 2013, Tänak returned in 2014 for three world championship rallies with M-Sport. His performance in Sweden following several months in the wilderness won him great plaudits and subsequently earned him a shot at a full WRC campaign for 2015.
Unfortunately for Tänak, that season will be remember more for one of the most astonishing accidents in WRC history than for his performances in the Fiesta RS. After netting fourth in Sweden, Tänak found himself in deep water in Mexico when he crashed his Fiesta off the side of a mountain pass and into a reservoir. Back dry land, the Estonian's best result in 2015 was third at Rally Poland, however a lack of big points finishes thereafter restricted him to 10th in the final driver's standings.
A switch to the newly-formed DMACK World Rally Team in 2016 coincided with a revival of fortunes for the 29-year old. Once again assigned a full campaign, Tänak's season highlight undoubtedly came at Rally Poland where, after three excellent days, he stood within touching distance of a first WRC Rally victory. However, disaster struck when a puncture on the penultimate stage allowed Volkswagen's Andreas Mikkelsen past to steal victory at the death, leaving the DMACK man's hopes in tatters. Tänak would mount the second step of the podium again in Great Britain, this time in more happier circumstances after a late charge blew away the opposition. A return to his 'spiritual home' at M-Sport was always on the cards, and the likeable Estonian does indeed link up with Malcolm Wilson once again for his third full season at rallying's top table.
Elfyn Evans
Age: 29
Nationality: British
Co-driver: Daniel Baritt
World Championships: 0
Career WRC wins: 0
2016 finish: 3rd (WRC2)
The son of Welsh rallying legend Gwyndaf Evans, Elfyn started his rallying career in 2007. His international breakthrough came in 2012, when he was crowned WRC Academy champion, a feat that won him a WRC 2 drive with M-Sport the following season. During the 2013 campaign, Evans was drafted in to deputise for the absent Nasser Al-Attiyah on Rally Italia. On what was his first time behind the wheel of a full-spec WRC car, Evans pulled off an astonishing sixth place finish. This subsequently landed him a seat in the senior team for 2014, under the wing of experienced Finnish teammate Mikko Hirvonen. For a novice, he demonstrated a cool hand at the wheel and excellent consistency, securing nine top ten finishes from thirteen rallies, including fourth in Mexico and Germany.
Retained for 2015, Evans built on his experience to produce two particularly memorable performances in Argentina, where he took third and then a superb second at a storm-battered Tour de Corse. Despite these highlights and an improved finish in the driver's championship, M-Sport took the decision to replace Evans with Eric Camilli for 2016.
Not to be disheartened, the Brit dropped into the secondary WRC2 category, where he immediately showed his class and could well have won the championship outright were it not for a retirement in Portugal. There's an element of justice being done as Evans makes a welcome return to WRC for 2017. M-Sport have already nominated Evans as its third points scoring at round one in Rallye Monte- Carlo and all the indications are that the returning Welshmen should get a full season to sink his teeth into in 2017.
The car: Ford Fiesta RS WRC
M-Sport's brand new machinery, the Ford Fiesta RS WRC, boasts 380 bhp and 332 lb-ft of torque from a 1.6 litre Ecoboost powertrain. Based on the new road-going hot-hatch, the Fiesta RS WRC's body sports an aggressive new-look in line with new aerodynamic regulations that pave the way for faster, more visually striking cars in 2017. Key alterations on the 95 per cent new Fiesta include larger front and rear splitters, dive planes, cavernous brake cooling ducts and a monstrous rear wing.
A new six-speed sequential gearbox with hydraulic shift, multi-disc clutch and active centre differential funnels power through to the wheels. Meanwhile, real-time chassis and engine performance data can be filtered through to engineers in the service park and into the cockpit via twin-dash screens for both driver and co-driver.
One thing to keep an eye out for on this seasons stages is the multiple Fiesta RS liveries. Each M-Sport car will sport a unique design, with Ogier's dominated by key sponsors Red Bull, Tanak adopting a blue and white camo effect and Evans carrying the familiar red, white and black DMACK branding (above).