The Porsche 911 GT3 is a cracking car that is arguably the best drivers machine the German brand makes. Considerably more focused than the standard 911, but much more civilised than the RS model, its broad appeal has made it something of an icon. Introduced in 2013, the current GT3 is quite the machine, but fans have bemoaned its transmission options, or lack of. A 7 speed PDK is good on paper, but nothing beats swapping cogs yourself. The 2017 Porsche 911 GT3 reclaims that vanishing pastime of manual gearboxes.
Shown to the world at Geneva, the 2017 Porsche 911 GT3 has been reworked from nose to tail. Visually it retains that familiar 911 silhouette but the aerodynamic details have evolved. The rear wing position is now higher and set further back to allow the airflow from it to work alongside the diffuser below. Vents and grills have been redesigned to further boost efficiency at speed by reducing drag.
A new engine comes into play for the 2017 Porsche 911 GT3. A 4.0 litre flat six producing a sizeable 492 BHP is now mounted in the rear. A 9,000rpm redline can now be chased with an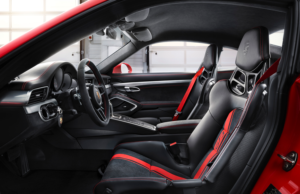 involving, but optional, 6 speed manual transmission. Stick with the 7 speed PDK and the car will get from 0-62mph in just 3.4 seconds. Whilst the manual is 10kg lighter, it does the same sprint in 3.9 seconds. Altered adjustable suspension gives the car a wide range of options.
Pricing has yet to be announced.