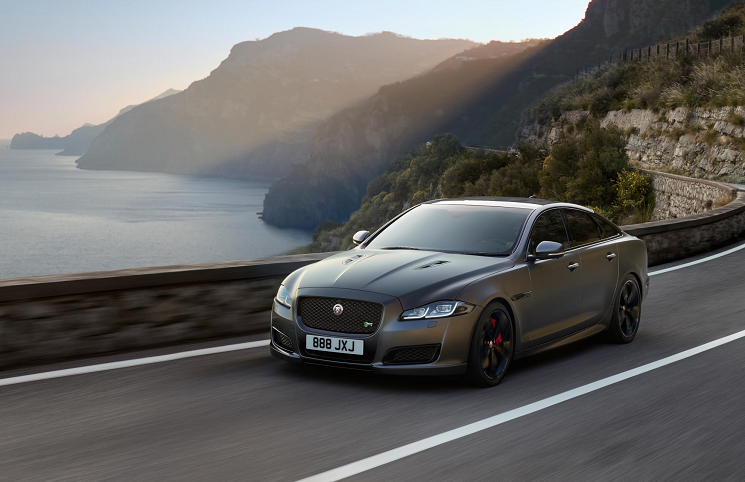 These days, premium brands are increasingly replacing the old-fashioned stately sedateness of their most luxurious saloons with enough cylinder-pumping adrenaline to blow off your Bowler. Naturally, those who prefer to take the Phantom to Fortnums or the Maybach to Mayfair without overly exerting the accelerator pedal can continue to do so at their leisure. However, more and more of the largest, most opulent saloons on the market are gaining a spicier edge; an edge that's typified by the updated 2018 Jaguar XJ.
Having already lifted the covers off the 200mph wildcat that is the XE SV Project 8 earlier this year, Jag are very much hitting their performance stride in 2017. Now, some of the Project 8's adrenaline-fueled fury is being injected into its larger feline friend with the announcement of the new XJR575 for the 2018 model year.
It's therefore no coincidence that the most madcap member yet of the XJ family shares the Project 8's rip-roaring 5.0-litre V8 supercharged engine. Sure, the XJ is no lithe sprinter like its XE SV sibling. Still, Jaguar Land Rover's heavy-hitting 567bhp powertrain comfortably propels the super saloon from 0-60mph in a stunning 4.2 seconds and up to a fur-raising top speed of 186mph.
Available in standard wheelbase guise, the normally stately XJ lets its wild side of the leash in 575 form. It adopts a prominent rear spoiler, flared side sills and front bumper with larger intakes to quench the 5.0-litre V8's gargantuan thirst for air.
Born in the heart of Jaguar Special Vehicle Operations' state-of-the-art Oxford Road HQ, the XJR575 gets some updated exterior badging plus twin bonnet louvres to mark it out from the rest of the range. 20-inch gloss-black wheels with red brake callipers and exclusive Velocity Blue or Satin Corris Grey exterior finishes add some suitably sultry colour to proceedings.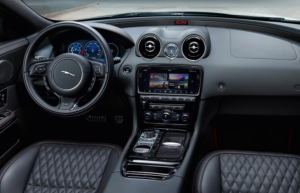 Inside, the 2018 XJ features bespoke embossed tread plates and 575 diamond-quilted seating. Retaining its 4G Wi-Fi connectivity, the big cat now also has a wider 10-inch touchscreen to play with. All the latest intelligent safety technologies, from Forward Traffic Detection, Driver Condition Monitor and Lane Keep Assist, underpin the entire XJ line-up. Pedestrian Detection has also been fine-tuned. It operates from 3-37mph using a forward-facing digital camera to spot hidden hazards, jamming on the anchors when the risk of a collision is detected.
The 2018 Jaguar XJ, including its bulked-up XJR575 alter-ego, is available to order now with prices starting from £59,995.