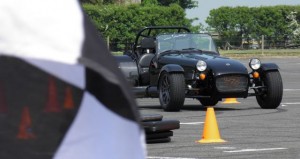 When you buy a car today you tend to get a fair amount of equipment for your hard earned pounds. Power steering is pretty much standard, air conditioning is a must, and satellite navigation is something that is deemed a necessary requirement of todays road users. Yet here I am confronted with a car so lacking in substance that it doesn't even have proper doors! No carpet, no electronic aids of any sort, not even a roof worthy of a description any more complimentary than "being like a poorly erected tent." So how is a car that offers nothing in the way of refinement and costs over £22,000 expected to survive on the market? Well it has since 1957, why not another 54 years?
This is the Caterham 7 Roadsport 140. A 1.6 litre, 140BHP widow maker! Ladies and gentlemen, this is the most honest car you will ever lay eyes on. It doesn't pretend to be comfortable, because it's not. It doesn't attempt to woo you with modern
sports car looks, because it can't. What this car can do, however, is put a grin on your face so wide that you will be picking flies out of your teeth for days. The Caterham may not be the most powerful machine you could buy on this budget, but I'm willing to bet it is one of the fastest. Weighing only a smidgen over half a ton the 7's power to weight ratio allows for a 0-62MPH dash to be completed in a shattering 5.0 seconds. Yes you read that correctly. If you are willing to do without your favorite radio DJ you can have Porsche performance on a relative shoestring.
To get into the Caterham you must first master the art of human origami as placing yourself  in the drivers seat is akin to posting yourself into a postbox. Once inside the snug cockpit you really do get a sense of just how spartan the car really is. Sitting just inches from the ground and with only a basic instrument panel for company, you fire up the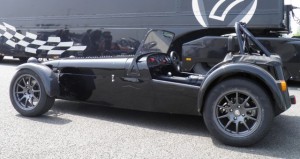 engine. Everything from the whine of the starter motor to the growling exhaust note exudes character. That is the key thing about the Caterham, its character. This seemingly primeval piece of kit is pure. It simply sits at your fingertips as a tool to get you back to grassroots motoring.
In motion this car is an absolute riot! It thunders along with you just hovering above the tarmac. You can feel every bump and crease of the road as the communication between man and machine is like no other. Accelerating out of bend not only results in you being forced back into your seat, but is also intoxicating. The outboard wheels mean that you can place the Roadsport on the apex of a corner with millimeter precision. The satisfaction of driving this machine at a fair lick is off the chart. It fills you with confidence and rewards you when you decided to be brave. The brakes are terrific and actually possesses the ability to deform a human face under heavy use. Yes, it gets cold and you usually end up digesting an entire population of insects, but for out and out thrills it is
breathtakingly liberating. Tickle the throttle in the right manner and sideways heroics are plentiful. It is effortless to kick the back out as you feel like Steve McQueen, king of cool, really working with the car.
There will be those of you out there who say "but the fuel tank is the size of a water balloon and the racing harnesses are far too much fuss." To those people I say that you should get out more. This little car is all about the thrill and excitement of driving, and if you can't understand why such a thing produces an adrenaline rush you might as well be in a coma.