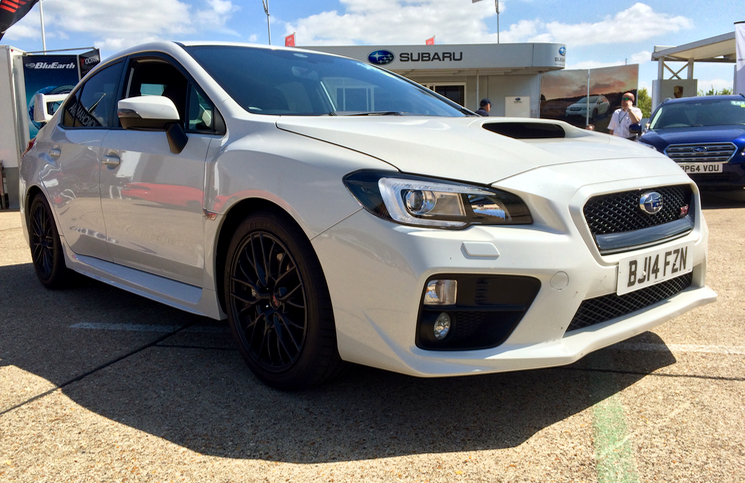 Subaru is just as much a part of rallying DNA as Ferrari is to Formula One. Every "petrol head" possesses childhood memories of Colin McRae and Richard Burns leaping their heavily turbocharged beasts through the air. Those blue legends went from rally championship victories to being in the showroom. The greatest thing about watching WRC heroes beat mother nature is that on Monday you could stroll into the showroom and buy a Subaru Impreza WRX. It was of the most manly purchases your bank manager will allow you to make. In its latest incarnation Subaru has dropped the Impreza name, but does this mean they have also neutered the purebred boxer in the process? Our first drive in the 2015 Subaru WRX STI would suggest not.
Looking just as brash as any all wheel drive Subaru that has gone before it, the 2015 Subaru WRX STI assaults the eyes with that iconic bonnet scoop and vast spoiler. This stocky saloon brims with testosterone from its blunt nose all the way to its exhaust tip. From the outset this car makes a statement of intent… It doesn't much care for your opinion.
Inside bolstered suede and leather Recaro seating pins you in place whilst whilst red stretching contrasts our test cars black interior. The seating is highly adjustable and so finding a comfortable
position is quick and easy. Naked carbon fibre is on show alongside a 6 speed manual gear shifter, a big hint that this is still a driver orientated machine.
Its turbocharged boxer engine produces 296BHP in this guise and when the engine is brought to life it soon lets you know about it. There is still something very rally car about the purposeful sounds it emits. Step on the noisy pedal and you will launch from 0-62MPH in just 5.4 seconds thanks to its power being channeled down to the tarmac via all wheel drive. The 2015 Subaru WRX STI manual gearbox is rewarding in the directness of its feeling. Thats is a good thing as you will be needing to work those cogs to get the most out of this car. There is a notable amount of turbo lag before you really get going and the engine at its best is found high in the rev range. This car requires someone who knows what they are doing to extract maximum enjoyment, something that hardcore enthusiasts will like. Steering is precise, body control good and grip levels excellent. This chassis is totally performance focused and it feels great for it, just don't expect the most compliant ride on our potholed British roads.
This cars performance is truly intoxicating, but its rough and ready natures means that the everyman will be drawn to the Subaru's European competition. However, the brand must be commended for producing a machine that keeps their diehard fans smiling. Many rivals have set theirs aside in favour of pleasing nontraditional customers, not Subaru though.
We hope to bring you a full and detailed road test of the 2015 Subaru WRX STI after spending more time with it soon.