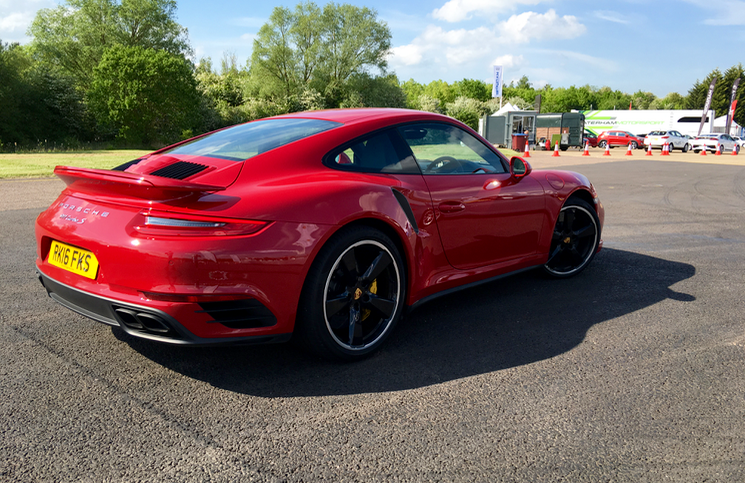 The Porsche 911 is one of the most developed cars in history. By adopting the same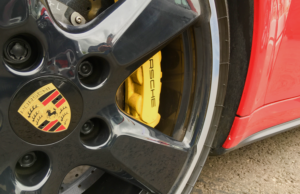 evolutionary philosophy as Mother Nature, each incarnation has edged closer to perfection. With over 50 years of history, a crammed racing trophy cabinet, and a diehard following of fans, 911 is arguably the definitive sports car. However, the Porsche 911 comes in many flavours and the topflight Turbo models nudges it firmly into supercar territory. This is the 2016 Porsche 911 Turbo S and it sits at the top of the food chain.
Looking sinister in a bloody shade a of red, our 911 Turbo S lurked awaiting its opportune moment. The wide turbo body featuring large intakes on its hunched shoulders looked purposeful. Black 20 inch forged alloys with a central locking nut filled the arches and contrasted the paintwork. As your eye follows that historic teardrop roofline you are met by a neat spoiler sat beneath an array of grills and intakes. Whilst the rounded headlights and general proportions are very familiar in todays automotive landscape, this car makes a serious statement of intent.
The interior is a sea of high quality black leather. The centre console divides the driver and passenger whilst a 7 inch touchscreen infotainment display sits ahead of the drive selector. A steering wheel that is very much inspired by that of the 918 Spyder sits at the drivers chest. A pair of beautifully supportive sports seats proved to be fit for purpose. The 2016 Porsche 911 Turbo S does seat four although the rear posts are only really suitable for small children. A sense of quality is the overriding impression as premium materials as well as a solid fit and finish ticks many boxes. In the cars nose  you will find a 115 litre luggage compartment. Considering this cars caliber, all around visibility is excellent.
A twist of the 911 shaped key has this cars 3.8 litre twin-turbocharged flat-six bark into life. There is a real air of tension in the cabin before you set off. The car is ready, but are you? At low speeds the 2016 Porsche 911 Turbo S makes good use of its rear wheel steering allowing the car to turn tighter with less input from the steering wheel. The rear wheels turn in the opposite direction to minimise the turning radius. It's ride at these speeds is firm, primarily due to the large alloy wheels, but it is certainly more compliant than some rivals. Fitted with the near faultless Porsche PDK gearbox, the seamless act of cog swapping goes unnoticed. Ok, so we have established that this car appears to work well whilst dawdling along, but that isn't why you are reading this article is it? On the steering wheel there is a dial activating various modes. Sport sharpens everything up and prepares the car for some, let's say, exuberant driving. The steering weights up, the throttle becomes more responsive, and the car is very much awake. But this is a Turbo
S… So you are going to want to know what it is like in S+ mode, or as I like to call it "kidney punch mode". From a standing start this car will get from 0-62 MPH in just 2.9 seconds which is seriously impressive on paper, but nothing prepares you for the physical assault of doing it in reality. Sucked tight into your seat, the all wheel drive makes the most of the 572 BHP at its disposal. Your internal organs are pinned with the most awesome surge of acceleration narrated by a rather angry exhaust note. Before you know it you are doing unquotable speeds and the whole world becomes a blur. It doesn't stop at 62 MPH either as 0-99 MPH is done in 6.5 seconds and 0-124 MPH in just 9.9 seconds. To say this thing is fast would be the understatement of the century! It keeps pulling too with no sign of relenting even when in the triple digit region. A gargantuan 750Nm of torque means that acceleration from any speed is totally effortless. Take over manual control of gear changes and lightning fast responses follow. When the going gets twisty the 2016 Porsche 911 Turbo S is just as impressive with its rear wheel steering, now turning in the same direction as the front wheels, and torque vectoring it is agile. Accurate steering and the reassuring grip levels of all wheel drive makes this 911 exploitable in the real world. Ceramic brakes are easy to modulate and afford powerful stopping capabilities. A neat touch found back on the steering wheel is a button that when pushed enables S+ mode from any setting for 20 seconds providing maximum attack for an overtaking manoeuvre.
The 205 MPH 2016 Porsche 911 Turbo S unleashed is a breathtaking experience and one I will not be forgetting in a hurry. It really is a very complete car and in that respect its £145,773 asking price is a relative bargain. Porsche even claim it will return 31 MPG.
It has taken Porsche over 50 years to get to this point with the 911 and this example very much proves it was worth the wait.
By Tyler Heatley