Giving your customers more choice is never a bad thing as it allows those who like their porridge "just right" to find something to their taste. As well as a selection of revisions on the 2017 model year, the updated Range Rover Sport also gains a supercharged V6 option for the first time. Sitting below the bonkers SVR but still satisfying those who crave petrol as opposed to diesel, this 2017 Range Rover Sport V6 HSE Dynamic takes to the road.
The latest generation of Range Rover Sport has always struck a fine balance between a design that is purposeful and fashion
conscious. "If it isn't broken don't fix it". Little nips and tucks here and there keep the details sharp. Our black on black styled test car contrasted its 21 inch alloy wheels creating a an overall visage that makes a statement.
Range Rover interiors are beautiful environments as standard, but this particular Sport has received plenty of toys from the options list. A glass panoramic roof let in plenty of natural light, whilst privacy glass kept out unwanted attention. Infinitely adjustable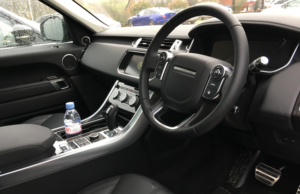 front seats ensured occupants were comfortable in their raised driving position. Rear occupants have plenty of space and a set of TVs to keep boredom on long tracks to a minimum. The 10 inch InControl Touch Pro infotainment system dominated the console and provided an ergonomic interface.
Under the bonnet is the new 3.0 litre supercharged V6 engine of which produces 335 BHP and 332lb ft of torque. Whilst it doesn't have the audible drama that the F-Type V6 possesses, its brisk 0-62 MPH sprint of 6.9 seconds shows it to be more than just an option to make up the numbers. Low Traction Launch enables a clean getaway in greasy conditions. An 8 speed automatic transmission effortlessly takes care of gear changes in a manor so secluded that you don't even notice them. Demand a gear
manually and it is delivered with immediacy. Engine performance at low speeds is just as smooth and is actually very quiet. A faster pace is to be found higher in the rev range with the Sport's keen handling characteristics on full display. High levels of grip a given, but this composure of such a large vehicle when driven at a pace is rather spectacular. The Roll Stability Control helps maintain a level deck and accurate steering boosts a sense of agility. Yet, return to urban speeds and the 2017 Range Rover Sport V6 HSE Dynamic once again transforms back to being an effortless means of transportation. It is this split personality that makes car so compelling. The addition of technology including Autonomous Emergency Braking adds that safety net we now come to expect from modern vehicles.
Obviously being a Range Rover it is fully equipped to deal with the rough stuff. Terrain Response 2 in combination with air suspension is capable of tackling the great outdoors in a fashion you might not expect from a luxury product.
The 2017 Range Rover Sport V6 HSE Dynamic delivers more of the same in terms of capabilities, no bad thing, and the new engine slots into the lineup with ease. Starting from £64,000 this V6 model will likely prove popular amongst those who are making the switch from diesel to petrol.