For many, the MG brand still conjures up an image of the archetypal small sports car. The type of thing that middle aged men with cloth caps and rosy cheeks drive to classic car meets. It's a British institution, up there with queuing and Wimbledon.
Of course, the reality is that the Chinese-owned brand has moved on. If you want proof, look no further than the new MG GS – a front-wheel drive SUV that aims to tap into the highly lucrative crossover market forged by the likes of the Nissan Qashqai. During the launch presentation the phrase 'affordable family car' was used so many times that we began to wonder if they were attempting some form of primitive brainwashing.
Starting at £14,995 we certainly can't argue on affordability. That's £3,550 cheaper than the Qashqai. It's undoubtedly family-sized too. In fact the MG GS is deceptively large, with ample space for five people and stacks of room in the boot for all the affordable family's affordable paraphernalia.
Inside, it's a mixed bag. The entry-level Explore model is a symphony of plastic, with the sort of red-lit LED display you'd normally associate with a 1980s wristwatch. To be fair, it still comes with air conditioning and cruise control, plus it's mechanically identical to the more expensive models.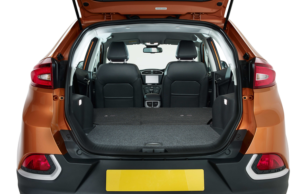 Things improve markedly with the next step up, however. The Excite brings some nicer dash materials and a thoroughly modern 8-inch touchscreen. There's also a DAB radio, Bluetooth and a reversing camera. All of which will still only set you back £17,495. To be honest, that's probably where we'd call it a day. The top-spec
Exclusive trim adds leather seats, satellite navigation and various other trinkets, but it feels like a fairly small step above the Excite for an extra two and a half grand. It is, however, the only one of the trio to be offered with option of automatic transmission, in the form of a 7-speed DCT.
The 6-speed manual in the other models is no great hardship. It shifts sweetly and allows you to keep the 1.5-litre turbocharged petrol engine spinning – something you're going to have to do if you're in a hurry, because most of the power exists at the top end. Suitably extended, the MG GS has more power and torque than any of its two-wheel drive rivals, so performance is acceptably brisk. Things can get a bit vocal under acceleration and there's a touch of wind noise, but refinement is generally pretty good.
MG still prides itself on fun factor and while the GS is not overtly sporting it is a fairly respectable steer. The wheel is nicely weighted and body roll is kept well in-check during normal driving. Likewise, while the ride can be a touch bouncy at higher speeds, it soaks up town bumps quite well. Overall, it's not quite as sharp or as refined as some of its more expensive rivals, but neither is it outclassed.
So what's not to like? Well, despite some nicer materials further up the range, the interior never quite loses its plasticy feel. In fact, the whole car comes across as a touchy flimsy in comparison to say, a Hyundai Tucson. More significantly, the MG GS is only available with a petrol engine. On paper, its fuel economy of 46.3 mpg and 139 g/km of CO2 look competitive, but we've not been able to see how they stack up in the real world. Certainly, the diesel engines offered by other manufacturers are more likely to tempt high mileage users.
Ultimately, the MG GS is a lot of car for the money. It's usefully cheaper than its mainstream rivals, while offering more space and better dynamics than the established budget options such as the SsangYong Tivoli and the Dacia Duster. The flipside, is that it's neither as cheap as the cars to one side of it, nor as accomplished as those to the other. For some, however, that may be the ideal compromise.
By Chris Pickering.