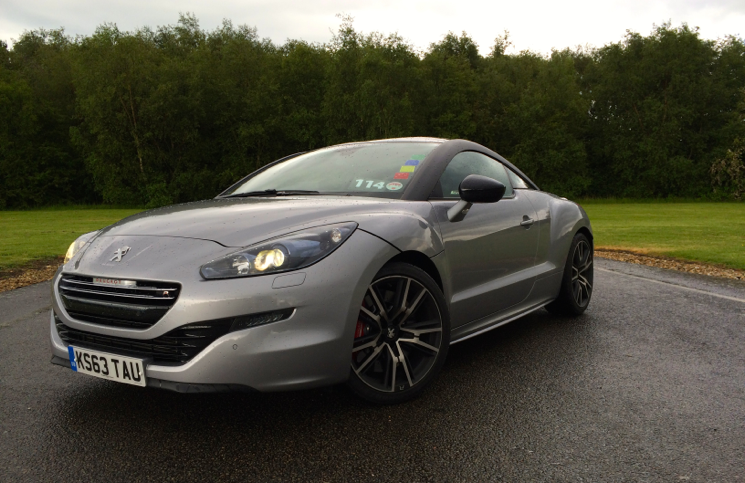 Peugeot have made some iconic cars throughout its history. The 205 GTI and 106 Rallye are good examples of very honest French performance models that even today are regarded as being amongst the very best in class. Fast Peugeots used to be
something young guns like myself aspired to own, but for a while the company has lost its "mojo" and their quick models have been distinctly middle of the road. However, this new Peugeot RCZ R could well be the moment we have all been waiting for. A red hot Peugeot that is capable of kicking some serious backside.
Immediately the RCZ R makes a statement of intent being the most powerful production Peugeot ever. The 1.6 litre turbocharged unit produces 270BHP and 243lb ft of torque which is sent to the front wheels via 6 speed manual transmission. 0-62MPH is completed in just 5.9 seconds and it will go onto a top speed of 155MPH. Make no mistake, this is not an ordinary RCZ.
The low slung coupe that we tested appeared sinister in its Mercury Grey metallic paint and black detailing. A fixed rear wing, red badging and a fantastic set of alloy wheels denote the R from a standard car, although it does retain its signature double-bubble roof which we love. It is a serious looking machine and as we found out, it's not all show and no go…
Its not just the exterior that has had a good going over. Inside you will find a pair of chunky leather and alcantara racing seats that are sublime. They feel very substantial and take a good hold of your ribs and shoulders. Obligatory R badging highlights that this car was not just some back room project, but was actually the responsibility of the famous Peugeot Sport division. Contrasting red stitching finishes off the the cockpit.
The moment you turn the key this cars fruity exhaust note will please any ear it encounters, but potter about sensibly and you will notice that its a reasonably comfortable and refined ride. But let's be honest, you don't want to read about that. Mash the noisy pedal and you will be sucked back into those supportive seats charging though the gears with nice short throws. The RCZ is brisk throughout the rev range but above 2,000RPM when the turbo is completely on song, it absolutely takes off. A limited slip differential reduces torque steer allowing this machine to achieve those impressive aforementioned figures. Its not just rapid in a straight line. There is plenty of grip on offer, even in the more challenging road conditions we were faced with, which gives the driver great confidence in the cars ability. Another thing that will allow you to push the RCZ R faster are its responsive brakes that invite you to leave putting the stoppers on even later. There is very little lateral body movement as the car picks its way through sweeping corners, and the well weighted steering combined with keen turn-in means you can place it right on the apex of even the most demanding bends.
We were very impressed with the Peugeot RCZ R. This car exemplifies the turnaround from Peugeot we had been hoping for. Our car came to £32,000 which for the level of performance on offer and the handling to match isn't too unreasonable. Peugeot even claim that it will return 44.8MPG. Conditions didn't allow us to extract all of this cars potential on our first drive, but we hope to be back in the drivers seat for a full review at some point in the future.