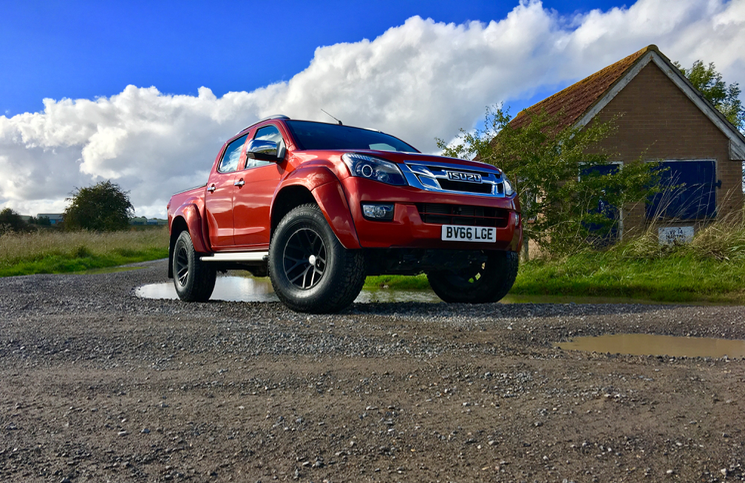 When I was a kid I was totally fascinated by monster trucks. These mammoth contraptions didn't look too dissimilar from something in a cartoon or one of my childhood scribbles. Massively disproportionate wheels, striking colours, and the ability to just go anywhere regardless of obstacles. Wined the clock forward and I find myself with the keys to a monster truck, but not some high riding hotrod that pancakes cars for entertainment… A road legal one. This is the Isuzu D-Max Arctic Trucks and it certainly awakens the 6 year old in all of us.
The first thing most people do is gasp, but the second thing is always a smile. Sitting on a quiet high street on the south coast of England, it totally dominates its surroundings. By collaborating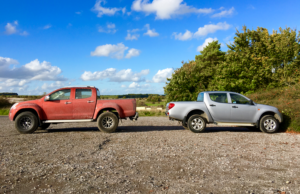 with specialists Arctic Trucks, Isuzu are offering a very unique proposition. Huge wheel arch extensions shelter its widened track and those gargantuan tyres. Between the two is a set of Fox shock absorbers of which clearly suggest that this truck is about more than just the visuals. The D-Max is a large pickup anyway, but the changes made here add 125mm to the overall hight. It dwarfs  Range Rovers, and makes competitors such as the Mitsubishi L200 look like a scale model.
Climb up and into the double-cab of this model and you will find plentiful amounts of space. It seats five with ease and the centre rear passenger even gets a flat floor. Large windows not only let you gaze at the world from a new vantage point, but additionally bring more natural light inside. It isn't the plushest of interiors,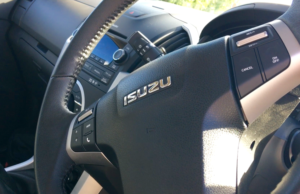 this is still a working vehicle after all, but it feels well put together and durable. There are still some luxuries to be found on our test car such as heated leather seats and cruise control. The rear bed, measuring 1,485mm X 1,530mm X 465mm, is a good size and its hard wearing lining is easy to rinse off.
Under the bonnet of the Isuzu D-Max Arctic Trucks AT35 is a 2.5 litre turbocharged diesel engine. Whilst 161bhp might seem a little modest for a vehicle of this size, 400Nm of torque is plenty of mechanical muscle. A dial allows you to choose how this power is best deployed; rear wheel drive, four wheel drive, or four wheel drive and low range. Whilst on the tarmac sending power to the rear wheels is going to be your best option. Despite its vast size, the AT35 isn't actually a chore to drive. Light steering means you aren't wrestling with it at low speeds and the aforementioned torque means that you can put this AT35 in just about any gear and it will get on with it. However, on the road its specialist set of skills for the rough stuff does have some detrimental effects. Predictably the Isuzu leans through the bends thanks to a high centre of gravity, and it isn't the most refined machine in terms of noise. But the road is only really a holiday home for this D-Max…
Venture well and truly off of the beaten track and you will soon find out just how capable the Isuzu D-Max Arctic Trucks really is. Heading to an area of testing usually reserved for British military vehicles, it was in its element. All wheel drive and those deeply grooved tyres meant that making progress through boggy terrain was not an issue at all. The added ride hight also meant that climbing up and over anything in my path, even a fallen tree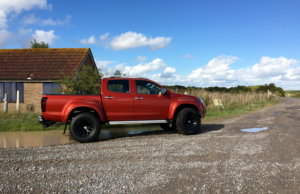 trunk, didn't seem to phase this 4×4. Selecting low range enables impressive climbing abilities and also increased control during steep descent. It doesn't have much in the way of techno-wizardry, but those who enjoy working with their off road companion will feel right at home. Crossing rivers, forging new paths, reaching the summit. It just took all of this in its stride. Whilst there are some vehicles that are just as able to cross this terrain, very few will do it at a brisk 30mph. That magnificent suspension really soaks up the impacts when covering hostel terrain at a pace that would simply cause a Land Rover to disintegrate.
The Isuzu D-Max Arctic Trucks AT35 is undoubtably one of the most capable off road machines money can buy. Sure, it does compromise some of its refinement on road, but as a vehicle to cope with extreme conditions it is hard to beat. At £31,499 it is also represents good value for what is something rather specialised.