The Nurburgring is a torturous environment for a car. Relentless elevation changes, unpredictable weather, and a never ending series of corners. To set a benchmark time in any class is a true mark of high performance, but to claim the outright crown is the real prize. Ferrari, McLaren, and Porsche were the last to take on "the green hell" but Lamborghini were keen not to be left out. This is the Lamborghini Huracan Performante and it is the new king of the 'Ring.
Revealed at the Geneva Motor Show, the latest raging bull clocked a highly impressive 6 minutes 51 seconds .01 around the Nurburgring, a full 5 seconds faster than the Porsche 918 Spyder, the previous record holder. Don't go thinking that this is just a pumped-up Huracan, oh no, this is a very serious piece of kit.
As you might expect, there has been a power increase over the standard car bringing the total to 631 BHP and 600Nm of torque from its 5.2 litre V10 engine. A totally reworked all wheel drive system allows from 0-62 MPH in just 2.9 seconds. Top speed is said to be more than 201 MPH. The Lamborghini Huracan Performante has also been on a diet shaving off 40KG.
However, the real science as to how this supercar is so fast is to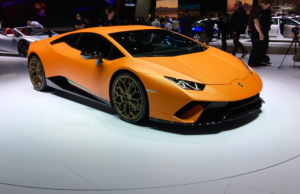 be found in its aerodynamic package.  The aggressive front splitter features active aerodynamic flaps as do various ducts and channels. It's large rear wing has air ducted to it that can alter how much pressure is applied to each side of the wing. This allows the Performante to increase downforce on a particular side of the car whilst reducing drag on another. It really is cutting edge technology and part of the reason why that lap time is so impressive.
Costing from £213,000 the Lamborghini Huracan Performante is quite the achievement and arguably a bit for a bargain in comparison to the legendary cars that it has just shamed.