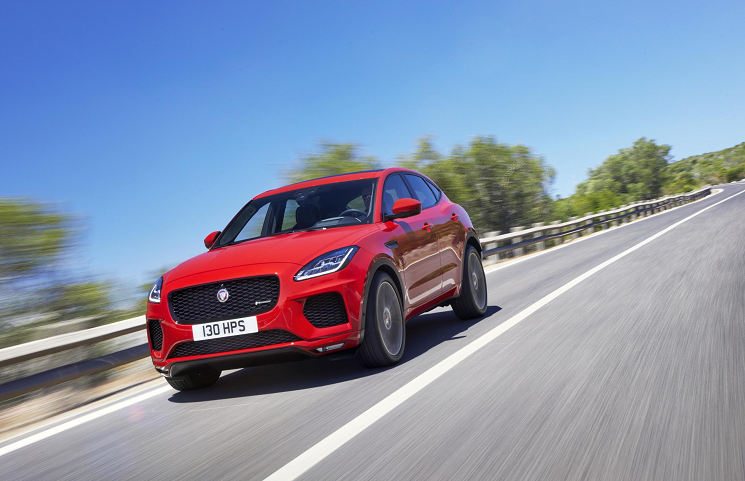 We couldn't get enough of the Jaguar F-Pace, the car saw the big cat getting its claws into the SUV market for the first time ever. James Bond meets Bear Grylls, the F-Pace is quite possibly the sexiest way to negotiate several miles of Arctic tundra, desert wasteland or unploughed fields ever invented. An unenviable act to follow, then. So how come Jag's new baby SUV is expected to gazump its revered big sister in the sales stakes, a vehicle that spent much of 2016 hoovering up Car of the Year awards left, right and centre?
The answer is simple; the all-new Jaguar E-Pace is a compact SUV. And compact SUVs sell – in their droves. Whether you're a crossover convert or suffering from SUV overload, we all have to accept that this is one flavour of the month with a particularly long-lasting aftertaste. And a tasty one too, especially if you're in the business of selling them. It should, therefore, come as no surprise that the legendary British marque is muscling in on the German premium powerhouses once again, this time with a car that will make you think twice about splashing the cash on an Audi Q3, BMW X1 or Mercedes GLA.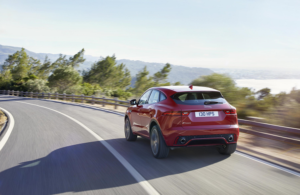 In recent times, styling is one department in which Jaguar has really caught its European counterparts with their lederhosens down. With unparalleled purveyor of four-wheeled artwork Ian Callum in the design studio, it hardly seems a fair fight. The E-Pace, like its older sibling, is a damn fine looking car and does absolutely nothing to play down the oodles of F-Type influence radiating from its every pore. The familiar front grille epitomizes the Jaguar's current design language but certain tell-tail elements – those swept-back diamond headlamps, the sharply angled roof spoiler and, in particular, the hunched rear beltline – leave you in no uncertain terms that the E-Pace is a far more aggressive animal than its F-Pace stablemate.
A peek through the optional fixed panoramic roof, also available in black or body colour, reveals one of the most technologically advanced cabins anywhere in crossover land. If old-fashioned dials and metres don't float your boat, you can simply have your new E-Pace with a fully digitalised instrument panel.
That's on top of Jaguar's next-generation 10-inch touchscreen infotainment system, connecting drivers to their favourite apps on the go. Along with the choice of two premium audio systems, a quick scan of the options list reveals a 12.3-inch full colour Head-Up Display. This advanced interface projects even more information onto your windscreen than ever before, keeping you abreast of speed and directions without ever diverting your glance from the road.
Elsewhere, four charging points and five USB ports will keep an army of phones and tablets fully powered up on long journeys, whilst up to eight devices can plum into the five-seater E-Pace's 4G Wi-Fi hotspot at once. F-Pace owners will recognise the grab handle on the centre console between driver and passenger but a much sportier joystick-style lever has supplanted the mid-size SUV's more traditional gearstick.
New chassis hardware developed specially for the 2018 E-Pace not only yields a highly generous 577 litres of boot space but also lays the foundations for a top-quality ride – whatever mother nature throws at you. As well as borrowing the sharp handling Integral Link rear suspension developed for the F-Pace, the E-Pace proves its off-road credentials with the newly developed Active Driveline AWD system. A first for Jag, this 4X4 drivetrain can flood the E-Pace's rear axle with torque when the going gets particularly tough, allowing the rear wheels to power you out of trouble on any surface from boggy quagmires to sandy dustbowls.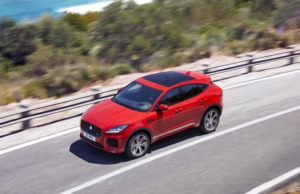 If you're planning to get adventurous with your new cat, hang your hat on one of the E-Pace's three diesel motors. 2.0-litre four-cylinder Ingenium diesel powerplant is available with either 148, 178 or and 237bhp.  You'll get a brutish 369lb-ft out of the latter itineration thanks to its powerful sequential turbochargers and push past the 60mph marker in 7.0 seconds. That sprint time drops significantly when you bring the E-Pace's duo of turbo petrol units into play. The gutsiest of the pair, the 296bhp 2.0-litre Ingenium, uses twin-scroll turbochargers to banish turbo lag and flies from 0-60mph in just 5.9 seconds. Top speed is pegged at 151mph.
Safety systems such as Lane Keep Assist and Traffic Sign Recognition complement the E-Pace's front and rear parking cameras. Jaguar's wearable Activity Key might also be worth considering if you're of an outdoor persuasion. This waterproof and shockproof remote key straps handily to your wrist, allowing you to leave the main fob looked safely in the car while you indulge in a relaxing spot of potholing or such like.
The 2018 Jaguar E-Pace will be the first of its kind to be built on foreign shores, with enough F-Paces flying off the shelves to keep Jag's UK plants completely tied up.
Despite production being farmed out to China and Austria, the all-new Jaguar E-Pace SUV remains a thoroughly British feline at heart, with all its petrol and diesel power plants starting life at Jaguar Land Rover's engine facility in Wolverhampton.
BMW, Merc and Audi, take note. The big cat's small SUV on the warpath, with prices starting from £28,500 in the UK.