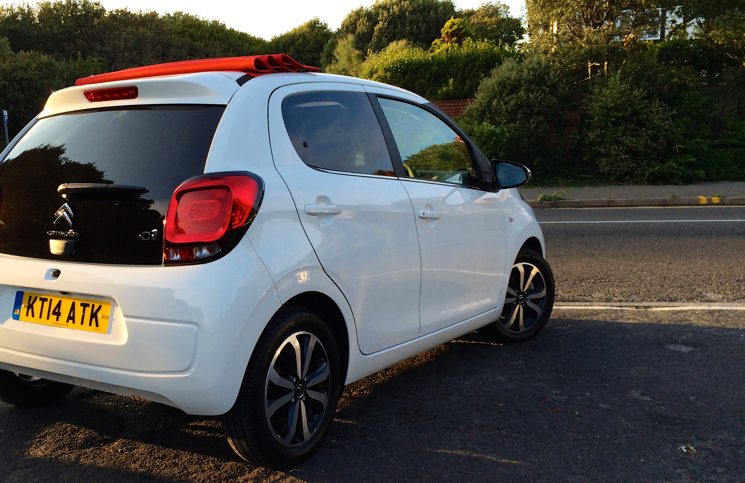 Whilst today it is very hard for a car manufacturer to build a bad car, with competition being so high nobody can afford to, there are many that miss that "feel good factor." I'm not talking about the exhilaration of the fastest performance cars or
the techno-boffin all-singing all-dancing gizmos found in the Mercedes S-Class. Sometimes it is the more simple things in life that can make you enjoy moments more, much like a bag of chips after days of extravagant food. The all-new 2014 Citroen C1 has reminded me that whilst we demand this, that, and the other in our cars these days, the toys are not what make driving enjoyable.
Enter the 2014 Citroen C1. Just like its city car predecessor, this hatchback makes up the triplet shared by Peugeot, Toyota and of course Citroen. Each brand has given the car its own unique look and feel, but it is arguably the Citroen's styling that is the most extravert.
Its compact shape is full of bold design that makes it stand out much more than the original C1. Large rear headlights and a tinted glass boot lid not only make this car distinctive from behind, but also creates quite a chic rear profile. Chromed door mirrors in tandem with these 15 inch "planet" alloy wheels adds an air of sophistication to this little car. The red contrasting fabric roof of our test car is also a nice touch. Whilst at first the new C1's squinty face wasn't to my liking, the narrow band of lights surrounding the larger headlights has grown on me over time. Overall the all-new Citroen C1 is very much a product of modern styling and may even be seen as fashionable, but I'm no authority on that as I think my pair of orange shoes are cool.
Considering the external dimensions of this car, Citroen has pulled off the old Time Lord trick of making it "bigger on the inside." Seating four with adequate head and leg room, the interiors minimalist design is headed by a large touchscreen display. Pairing this unit to a smartphone gives you access to a wide range of features and apps that can be shared between both car and phone. The interface is clean and easy to use giving occupants access to DAB radio and Bluetooth. The instrument cluster is again simple, but very easy to read at a glance. I am a particular fan of the vertical rev counter that races up and down the left of the wheel. Rear doors give easy access to the backseats but are only equipped with pop-out windows as opposed to ones that wind down. The boot is big enough for a few shopping bags but that is about it. Par for the course when it comes to city cars. Customisation is big thing for the C1 with owners being able to choose the colour of the dashboard and large opening fabric roof.
This specific 2014 Citroen C1 is powered by a rather peppy 1.2 litre petrol engine that loves to rev. Whilst some might complain that the thrum of its three cylinder engine is a bit too intrusive
under heavy acceleration, I think it gives the car a bit of character, like a little puppy trying to growl. Maximum torque is produced at 2,750rpm measuring 86lb ft meaning with its size this C1 is ideal for darting out of junctions in a busy urban environment. It is not a quick car, with a 0-62MPH time of 11 seconds, but once you have worked through its 5 speed gearbox it can hold its own even on the motorway. The ride is very compliant and will take on even the most aggressive bumps in the road with ease; however, consecutive bumps do lead to a slight bouncing motion. Leaving the city behind and treating the car to some more spirited driving, you will find the steering light and precise. You will have to work the gears to get the most out of its 82HP engine, but I found this to be quite enjoyable. There is a bit of body roll but it is the C1's skinny little tyres which leads to understeer when you push it. Trail the brakes into a corner, shifting the weight forward onto the driven wheels, gives the front end a more bite upon fast corner entry. With the roof open and the sun in the sky I couldn't help but smile driving the C1. We managed to get 52MPG in combined conditions out of this 2014 Citroen C1 without trying too hard.
The 2014 Citroen C1 is a great little car and whilst some competitors might offer a more compelling all-round package, for me the C1 has that "feel good factor." You can have one of these from £8,245 for the most basic model, but our test car came to a more costly £11,785. Producing just 99g/km of CO2 the cheeky Citroen C1 qualifies for road tax of exactly £0… Just another thing that will make you smile about this car.