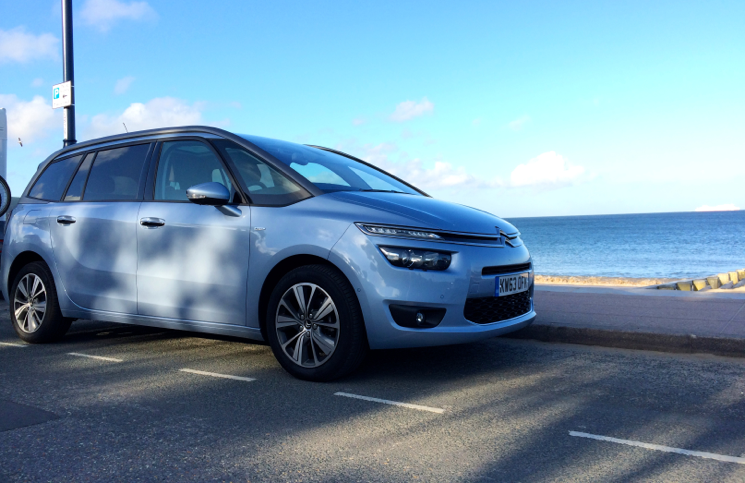 Some things in life will never be all that sexy. Concrete, potato peelers, your washing machine. They all just do a job and so have no desire to be eye-catching in any way, shape or form. Big people carriers can be added to this list as usually they
are just a means to an end. If you need to transport 7 people there is no way around it, you will require one. Manufacturers have tried to make them more appealing by branding them "MPV" but in terms of not looking like a taxi driver, it might as well be R.I.P. That was until Citroen's new Picasso came along… 2014 Citroen C4 Grand Picasso Exclusive e-HDi 115 Airdream.
Looking like some sort of spaceship or ornament in one of those trendy wine bars, the Grand Picasso sets itself apart from all of its rivals with its intriguing aesthetic. There is no getting away from the fact that this is a big car, but within this vast shape there are some fantastic details that make it look more upperclass as opposed to backstreet business. The thin band of of LED lights that join its chromed grill and interlinking badge gives this 7 seater a unique face that is instantly recognisable even in the dark. Its deep taillights on the cars rump are almost concept car-like in their intricacy. This sculpture is completed by a wrap around roof rail, again a brilliant blend of both form and function.
Inside this top specification Exclusive model is a cabin unrivalled by any other people carrier. Not only is there an immense amount of space on offer, but the intricacy of aluminium detailing on vents, soft touch surfaces and a large touchscreen display all reinforce this as a premium product. The shapely heated and massaging seats are reminiscent of what Citroen offer in their DS models. This cars big panoramic windscreen and glass roof allow endless amounts of natural light to enter and vanquish dark spaces. The middle row seats three in individual chairs that each recline. Leg room is plentiful and if you find headroom to be a bit on the cramped side you should medically be declared a giant. Its boot is  more than capable of swallowing a couple of pushchairs as well as a big family shop, but neatly hidden in the floor are the final two seats which are erected with one clean easy movement. Whilst these are a bit cramped for adults, they are perfectly suited for children. The 2014 Citroen C4 Grand Picasso Exclusive e-HDi 115 Airdream treasure trove of toys including DAB radio, Bluetooth, internet capabilities, flooding tables and infinite storage spaces spoil occupants for choice.
With the key in your pocket all you have to do is hit the starter button and the 1.6 litre turbo diesel hums into life. At low speed the controls are light, perfect for manoeuvring such a big car around town, but the steering does have good weight to it through corners. Obviously we can't expect sports car levels of feel through the wheel, but you get just enough to know what direction the wheels are pointing. Visibility is exceptional with the cars big windows, mirrors and skinny a pillars all working together. Our test car was also equipped with a 360 degree mode, that by using multiple cameras on the car, produces a birds
eye view of the vehicle whilst parking. That said, if the space is particularly tight you could always let the Picasso park itself. Just tell it to measure the gap and it will happily do all of the steering required to get you into or out of even the trickiest parallel or bay park. Over bumps the Picasso remains composed even when confronted with the most vicious speed bumps. Around tight corners there is an expected level of body roll but a good amount of grip is also to be found. On the motorway the drive is tranquil and smooth. The the main noise you hear is the wind but it isn't overly intrusive. Simply set the cruise control and relax, the Grand Picasso is perfect for long journeys. So, it all sounds peachy for this car then… Well, it does have one achilles heel. The 6 speed manual gearbox is quite notchy and sometimes pops back out of gear. This is a great shame as its the only real fault I could find with this car. My recommendation would be for the automatic of which we tested in the five seat Picasso.
Citroen have produced a very fine car indeed in the 2014 Citroen C4 Grand Picasso Exclusive e-HDi 115 Airdream. Once you get past the initial bit of turbo lag the diesel engine pulls well proving to be a good choice of power unit. With all of the toys our test car had the price tag came to £29,750. However, if you are feeling less extravagant the basic price is a more reasonable £25,655. Citroen continue their French revolution.