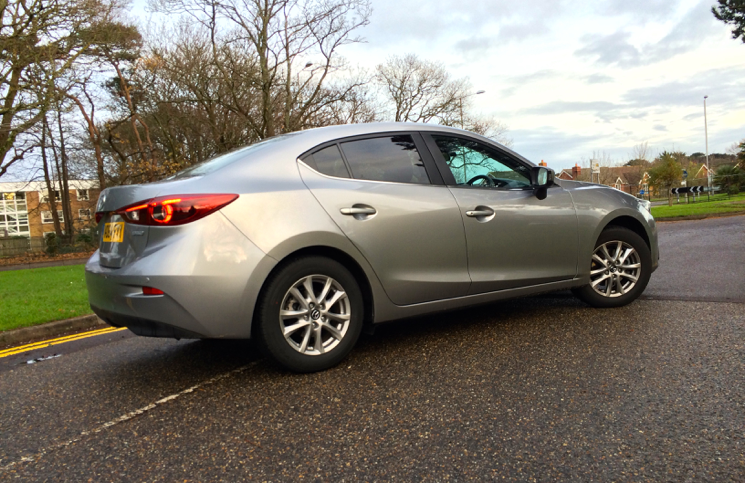 Us Europeans love the hatchback. In the UK the top three best selling cars are all of said variety making Great Britain one of the biggest hatchback consumers. Many manufacturers are introducing saloon variations of their hatchbacks and although they haven't been widely adopted in this country as of yet, the 2014 Mazda 3 Fastback 150ps SE-L Nav Diesel might just give you a reason to. With more boot space on offer and costing exactly the same as the equivalent hatch, why not consider this C-segment saloon?
The Mazda 3 is a car that aims to make life difficult for some very prominent rivals such as the Ford Focus and Volkswagen Golf. In Fastback form its swooping fluid lines create a modern design full of vigour. A prominent front grill evokes a
premium tone whilst deep bonnet creases continue up the long bonnet. Its Kodo "soul of motion" design language creates a sense of movement in the aesthetic even when the car is stationary. A steeply raked rear windscreen and polite boot lip complete a profile which many say is even more desirable than the hatchback. Mazda has succeeded in producing a shape that could well buck a well established trend.
Enter this 2014 Mazda 3 Fastback 150ps SE-L Nav Diesel and a highly ergonomic and functional cabin awaits. This being a Mazda means that everything you touch feels like it has been built to last. Whilst the visual design elements might not be as inspiring as the exterior, its beauty is found in the way you interact with it. Mazda's latest infotainment system is a masterpiece with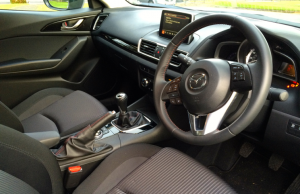 everything placed in logical locations. You can interact with it via touchscreen or a clever joystick surrounded by five shortcut buttons. The satellite navigation is clear and intuitive whilst other functions can be added via apps. The driving position is highly adjustable, but by keeping your hip low it promotes a sportier place to sit than many rivals. Bolstered cloth seats do a good job of holding you in position with both possessing the ability to warm on a frosty day. Its instrumentation is clear to read and beautifully detailed. Leg room is good but head room is actually a tad more than found on the standard hatchback. Another thing that the Fastback has over the hatch is that its boot is 55 litres large at 419 litres. The only real con of choosing the Fastback is that rear visibility is reduced.
Push the starter button, our test car featured keyless go, and the 2.2 litre naturally aspirated engine begins its job of combustion. Not that you would notice because it is one of the most
refined diesels in the business. 148BHP and 380Nm of torque makes for brisk acceleration. This unit is particularly good for the motorway as it is quiet and its omnipresent torque makes for easy overtaking manoeuvres. Set the cruise control and apart from some minor wind noise, you'll arrive at your destination before you know it. However, this cars real party piece is the way it moves on more lively roads. Like many Mazda's this car seams to chime with the companies old slogan "soul of a sports car." The steering is intuitive and precise with its outputs. Mix in this cars excellent body control and you have a machine that feels nimble and even a bit playful. Further complimenting its driving experience is the relatively short throw of its six speed manual transmission. Driven in a lively manor you can build a very enjoyable rhythm in this Fastback especially when using the plentiful amount of grip it has. This 3 rides rather well also thanks to smaller 16 inch alloy wheels, but its sharp suspension setup can result in a firmer experience over bumpy road surfaces. This cars aforementioned torque is great a low speeds also and its agility is most welcome when threading your way through a busy town. Our test car lacked a reversing camera which we would advise opting for due to the lack of rear visibility. Other than that, the Mazda 3 Fastback is a brilliant everyday package. Mazda claim that when driven economically you can get 72.4MPG from this car on the combined cycle.
The 2014 Mazda 3 Fastback 2.2 150ps SE-L Nav Diesel possesses our choice engine for this car as it balances smooth running, economy and performance very well. Fastback models do not get the option of the 1.5 litre petrol found in the hatchback. At £22,285 the Mazda 3 Fastback is competitively priced and could just be enough to get traditional hatch buyers into something new.