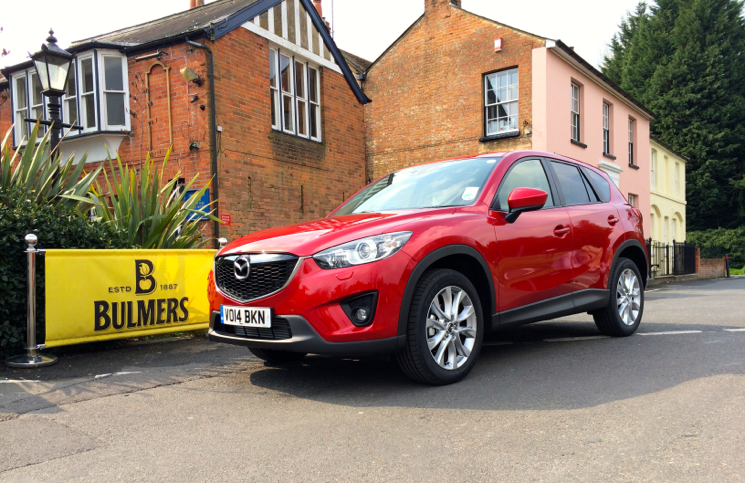 There are many reasons why the crossover segment is booming. Aesthetically people like the robust looks of a big car as it promotes a sense of security. The high driving position enables a good view over traffic and down onto
"lesser" road users. It is also the current fashion to own such a car and those making a large investment do not want to be seen driving something that is "so last generation, darling." Of course a lot of peoples excuse for buying a an SUV is the odd day when it snows in the UK and that means you will need one with all wheel drive.
This is the revised 2014 Mazda CX-5 2.2 175ps AWD Sport Nav Diesel and if the above sounds close to what you are after, a 4X4 model with a good torque will not send you far wrong. The CX-5 back in 2012 introduced Mazda's new design language, Kodo. Its fluid body lines and sculpted shape certainly separate it from a class that has become very populated over the years. Being the first of Mazda's "6th generation" cars the brand has emphasised their desire to offer a premium product in the appearance of the CX-5. This car also introduced a new offering of efficient engines named Skyactiv of which now can be found across the range. For 2014 a refreshed CX-5 brings with it revised suspension, more refinement and some new technology.
 Inside the Sport Nav model you will find a cabin upholstered in some rather nice leather and a console that provides excellent ergonomics, even if a little uninspired in its looks. The car seats five in plenty of comfort which the rear quarters supply good head and leg room to passengers not quick enough to call "shotgun." Its boot is also of a good size. Up front everything you interact with has a nice robust feel to it which is great for a car that will likely become the family workhorse. The infotainment system in this car provides a touchscreen interface for things such as radio, Bluetooth and a built-in TomTom satellite navigation system. The instruments are functional and easy to read with things such as the gear leaver and climate control fall easily to hand. In terms of the driving position, the CX-5 hits the proverbial nail on the head with an arrangement that feels a little bit, dare I say it, sporty.
This sporty flare continues as you hit the road. Despite having a big 2.2 litre diesel engine and a weighty all wheel drive system, this cars agility is astonishing. Obviously the 2WD
variant emphasises this further, but even this car feels swift. The immediacy of its change in direction is very commendable not just for an SUV, but in general. Its steering is well weighted allowing for accurate placement of the car on the road. This paired with a nice 6 speed manual gearbox makes for an involving drive. 420Nm of excellent torque is on offer for a 0-62MPH time of 8.8 seconds. This torque plays a huge part in the CX-5's fun factor, surging the car onwards out of corner exits. Body roll is much less than you would expect from a car of this size enabling you to carry more momentum through sharp bends. The suspension is a tad softer than the 2013 specification but only marginally. However, what you trade for a little bit of ride comfort you gain in handling. On faster road the 2.2 litre Skyactiv diesel goes to work and is more than happy to pound at motorways all day long. Its 170BHP is more than enough for you to make courageous overtaking manoeuvres when faced with a Sunday driver ahead. Engine noise is reduced in the cabin over last year's car allowing for a bit more refinement, yet under acceleration the diesel engine can be heard quite predominantly. Settle the car back down and order is restored. If you are unlucky enough to stall the car this 2014 CX-5 will restart the engine as soon as the clutch is pressed. Mazda claim that the 2014 Mazda CX-5 2.2 175ps AWD Sport Nav Diesel will achieve 54.3MPG on the combined cycle, an impressive figure for its class.
At £28,395 our test car had all of the bells and whistles including DAB radio, keyless entry, leather and the list goes on… An entry level CX-5 petrol can be had from as little as £21,595. All-in-all the 2014 Mazda CX-5 hasn't changed dramatically from its inception, but then did it need to? Mazda got the recipe right the first time offering a machine that is very enjoyable to drive.