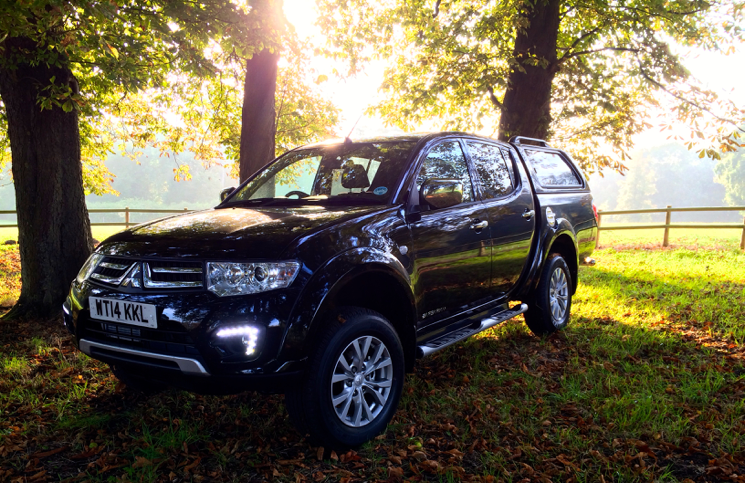 Far too many things these days do not last as well as they did in years gone by. I remember as a child my Mothers washing machine spanning a decade, whereas now it is replaced every few years. Children's toys break in the changing wind, so it
would seem, with components made of plastic and not enduring metal. You name it; televisions, mobile phones, furniture, all things that were a rare purchase now have a much shortened lifecycle. I'm not going to venture into the sales driven reasons behind all of that or else this article would never end. Instead I am going to juxtapose these things that apparently break too often to one of the most rugged machines you can have on your driveway. The 2014 Mitsubishi L200 Barbarian.
As pick-up trucks go, this isn't quite so brutish in its appearance, instead offering passersby curved lines and neat grills. Don't get me wrong, it is very far from effeminate as its vast scale will testify, but its more modern approach to a being a machine of function is pleasing to the eye. Our test car was fitted with the removable roof for the flatbed, squaring off the back and adding to the cars domineering size. Daytime running lights are worn low on the front bumper whilst sturdy sidesteps run down the profile allowing access to a commanding driving position. Personally the double cab profile of this car not only adds more practicality, but looks better proportionally than the single.
Opening the door of this 2014 Mitsubishi L200 Barbarian reveals red glowing "Barbarian" kick plates which is a nice detail on this model. Once aloft and inside the cabin you are greeted by an interior that feels as hardy as the exterior. A sturdy sculpted dashboard houses a touchscreen infotainment system with BlueTooth and a DAB radio. Said screen is also used for the reversing
camera, something I would highly recommend on a car this big. In terms of ergonomics the L200 is a bit of a mixed bag. Whilst instruments are easy to read and controls live in logical places, the comfortable leather heated heats offer very little lateral support when this 4×4 leans in the corners. The seating position is also usual as the seats themselves are much lower to the floor than expected. Its rear bench allows seating for three with adequate amounts of head and leg room. A nice feature of the 2014 Mitsubishi L200 Barbarian is its electric rear window which allow access into the flatbed. The bed itself is capable of carrying a 1,060KG payload making this car a strong candidate of commercial use. Plastic-lined, it is easy to hose down after a day of muddy hauling.
Starting the 2.5 litre turbo diesel engine reminds you that, in the same vain as the Land Rover Defender, this is a machine of function and not luxury. The engine might sound slightly agricultural but it gets the job done as this car is capable of pulling 2,700KG thanks to 258lb ft of torque. That is a lot of pulling power. On the road, again like other "old-school" 4×4, the L200 makes sacrifices in order to be more functional elsewhere in its day. There is a lot of body roll due to the size and 1,885KG weight and the steering is quite vague. Leaf spring suspension in the rear also means that without something loaded into the bed the ride can be a bit bouncy. The steering is light around town, but the sheer mass of the Barbarian in a high street makes it feel cumbersome. However, take the L200 off of the tarmac and you shall begin to see just what the 2014 Mitsubishi L200 Barbarian's primary objective is. Good ground clearance and chunky
tyres enables this car to tackle tough terrain. With selectable all-wheel-drive, a low range gearbox and a locking central as well as rear differential, it will ascend steep gradients, plug its way through mud and climb over just about anything you place in front of it. It is impressive once in its element and feels completely dependable even when Mother Nature would rather see you stuck. Here the engine feels strong and can be forgiven its 25MPG average we achieved because ultimately this is what it was designed for, not the motorway trawl.
The 2014 Mitsubishi L200 Barbarian is much more a battle hardened workhorse than a show pony for the urban environment. If you are the sort of person who wants something that is a no nonsense tool then here you go, but for those looking for something that will cosset them around town, a culture shock awaits. Our test car came to just over £27,000 which is reasonable for its equipment level and undercuts key competitors. I would describe the L200 as being fit for purpose and a product with the ethos from a time when things lasted much longer.