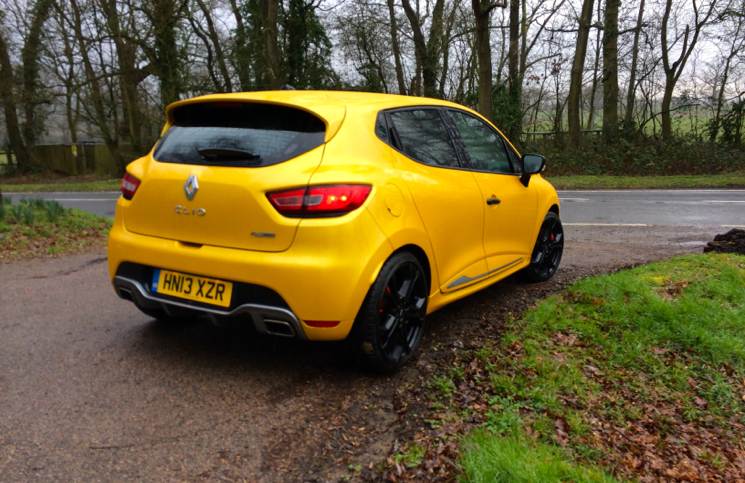 Technology has advanced, and will continue to advance the human race for centuries to come. Today we can now make phone calls from anywhere in the world without carrying around a device the size of a cinderblock, we can
fly to far flung countries without feathers, and you can sit at home digesting all of the information that the internet has to offer without even leaving your bed. This continuing increase in engineering capabilities is quite something to marvel at, however it has made things obsolete. How often do you read a book for example? Some people just prefer the old ways and so you can understand enthusiasts hesitation when Renault announced that their new sporty Clio will not be offered with a manual gearbox. The 2014 Renault Clio Renaultsport 200 Turbo EDC has caused fair bit of controversy.
Having three pedals and a gearstick to swap cogs is something of an unwritten rule for all "drivers cars." It is all about being the organic part of the machine and it's this that makes manuals more involving to drive. This all-new Renault Clio Renaultsport 200 has dropped the manual all together in favour of a dual clutch paddle-shift gearbox. On paper it is the better option offering lightning fast shift times and allowing the driver to spend more of his concentration on pushing the car harder. Even without a manual, can this new Renaultsport Clio be as good as its highly rated forefather?
Especially in our test cars liquid yellow paint, you have to admit that the new car looks the business! That colour teamed with black alloys and trim, something of a Renaultsport trademark, can't help help but evoke thoughts of lyrics from a Wiz Khalifa song. "Ah ha, you know what it is… Black and yellow, black and yellow." Muscular in the right places whilst carrying some premium styling, as seen on the model it is based upon, this Renault Clio Renaultsport 200 Turbo EDC is part sculpture, part teenage rebellion. Swollen wheel arches meet swooping lines, red brake callipers join forces with practical rear doors. Somehow it is both grownup and childish at the same
time, a paradox that embodies everything we love about hot hatchbacks.
Slide into the drivers seat and let the bolsters grip you. Something Renaultsport have always been good at are supportive seats, this is no exception. The cabin is just as practical as any other Clio with good amounts of space and a decent sized boot. Its centre console is finished in a premium looking gloss black that is home the cars R-Link touchscreen infotainment system. Sporty red stitching and trim peaces detail the interior and hint quite heavily that this isn't your regular family run-about.
Hit the starter button and the turbocharged 1.6 litre engine burbles into life. Without a clutch it is a simple case of selecting drive and off you go. Immediately my instinct was to select the manual shifting mode and give those infamous paddles a try. Apply a dose of my right boot, the Clio took off down some deliciously challenging country roads. The changes themselves are quick although sometimes the car does hesitate, if only for a second, before changing to your chosen gear. Putting the car into Renaultsport mode reduces this delay to a point where you are no longer thinking about what it would be like with a manual, but are instead enjoying the fast nature of this car. Threading my way from apex to apex, the 200 Turbo put a massive smile on my face. Changing down makes the gearbox blip the engine before introducing the boost from its turbo which is capable of accelerating you from 0-62MPH in 6.7 seconds. The
chassis is excellent and the responsive change of direction makes it feel like the car is pivoting around your hips. Spurred on by some of the noise the engine produces, I found myself enjoying firing through the gears like a Formula One driver. With loads of grip on offer and a confidence inspiring set of brakes, this sporty Clio is still for those who love driving. However, an attribute over its predecessor is a new found comfort at lower speeds. The ride fends off the harsh bumps of our British roads in a manner that is surprising for this type of car. Put the gearbox into automatic and it instantly becomes a rather economic and a comfortable car whilst pottering around.
Whilst the 2014 Renault Clio Renaultsport 200 Turbo EDC is not as rough and ready as the previous model, this does result it being more approachable and easier to live with day to day. Ultimately this car might not be as hardcore as its fan base would like and it is also more expensive than the excellent Fiesta ST which does have a manual gearbox, but get behind the wheel and this Clio still proves to be a pocket rocket.