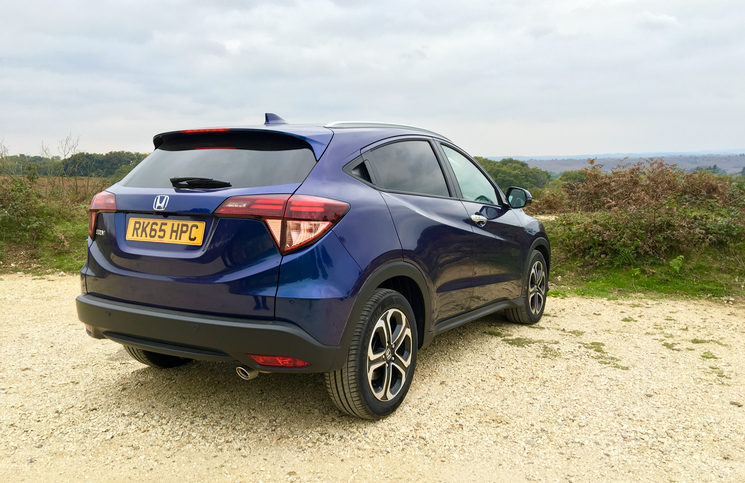 When you look at the world of fashion it is clear to spot the trends of the era. From black to lime green, platform shoes to roman sandals, each denotes the desires of the general public at that time.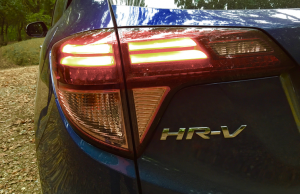 The motor industry is much the same with specific types of vehicles selling like hot cakes. Today the "in-thing" is the compact SUV and everyone who wants to make a statement on their driveway is in the market for one. Many manufacturers have joined the race for sales. To be honest anyone who hasn't jumped on the bandwagon is missing out on a lot of potential customers. Honda has revived the HR-V nameplate for its turn on the catwalk.
Continuing Honda's strong model offensive this year, the new HR-V presents quite a proportionally pleasing package. Short overhangs and a blunt nose enhance its compact shape whilst creases along its length leads the eye to tapering windows. Our top specification test car featured a very smart set of alloy wheels that contrasted the mesmerising Morpho Blue Pearl paint. Whilst the 2015 Honda HR-V might not be the most flamboyant design, its premium traits pull off a sophisticated look that will appeal.
Considering that this is a "COMPACT SUV" you would be forgiven for thinking that space might be limited inside, however, the truth is far from it. The diverse cabin means that it actually rivals cars from classes above in terms of overall capacity and versatility. In the boot there is 470 litres on offer, but fold the rear seats flat and that grows to a huge 1,533 litres. This model also features Honda's "Magic Seats" that fold up like those found in a cinema allowing for tall items to be stowed behind the front passengers. A feeling of quality and durability runs throughout the interior with glossy finishes and cascading consoles. A touchscreen infotainment display gives you access to DAB radio, navigation, BlueTooth and more. The front heated leather seats are comfortable and the cars large instrument panel is easy to read at a glance. A glass panoramic roof allows for a bright environment in the rear where you will find seating for three. Leg room is good but taller adults might find the sloping roofline a little confining. This interior has been intelligently packaged and will be championed by those looking for practicality.
This manual 1.6 litre diesel engine is definitely the one to go for as the petrol engine can feel a bit lacklustre and, in tandem with the CVT, noisy. The 1.6
however is a known commodity and a unit we have commended in the past in other models. A claimed 68.9MPG isn't too shabby at all. This HR-V pulls cleanly using its torque to make short work of overtaking manoeuvres or a quick getaway from junctions. Within an urban environment good all around visibility is important and in that department the baby Honda delivers. It is nice to have a large functioning rear window as many new cars seem to just have that glass for decoration these days. Light steering makes the car easy to manoeuvre also. Its 6 speed manual gearbox has a nice short throw to it, but I personally disliked the short stubby gearstick. Don't go thinking that this HR-V is only happy around town, because a five and a half hour motorway journey was more than proof enough that this car is not only capable, but also comfortable. Wind and road noise are pleasantly hushed whilst a sympathetic ride is also very welcome. Just like the Jazz it is based upon, the Honda HR-V is easy to drive but not the most engaging in terms of dynamism. Its chassis has plenty of potential with great levels of grip and agility, but you never feel very connected to the car beneath you. Clearly most customers will not be looking for class leading handling in this segment, for that you must look to the Mazda CX-3, and the HR-V makes a strong case for itself as a family friendly daily driver.
The 2015 Honda HR-V 1.6 i-DTEC EX presents high levels of competence, good efficiency, premium looks, all within a practical package. You can have a HR-V from £17,995 but we would recommend upgrading to the diesel engine which starts at £19,745. Whilst the price is a tad steep, entry level cars do get plenty of equipment as standard including autonomous city braking. Honda's legendary reliability is also a credit to the HR-V that might prove to be a deciding factor when selecting your next chariot for the school run.