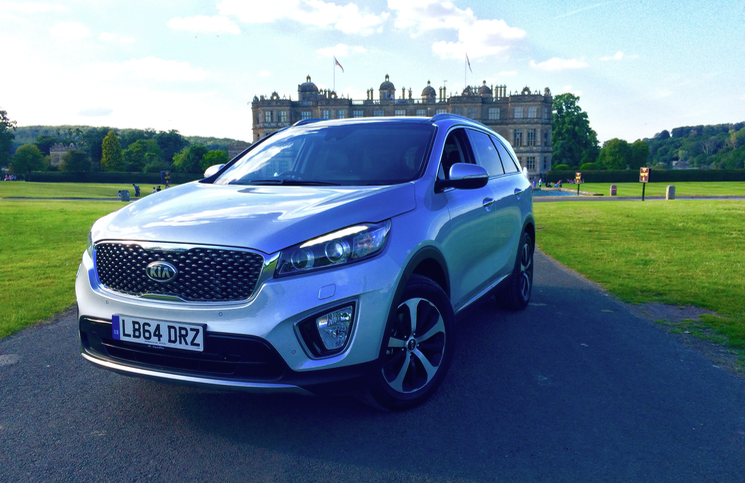 Having a big family often means sacrifices have to be made. Instead of your favourite film on the TV, Cbeebies fills the screen. Fancy that last slice of cake? Before you know it one of your little
monsters has nabbed it. The same goes for your car as an attractive roadster just isn't going to cut it on the school run. Before the "SUV boom" a people carrier was your only option and whilst they offer plenty of practicality, they are very far from being an object of desire. A large SUV might just be your solution and this 2015 Kia Sorento should be up for consideration.
Continuing the trend of high riding family cars, the new Sorento in KX-3 trim could cause a bit of driveway envy amongst the neighbours. Whilst Kia has become known for strongly competing on price, this 4×4 takes the brand upmarket. A strong silhouette is the canvas for premium chrome detailing and raked headlights. Upon the SUV blunt nose sits the latest incarnation of Kia's "Tiger" grill. On our test car the grill creates an almost floating environment in which the Kia badge sits. Smart 18 inch alloy wheels further the styling and sit between black cladding that suggests some off-road potential.
The interior of the 2015 Kia Sorento KX-3 is vast. Its cabin seats 7 within this stadium-like venue. Front row passengers enjoy a high seating position enabling that much desired view over traffic ahead. These leather heated seats are comfortable and feature plenty of adjustment. A digital instrumentation display is clear to read at a glance and also customisable with various widgets. An 8 inch touchscreen plays host to infotainment including; Bluetooth, DAB radio, satellite navigation, and more. This system has to be one of the easiest to use in this class. It is well laid out, quick to respond, and has a clean aesthetic. Said unit is housed within a curved dashboard that really makes the Sorento feel like a quality product. Moving back a row, these seats are all adjustable being able to slide and recline. A nice flat floor also means that there is plenty of space for these passengers feet. Excellent head and leg room means that nobody will be feeling squashed. Deploy the two rearmost seats and there is plenty of room for children or adults on shorter journeys. These positions also get a useful cubby and cup holder. A beautiful glass panoramic roof runs almost the full length of this car when revealed by the electric blind allowing in loads of light. This roof also opens on those sunny days. With 5 seats in place this Kia has a great 605 litre boot, but if you fold the second row flat that grows to 1,662 litres! Even with 7 seats in place the boot is a reasonable 142 litres.
Powered by a 2.2 litre diesel engine producing 197BHP and 441Nm of torque, this potential is channeled to all four wheels via a six speed manual transmission in our test car. Refinement on the
move is good with road and wind noise being hushed. At higher speed wind noise does increase but not to the point of irritation. The Kia Sorento makes for a good motorway hauler and its torque delivery is ideal for overtaking and its general ease of use relaxing. A key trait of this big car is that it never feels like a huge SUV behind the wheel. Good visibility all around and light controls makes for an effortless drive, perfect for daily trials such as dropping the kids off or navigating the supermarket carpark. This car, as with many tall vehicles, does suffer from a bit of body roll through faster corners. It is on these more technical roads that the 2015 Kia Sorento's light steering goes against it as it lacks feel. There is a sport mode for the steering which firms it up, but it still feels relatively imprecise. This is a shame because the Sorento performs well across the board. As mentioned, this car has all wheel drive and even a locking differential. Difficult winters shouldn't be a problem for this model, however, if you wanted to do some serious off-roading you should look at the Land Rover Discovery Sport. That said, the Land Rover isn't as practical as this Kia and so what you prioritise will divide the two. In combined conditions we averaged 35MPG in the manual car which isn't bad considering its size.
This Kia is a great package and a worthy flagship for Kia. Many people may change their perceptions of the brand once they experience this premium SUV. The KX-3 model we were testing came to a not inconsiderable £35,845. Whilst it was laden with toys, badge snobbery will surly come into play when you consider what it competes with at that price point. However, you shouldn't rule the Kia out on that basis because the entry level car comes to £28,795 and still has plenty of equipment. Our pick would be the £31,995 KX-2 that comes with everything you could want as well as leather upholstery. Something else the Sorento has is an industry leading 7 year, 100,000 mile warranty.
The 2015 Kia Sorento is a fantastic family tool that is well worth considering.