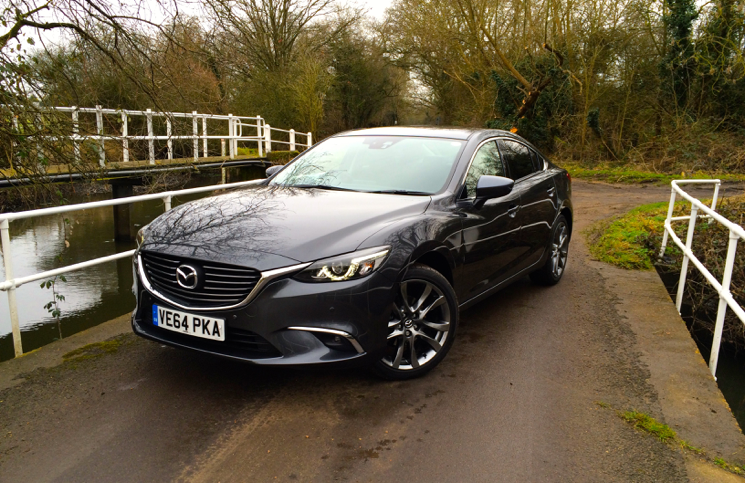 Quality is a very big factor to consider when purchasing a new car. After all, you don't want your shiny new investment falling apart like a paper bag in the rain. As well as build quality another part of
the decision making process is perceived quality. Those hard plastics might be durable, but you don't want to be staring at a sea of bland shapes that are as boring as the traffic you might be stuck in. The Mazda 6 has always scored very well overall with us, but the main gripe has always been that the interior was a bit uninspiring and dated. Well, Mazda have indeed been listening as this new 2015 Mazda 6 2.0 165ps Saloon Sport Nav takes a much liked formula and refines it.
For 2015 top specification Mazda 6 receive an exterior facelift which makes an already handsome car look even better. Still championing the "Kodo" design language, this saloon model promotes a sense of movement even when stationary. Flowing lines lead on from new LED lights and aluminium detailing, carrying your eyes towards the sloping roofline. This cars neat rear is now more defined with the addition of sharper looking lights. This Meteor Grey Metallic paint combined with 19 inch dark alloy wheels looked seductively sinister.
The biggest changes to the new Mazda 6 can be found within the cabin which is immediately more upmarket over its predecessor. Leather now upholsters segments of the dashboard and centre console sporting intricate stitching. The door lining also gets the nice cowhide treatment creating a sense that the interior is less compartmentalised. Mazda's new 7 inch touchscreen infotainment system, introduced in the Mazda 3, now sits above the dual zone air-conditioning controls. DAB radio, satellite navigation and even access to smartphone apps are all granted to the driver via a very ergonomic design. Aluminium details feature nicely, again adding to this all important perceived quality. Our test car was also equipped with a premium Bose surround sound system possessing 11 speakers. Changes to these heated seats make the bolstered design even more supportive and a low H point highlights a sporty seating position. Head and leg room is good for rear passengers although, just like last years car, the transmission tunnel does protrude. Boot space remains the same generous 483 litres.
This 2015 Mazda 6 Saloon is powered by a 2.0 litre naturally aspirated engine producing 163BHP. Mazda have not gone down the turbocharging route as they feel that with their SkyActiv
technologies there are more pros in favour of natural aspiration. One such pro is its responsiveness… Without having to wait for a turbo to spool up to speed, inputs to the throttle are met with immediate response. The engine revs freely but to make the swiftest progress most of the power can be found higher in the rev range. A very slick short throw 6 speed manual transmission is almost MX-5 in its feel and joyous to use. Put this 2015 car through its paces and keen handling is available for all to enjoy. Accurate steering and good levels of grip give you confidence in the cars capabilities. Steering and the pedal set is well weighted making for positive integration between car and driver. Small changes to damper rates have addressed the previously firm ride. It still isn't as smooth as some competitors, but there is now a good compromise between sporty handling and road compliance. Driving along, this Mazda comes across as more mature with a notable reduction in road noise, 25% in fact. Visibility is good, even with that raked rear windscreen, and a rear reversing camera means that perfect parking is easy. In an urban environment this saloon doesn't feel cumbersome as its agility comes into play in a highly usable fashion.
This specific car came to £25,135 which considering the vast array of optional extras onboard, is a competitive price. Mazda claim 47.9MPG from this 165ps model. The range starts from £19,795 for the base car with 145ps. A 2015 Mazda 6 is proof that the Japanese company listens to its critics. Whilst the previous car was not a bad machine in the slightest, minor irritations have been rectified here. These small changes might seem relatively insignificant in isolation, but combined they make this offering more complete and thus an increasingly compelling contender for class leadership.