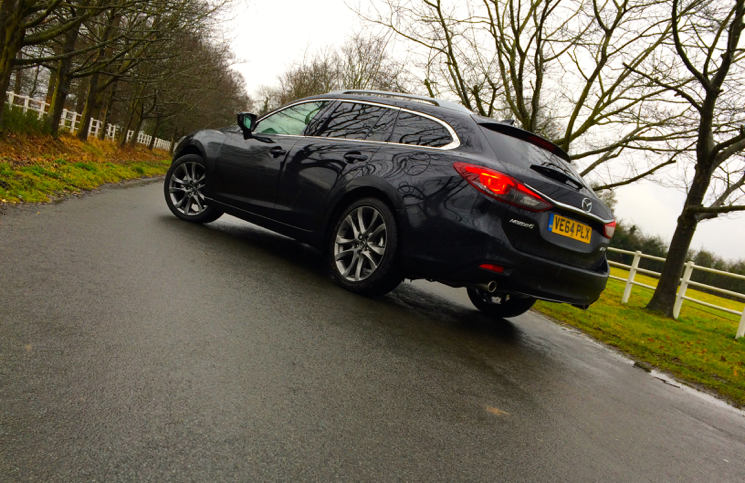 If you are looking to buy a new estate car then you might have a fairly lengthy and ultimately difficult decision making process ahead of you. This segment of family wagons has seen a lot of activity
over the past few months with some extremely eligible new models competing for the top spot. There is the all-new Ford Mondeo which has gone up-market in its design both inside and out attempting to push back against the Germans who have invaded its space. One of those said Germans is VW and their Passat which is also very good. Now the 2015 Mazda 6 Tourer 2.2 Diesel 175ps Sport Nav is vying for your attention.And it is your attention it will get, particularly if it is specified like our test car…
Looking sharp, sophisticated and just downright handsome in Jet Black Metallic, this Mazda 6 looks the business! Flowing Kodo design promotes an athletic and rather unique aesthetic which looks very modern. For 2015, top spec cars such as this one receive reworked bumpers and detailed LED lights. Chrome detailing runs the length of this 6 Tourer adding a dose of premium styling to its sculptured demeanour. Snazzy 19 inch alloy wheels further compliment the cars stance. In a rare turn of events in this segment, it is the estate car which is the most pleasing to the eye, not that the saloon is in any way the ugly duckling.
As with the saloon car, 2015 brings a new interior to the Mazda 6 which boosts the perceived quality of the cabin. Leather now lines the dashboard as well as cascading down the centre console and along the transmission tunnel. This cars stone leather really compliments the design changes. Mazda's new 7 inch touchscreen infotainment system also migrates into this updated car replacing a rather old TomTom based unit. The overall impact these changes have made the interior, which was once the cars Achilles Heel, a much more grown-up environment to spend time. Changes to these rather sporty heated seats have boosted comfort on longer journeys. Second row passengers are treated to good head and leg room whilst the boot can offer 1,648 litres of space with the rear seats folded flat.
This 2015 Mazda 6 Tourer is the most powerful in the range being equipped with a 2.2 litre diesel engine producing 175ps, or 173BHP if like me you refuse
to live with ps. Although its hefty 420Nm of torque is only fully available at 2,000rpm its naturally aspirated engine ensures that the revs climb rapidly and without the delay of a turbo. Its snappy 6 speed manual transmission in tandem with a responsive throttle is a key reason why we have always liked the Mazda 6. Despite being a large family car its characteristics have always had a sporting edge. From the low H point in the seating to excellent body control, it all just invites the likes of kissing those apexes and dabbling in a bit of heel and toe action. There is plenty of grip and the prior mentioned lateral control creates a focused driving experience. For a diesel this engine even sounds pretty good. Damper rates have been fettled with crating a more compliant ride over bumps, a criticism of the outgoing car. However, choosing to have the larger 19 inch alloy wheels means that the compromise still isn't class leading, but an improvement nevertheless. Put your foot down and this 2015 Mazda 6 Tourer 2.2 Diesel 175ps Sport Nav surges onward flexing its strong power unit. As a machine that will likely spend its life on a motorway, this trait makes overtaking effortless. A host of new toys including; heads-up-display, adaptive LED lighting, rear cross traffic alert and lane-keep assist means that life with this highly optioned example is well catered. The car is very happy for you to set the adaptive cruise control, turn up the volume on that 11 speaker Bose audio system and allow it to take the strain. Road and wind noise in the cabin has been greatly reduced with many small changes amounting to a 25% reduction. Visibility isn't too bad if you have the reversing camera, but if you choose a lower grade car you will be contending with a small rear window.
Although this car with just about every option box ticked came to a considerable £29,135 it still undercuts some of its key rivals like-for-like. This 2015 Mazda 6 Tourer 2.2 Diesel 175ps Sport Nav is a positive evolution for the well received family car and continues to build upon a fine chassis. A claimed 61.4MPG combined and emissions of 121g/km of CO2 are bettered by the new 2.0 litre Ford Mondeo, but only just. For those who really enjoy driving, the Mazda 6 should be on your shortlist.