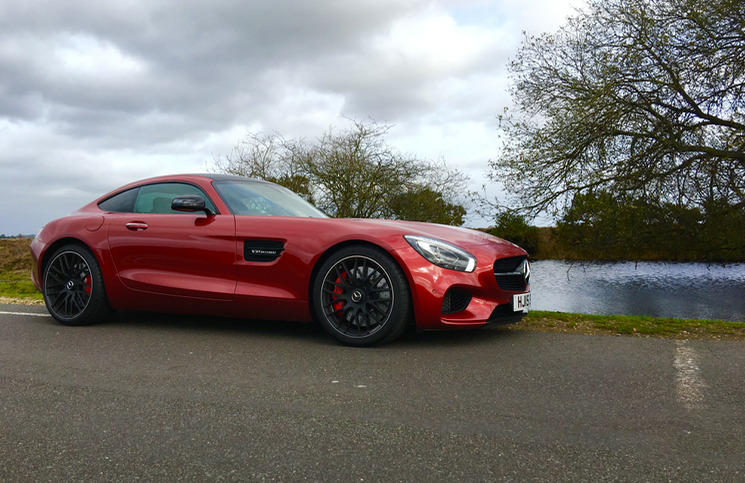 Within the world of the automobile there are many breeds of car that populate a seemingly infinite number of segments. There are the good ones, bad ones, downright ugly ones, but every now and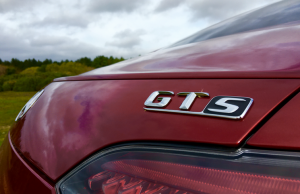 then something truly special is born. Mercedes' AMG performance division has already had a crack of the whip when it came to producing a halo car. The SLS was a tremendous effort and is still one of my favourite cars to spend time with. However, it was a bit all or nothing. Not exactly a precise instrument, more of a powerful sledgehammer. In changing the focus of the German flagship, AMG has firmly set its new toy up as a key rival to the Porsche 911. I mentioned something special? The Mercedes-AMG GT S is a worthy successor.
This is one beautiful car with a classic GT profile. Long bonnet that stretches off and into the distance, small glasshouse, short boat tail rear overhang. From its sloping roofline to the curves that help form its shape, the Mercedes-AMG GT S is handsome. But that is just its silhouette… In the details it is devilish, sporting grills, artillery inspired exhaust pipes, and those black alloy wheels. This "Red Baron" appears to snarl at anything that glances upon it for a moment longer than it needs to. Its overall presence is rather sinister.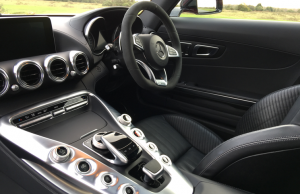 Yet, the interior shares more with an S-Class than a Tiger Shark. Deeply boosted seats offer support, but more importantly comfort as you nestle into the cabin. You are cocooned in high quality materials with everything you touch feeling like it is totally worth the money this car demands. A high aluminium trimmed console divides the driver from the passenger. Symmetrical buttons cascade towards the rear whilst Mercedes' infotainment system provides satellite navigation, DAB radio, and phone connectivity. Further luxuries such as dual zone climate control and heated seats find a home. Our test car was specified with a glass panoramic roof which allowed more light into this finely finished cockpit. A rear hatch grants access to the boot which provides far superior storage than its predecessor.
A glowing red starter button taunts you, dares you, to push it. A mere prod detonates the new 4.0 litre twin-turbocharged V8 engine under the bonnet.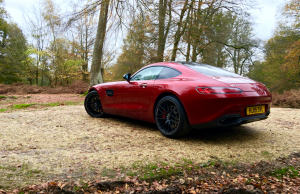 The initial roar is more than enough to inform every living thing within a mile that the beast has awoken. That said, simply setting off in this standard state reveals the Mercedes-AMG GT S to be something of a Jekyll and Hyde character. It happily clicks through its 7 speed dual clutch gearbox and the cars general noise is hushed. A well insulated interior means that there isn't much in the way of wind or road noise. Around town I would even describe it as being one of the easiest supercars to live with, once you have adjusted to that elongated bonnet of course. However, this car has several modes and once you have finished doing ordinary things in comfort mode, prepare to do extraordinary things thereafter. Click the setting over to "Sport" where the throttle responsiveness increases, stiffens the suspension, and weight is added to the steering. "Sport+" turns everything up again, speeding up gear changes, opens the valves in the exhaust, suspension is now at its firmest, and traction control allows for some slip. Select "Race" and you should probably hold on tight. Right foot down unleashes 503BHP and 479lb ft of torque. 0-62MPH passes by in just 3.7 seconds! Top speed is 193MPH. It clearly has the correct credentials from its "hot-V" engine, but nothing prepares you for the intoxicating manor this car accelerates. A testosterone fuelled symphony of V8 noise is the soundtrack to being sucked back into your seat. Through the corners the car is very flat with accurate steering and wide tyres giving you the confidence to use its performance. This AMG GT S did not have the optional carbon discs, but the standard brakes present the driver with plenty of stopping power. The experience is raw, exciting, and one where you feel very much involved in the whole process. Many modern-day performance machines feel like they can do it all without you, but the Mercedes-AMG GT S makes you the organic part of the machine. The beauty of this car is that once you have finished giving your heart a workout, you can put it back into comfort and go about your business once again. There is even a mode labeled "Individual" that allows you to tailor a setup that is best for you.
A price tag of £110,000 again puts it in the same region as the 911. Tough competition indeed, but AMG has hit the sweet spot with this car. On top of being beautifully engineered, usable every day, and eye catching, it also brings a large helping if theatricality. How does that sound for a recipe?