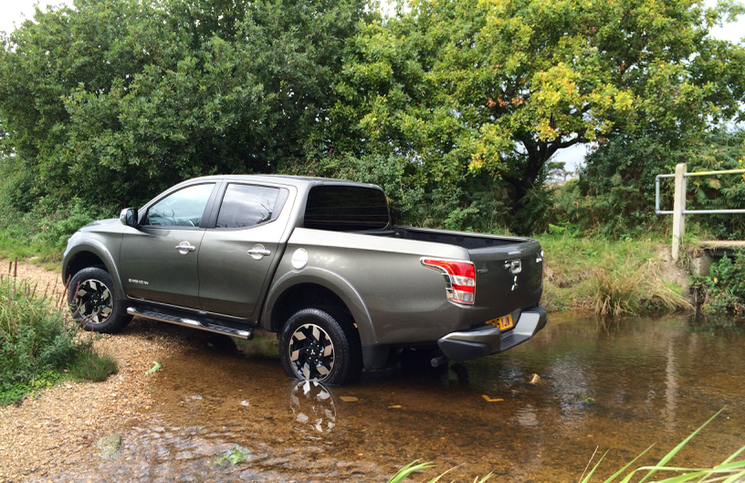 Pickup trucks are an incredibly valuable tool, especially to those who run their own business. Few other vehicles allow you to sling bricks and a cement mixer into the back only to then drive across the rough terrain of a building site. However, when the working day is done this workhorse then has to transform into a family car that seats five and is happy to spend time on the motorway. It is this balance that makes the pickup unique, that said, not all of them get it right… Many are orientated around one task more than another and thus make compromises in the process. This new 2015 Mitsubishi L200 aims be the jack of all trades and defend its position at the top of the pickup pyramid.
Though your stereotypical truck often resembles a swamp monster due to all of the mud that coats it, the
L200 when clean actually looks rather smart in top specification Barbarian trim. Bold alloy wheels, a tasteful dose of chrome, and the new bodywork creates a more upmarket appearance. The car still retains its strong masculine stance, but this generation adds a dose of style which is rarely seen in this segment.
Climb up and into the double cab of our test car and you can't help but be impressed at the progress over the outgoing
model. The heated leather seats are supportive in the right places and the driving position is much improved. Interior quality is good and feels durable, but more than that, it is now more pleasing to the eye. Aesthetically it has become more car-like with complex shapes replacing flat surfaces. Whilst it doesn't have the best user interface, a touchscreen infotainment system does offer access to DAB radio, navigation, and BlueTooth. The second row seats three with loads of head and leg room for even the tallest passengers. Visibility is good and is further boosted by this cars reversing camera. It is a big vehicle and so we would recommend this to make life a bit easier. Heading further rearwards, the bed is 1,470mm square and is available with various covers to keep things secure and dry. You can load it up with 1,050KG of "stuff" but on top of that the car can tow 3,100KG.
Under the bonnet of the Mitsubishi L200 is a 2.4 litre diesel engine that produces 178BHP. That is then
sent to all four wheels via a six speed manual transmission in this instance. The drivetrain also offers the choice to send the power to just the rear wheels for improved economy, speaking of which, 42.8MPG is pretty good for this size of car. Emissions are at 173g/km. Whilst there is no getting away from its size, the L200 manages to mask just how big it is by being easy to drive.  The steering is light, the gearbox has a positive shift, and the pedal weights are well judged. Obviously into faster corners there is going to be a bit of body roll, but there is now much less than you would expect. It's road manners are good and handling is very competent. This Mitsubishi's suspension is not as bouncy either, even without a payload in the back. All-in-all things are much more civilised behind the wheel. The biggest asset that this all-new incarnation brings to the party is its highly refined nature. I was totally surprised as to how quiet this pickup truck was in motion. Put it in sixth gear on a motorway and you can hardly hear the engine thanks to great gear ratios. Plenty of sound insulation keeps unwanted road and wind noise at bay. The overall result of this more grownup environment is that this machine goes from being primarily a work tool, to something the family can happily spend a few hours in. Don't go thinking the the 2015 Mitsubishi L200 has gone all soft. Hitting the rough stuff is no problem with all wheel drive, a locking differential, and low range gearing. It went up and over every obstacle we pointed the nose at as well as making its way through a river. It is still a rugged machine which is important to this products core customer.
Starting at a very reasonable £23,698 the 2015 Mitsubishi L200 is not only a improvement over its more agricultural forefathers, but it can conclusively claim to be the class leader. A true representation of next-generation pickup trucks.