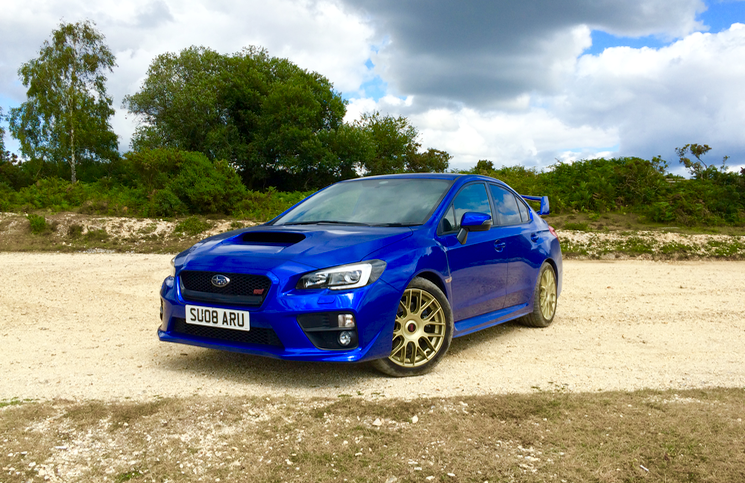 What does it mean to be an icon? To be synonymous? Throughout automotive history there are several legends that are tattooed on every enthusiasts mind. An innate imprint of motoring
righteousness. Ferrari and the colour red, Ford's with an RS badge, or maybe Subaru and its World Rally Blue teamed with gold alloy wheels? The latter is something of an institution punctuated by incredible World Rally victories and the road cars that reaped the rewards of motorsport success. What of the cars ultimate rival? The world is a rapidly changing and the Mitsubishi Evolution seemingly couldn't find a place in it. So, what is the 2015 Subaru WRX STI? A dinosaur living on borrowed time, or the last man standing?
Making a characteristically bold entrance, the 2015 Subaru WRX STI isn't here to make friends… This car is testosterone wrapped in metal, distilled anger and blunt force coming together to create something that is seldom seen these days. This machine clearly wasn't built by focus groups or a comity, this beast was designed by people who know exactly what a performance Subaru represents. A menacing bonnet scoop and vast rear wing sit on this muscular body. In this legendary colour scheme our test car has had cameras aims squarely at it all week.
Whilst the Subaru is boisterous outside, the interior does offer en element of practicality. It seats five and the front two are treated to some very supportive bolstered leather seats. In this type of performance car the seats play a very big roll in the package, this pair featuring Alcantara ticks the boxes. Space for rear occupants is good with acceptable levels of head and leg room. Large windows prevent the interior from feeling dark. A chunky steering wheel, which is also adjustable, feels well suited to this rally-bred car. Though the red stitching and obligatory smattering of STI logos gives the WRX STI a sporty feel, the carbon effect centre console and outdated media system do let it down.
Hit the start button and this cars 2.5 litre turbocharged boxer engine rumbles into life. The whole car hums with a sense of urgency like a child after eating
too many sweets. Brush the throttle and a deep manly growl is emitted from its exhaust pipes. Engaging first gear requires a bit of a shove, but once the car is primed you had better be ready! It is undeniably blitzing in the way this thing covers ground and relentlessly rapid in terms of acceleration. 0-62MPH is vanquished in just 5.2 seconds, if you require something quantifiable that doesn't contain expletives. It is a tricky car to launch, as are most all wheel drive cars, but once that turbo kicks in at about 3,000rpm you are off like a scolded cat. The bombardment of the senses continues as you are sucked back into your seat, treated to that uniquely Subaru soundtrack, and watch the world go by that bit faster. On twisting B-roads the 2015 Subaru WRX STI is at home as it just grips and goes. An adjustable central differential means you can tailor the car somewhat to your preferences. Torque vectoring means the car hugs apexes tight and a stiff suspension setup eliminates body roll. Stopping power from its Brembo brakes is happy to match the cars forward momentum. Cycling through the cars SI-drive allows for different throttle maps dependent on your scenario. We took our test car on some gravel forest roads, somewhere its forefathers forged the legend, and it was nothing short of impressive. Nothing on sale today handles a loose surface like this car. It is so confidence inspiring in the way it finds traction and continually relays feedback to the driver. There is clearly plenty of potential on offer, but you need to know what you are doing to extract the maximum from this potent contender. Truly swift progress relies on the driver keeping the turbo spooled up, respecting the cars weight, taking it by the scruff of the neck and being a bit brave. This is not a toy for the casual user. Such focused performance will obviously lead to sacrifices in other areas… The ride in day-to-day scenarios is very hard, showing no mercy to occupants on battered UK roads. There is a notable amount of noise that enters the cabin and combined with a total lack of rear visibility, makes this a hard sell for a daily driver for most people. Don't get me wrong, this car is an absolute weapon but to be accepting of its compromises you need to be a hardcore WRX fan. Driven sensibly we saw 22MPG on the dashboard, but go anywhere near the noisy pedal and that will plummet just as quick as this 159MPH car can move. At £28,995 it does undercut some rivals, but again, you have to be the right sort of customer for one of these mean machines.
Although the 2015 Subaru WRX STI lacks the refinement of newfound competitors such as Civic Type-R and Golf R, basically anything with R in its name, the Japanese brand must be applauded for sticking to their guns. Mitsubishi dropped the Evolution because it wasn't a big money maker, yet Subaru has not relented to the changing world around it and that is something its most die-hard followers will respect.